Broadway Show Ticket Sales Analysis w/e 8/4/2013
Broadway Revenue Takes A Million-Dollar Hit In August As New Shows Like Let It Be Struggle To Find Their Footing, The Lion King, Wicked, And The Book Of Mormon Are The Top Earners
---
Broadway Ticket Revenue Falls by a Million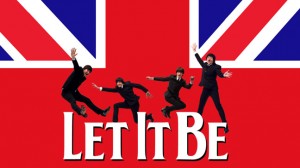 The month of August didn't start off very well for Broadway, with total Broadway ticket sales falling from the previous week's $24,169,058 down to $23,104,021 - a difference of over one million dollars.
New Broadway Shows Struggle
The new Broadway season has gotten off to a slow start with four new shows, none of which is doing very impressively. Soul Doctor, First Date, Forever Tango, and Let It Be are all earning average paid admissions in the $50 to $70 range. Of the four, First Date is seeing the best attendance currently, with the theater capacity at 90.59%.
The Lion King is Broadway's Top Show
Disney's long-running favorite The Lion King tops the chart this week. It was the only Broadway show to bring in over two million, coming in at $2,145,484. The second top earner was Wicked at $1,880,559, with The Book of Mormon close behind at $1,730,668.
The Following are the Broadway Ticket Sales Numbers from the Week Ending August 4, 2013: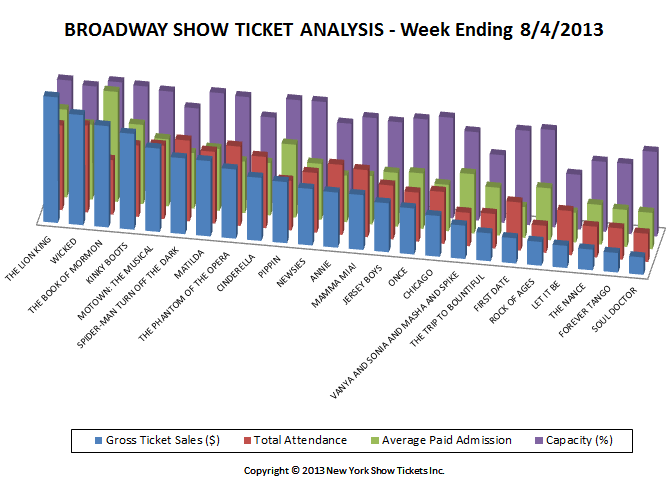 | | | | | |
| --- | --- | --- | --- | --- |
| Show Name | GrossGross | TotalAttn | %Cap | AvgPdAdm |
| ANNIE | $942,089 | 11,249 | 82.33% | $83.75 |
| CHICAGO | $695,084 | 8,352 | 96.67% | $83.22 |
| CINDERELLA | $1,077,805 | 11,440 | 81.67% | $94.21 |
| FIRST DATE | $430,115 | 7,747 | 90.59% | $55.52 |
| FOREVER TANGO | $332,317 | 5,000 | 67.35% | $66.46 |
| JERSEY BOYS | $834,861 | 8,641 | 87.96% | $96.62 |
| KINKY BOOTS | $1,636,476 | 11,482 | 100.79% | $142.53 |
| LET IT BE | $377,941 | 7,090 | 52.66% | $53.31 |
| MAMMA MIA! | $937,040 | 10,766 | 89.84% | $87.04 |
| MATILDA | $1,286,980 | 11,542 | 100.75% | $111.50 |
| MOTOWN: THE MUSICAL | $1,423,791 | 11,812 | 97.98% | $120.54 |
| NEWSIES | $965,025 | 9,577 | 101.02% | $100.76 |
| ONCE | $786,155 | 7,875 | 92.95% | $99.83 |
| PIPPIN | $1,043,942 | 7,963 | 100.54% | $131.10 |
| ROCK OF AGES | $406,126 | 4,359 | 93.46% | $93.17 |
| SOUL DOCTOR | $295,901 | 4,532 | 81.16% | $65.29 |
| SPIDER-MAN TURN OFF THE DARK | $1,295,262 | 12,977 | 84.05% | $99.81 |
| THE BOOK OF MORMON | $1,730,668 | 8,752 | 102.63% | $197.75 |
| THE LION KING | $2,145,484 | 13,604 | 100.03% | $157.71 |
| THE NANCE | $352,327 | 4,932 | 67.30% | $71.44 |
| THE PHANTOM OF THE OPERA | $1,182,528 | 12,739 | 99.21% | $92.83 |
| THE TRIP TO BOUNTIFUL | $475,842 | 5,529 | 65.02% | $86.06 |
| VANYA AND SONIA AND MASHA AND SPIKE | $569,705 | 5,348 | 84.94% | $106.53 |
| WICKED | $1,880,559 | 13,958 | 96.45% | $134.73 |
| Totals: | $23,104,021 | 217,266 | 88.22% | $101.32 |
Broadway ticket sales raw data are provided courtesy of The Broadway League All other data, text, opinion, charts and commentary are copyright © 2012 nytix.com
Discount Broadway Tickets
---
---