Broadway Show Ticket Sales Analysis w/e 8/25/2013
Broadway Revenue Saw A Noticeable Dip As Summer Fades, 'Vanya And Sonia' Concluded With $565,571, While The Timeless 'Romeo And Juliet' Shines, 91% Attendance At $86.77 Average Ticket
---
ANOTHER DIP IN BROADWAY TICKET REVENUE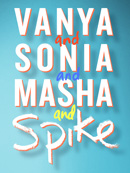 Total Broadway ticket sales decreased again this week, as summer winds down to its conclusion. Broadway ticket revenue fell by over one million, dropping from $21,839,390 to $20,604,711. A surprise hit during Broadway's spring season this year, the Christopher Durang play Vanya and Sonia and Masha and Spike ended its run this week. The wacky comedy enjoyed excellent sales during much of the summer, and in its final week, Vanya earned a total of $565,571, hitting 85.01% theater capacity and taking in an average paid admission of $105.67.
ROMEO AND JULIET STARTS STRONG
Perhaps William Shakespeare's best known tragedy, Romeo and Juliet has gotten off to a good start in its first week of Broadway previews. The latest revival of the 400-year old drama had over 91% attendance with an average paid admission of $86.77 per ticket. The end of summer can be a difficult time to open a show on Broadway, but the recognizable title and the fact that the production stars British movie heartthrob Orlando Bloom (The Lord of the Rings) is likely working in its favor.
The Following are the Broadway Ticket Sales Numbers from the Week Ending August 25, 2013: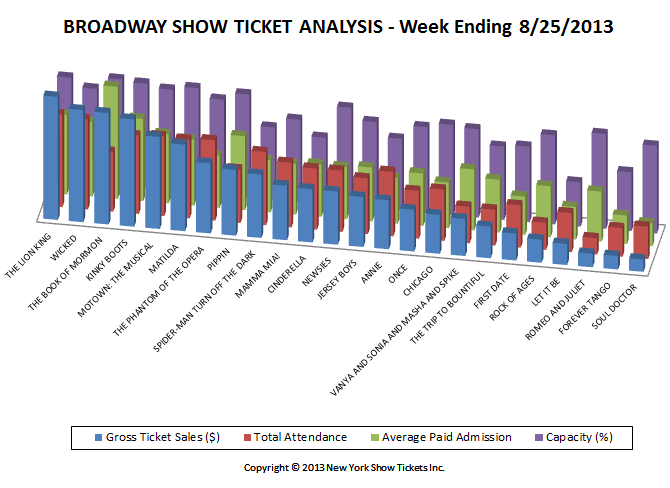 | | | | | |
| --- | --- | --- | --- | --- |
| Show Name | GrossGross | TotalAttn | %Cap | AvgPdAdm |
| ANNIE | $747,017 | 9,463 | 69.25% | $78.94 |
| CHICAGO | $592,959 | 7,520 | 87.04% | $78.85 |
| CINDERELLA | $811,958 | 8,941 | 63.83% | $90.81 |
| FIRST DATE | $411,514 | 6,207 | 72.58% | $66.30 |
| FOREVER TANGO | $206,708 | 4,205 | 56.64% | $49.16 |
| JERSEY BOYS | $762,714 | 8,172 | 83.18% | $93.33 |
| KINKY BOOTS | $1,635,009 | 11,480 | 100.77% | $142.42 |
| LET IT BE | $321,418 | 5,726 | 42.53% | $56.13 |
| MAMMA MIA! | $831,600 | 9,470 | 79.02% | $87.81 |
| MATILDA | $1,320,097 | 11,539 | 100.72% | $114.40 |
| MOTOWN: THE MUSICAL | $1,401,954 | 11,701 | 97.06% | $119.81 |
| NEWSIES | $809,180 | 8,987 | 94.80% | $90.04 |
| ONCE | $635,876 | 7,002 | 82.65% | $90.81 |
| PIPPIN | $1,003,459 | 7,839 | 98.98% | $128.01 |
| ROCK OF AGES | $352,664 | 3,992 | 85.59% | $88.34 |
| ROMEO AND JULIET | $207,375 | 2,390 | 91.22% | $86.77 |
| SOUL DOCTOR | $187,435 | 4,729 | 84.21% | $39.64 |
| SPIDER-MAN TURN OFF THE DARK | $966,952 | 10,705 | 69.33% | $90.33 |
| THE BOOK OF MORMON | $1,698,210 | 8,752 | 102.63% | $194.04 |
| THE LION KING | $1,875,882 | 13,603 | 100.02% | $137.90 |
| THE PHANTOM OF THE OPERA | $1,068,863 | 11,779 | 91.74% | $90.74 |
| THE TRIP TO BOUNTIFUL | $481,516 | 5,243 | 70.46% | $91.84 |
| VANYA AND SONIA AND MASHA AND SPIKE | $565,571 | 5,352 | 85.01% | $105.67 |
| WICKED | $1,708,781 | 13,223 | 91.37% | $129.23 |
| Totals: | $20,604,711 | 198,020 | 83.36% | $97.56 |
Broadway ticket sales raw data are provided courtesy of The Broadway League All other data, text, opinion, charts and commentary are copyright © 2012 nytix.com