Broadway Show Ticket Sales Analysis w/e 8/18/2013
Broadway Ticket Sales Dip As The Summer Winds Down, The Lion King, Wicked, And The Book Of Mormon Remain Top Earners, Kinky Boots Inches Closer, Securing Fourth Place With $1.6M
---
Broadway Ticket Sales Drop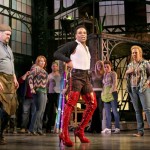 With many New York City locals away on vacation, and perhaps too many tourists already heading home to get a start on their back-to-school shopping, Broadway saw a decline in revenue this past week. Sales, which were previously at $23,335,894, fell by nearly one and a half million dollars, coming in at a total of $21,839,390 this week.
Kinky Boots Closing in on the Book of Mormon
Predictably, from week to week, the top three Broadway money makers are The Lion King, Wicked, and The Book of Mormon, with the first two alternating in the #1 and #2 spot (The Lion King took it this week, as it has for most of the summer) and The Book of Mormon almost always taking the #3 place. But a new Top 3 contender may be emerging with Kinky Boots, the Tony Award-winning hit that has been selling out. While The Book of Mormon still earned third place with $1,741,615, Kinky Boots came in at a very close fourth with $1,649,031.
The Following are the Broadway Ticket Sales Numbers from the Week Ending August 18, 2013: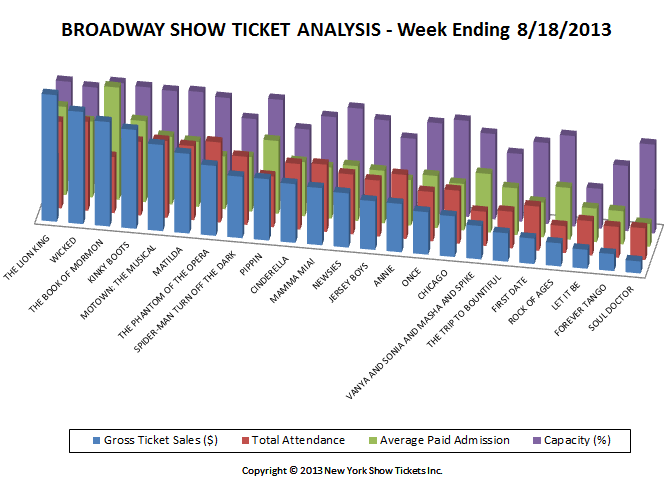 | | | | | |
| --- | --- | --- | --- | --- |
| Show Name | GrossGross | TotalAttn | %Cap | AvgPdAdm |
| ANNIE | $806,640 | 9,975 | 73.00% | $80.87 |
| CHICAGO | $678,773 | 8,253 | 95.52% | $82.25 |
| CINDERELLA | $980,547 | 10,216 | 72.93% | $95.98 |
| FIRST DATE | $424,227 | 6,881 | 80.46% | $61.65 |
| FOREVER TANGO | $282,884 | 4,806 | 64.74% | $58.86 |
| JERSEY BOYS | $812,903 | 8,733 | 88.89% | $93.08 |
| KINKY BOOTS | $1,649,031 | 11,480 | 100.77% | $143.64 |
| LET IT BE | $316,572 | 5,329 | 39.58% | $59.41 |
| MAMMA MIA! | $953,280 | 10,487 | 87.51% | $90.90 |
| MATILDA | $1,329,084 | 11,542 | 100.75% | $115.15 |
| MOTOWN: THE MUSICAL | $1,437,843 | 11,980 | 99.37% | $120.02 |
| NEWSIES | $904,461 | 9,316 | 98.27% | $97.09 |
| ONCE | $708,350 | 7,682 | 90.68% | $92.21 |
| PIPPIN | $1,023,367 | 7,921 | 100.01% | $129.20 |
| ROCK OF AGES | $384,217 | 4,185 | 89.73% | $91.81 |
| SOUL DOCTOR | $200,673 | 4,958 | 88.28% | $40.47 |
| SPIDER-MAN TURN OFF THE DARK | $1,025,358 | 10,612 | 78.55% | $96.62 |
| THE BOOK OF MORMON | $1,741,615 | 8,752 | 102.63% | $199.00 |
| THE LION KING | $2,112,788 | 13,511 | 99.35% | $156.38 |
| THE PHANTOM OF THE OPERA | $1,167,085 | 12,479 | 97.19% | $93.52 |
| THE TRIP TO BOUNTIFUL | $473,711 | 5,717 | 67.23% | $82.86 |
| VANYA AND SONIA AND MASHA AND SPIKE | $554,932 | 5,337 | 84.77% | $103.98 |
| WICKED | $1,871,050 | 13,880 | 95.91% | $134.80 |
| Totals: | $21,839,390 | 190,152 | 86.79% | $100.86 |
Broadway ticket sales raw data are provided courtesy of The Broadway League All other data, text, opinion, charts and commentary are copyright © 2012 nytix.com