Broadway Show Ticket Sales Analysis w/e 3/3/2013
Broadway Show Ticket Sales Analysis For Week Ending 03/03/2013 Reflect A Big Drop In Overall Ticket Sales Across The Industry And Four Shows Close
---
Broadway Ticket Sales Drop Again

This week sees yet another decrease in Broadway's total ticket revenue. Broadway's earnings are down by more than a million from last week, coming in at a total of $17,192,695.
"Lucky Guy" Starts High
A surprise to no one, the new Nora Ephron play Lucky Guy -- starring Tom Hanks, making his Broadway debut -- has begun Broadway previews on a financial high. Selling out at 101.74%, the show is earning an average paid admission of $153.17.
For offering audiences the unique experience of seeing one of the world's favorite movie stars on the Broadway stage, it is expected that Lucky Guy will continue to do great numbers during its run.
Four Shows Take A Final Bow
Four Broadway shows concluded this week, all ending their runs with respectable numbers. Barry Manilow's Manilow on Broadway did the best, taking in an average paid admission of $120.38 in its final week.
The long-running Disney family favorite Mary Poppins enjoyed a full theater in its last week, with 97.60% attendance. Well-reviewed plays The Other Place and Who's Afraid of Virginia Woolf? had good (if not great) sales, each earning over $300,000 for the week.
"Mary Poppins" Finishes Strong After 6 Years Of Production
After announcing closing in early January, Mary Poppins finished strong with a gross for over a million dollars in Broadway ticket sales this past week. Gross ticket sales averaged $650,000 (by week) from January to mid-February.
It was not until the final 3 weeks that the Broadway show experienced an elevation in sales. Mary Poppins ended their 6 year production consecutively breaking 1 million dollars in gross ticket sales in the production's final weeks.
The following are the Broadway ticket sales numbers from the week ending March 3, 2013: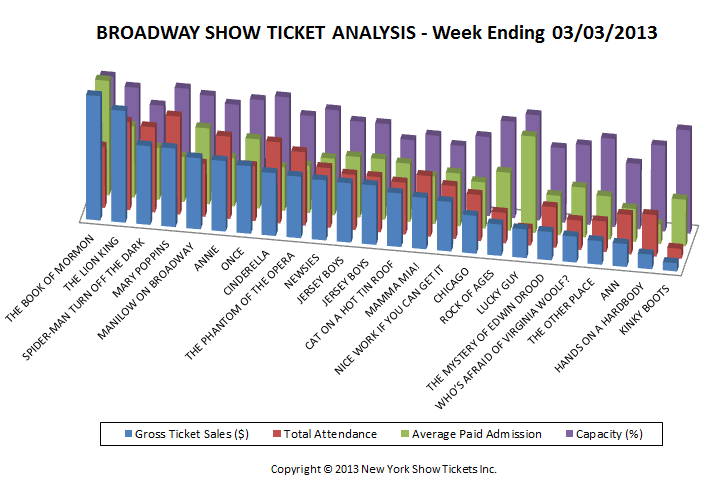 | | | | | |
| --- | --- | --- | --- | --- |
| Show Name | GrossGross | TotalAttn | %Cap | AvgPaidAdm |
| ANN | $294,156 | 5,636 | 63.30% | $52.19 |
| ANNIE | $902,794 | 11,782 | 86.23% | $76.62 |
| CAT ON A HOT TIN ROOF | $686,272 | 7,414 | 66.96% | $92.56 |
| CHICAGO | $484,637 | 6,607 | 76.47% | $73.35 |
| CINDERELLA | $804,176 | 11,605 | 97.75% | $69.30 |
| HANDS ON A HARDBODY | $186,336 | 5,943 | 82.99% | $31.35 |
| JERSEY BOYS | $758,714 | 7,897 | 80.38% | $96.08 |
| KINKY BOOTS | $105,384 | 1,424 | 100.00% | $74.01 |
| LUCKY GUY | $367,156 | 2,397 | 101.74% | $153.17 |
| MAMMA MIA! | $657,925 | 8,675 | 73.32% | $75.84 |
| MANILOW ON BROADWAY | $910,345 | 7,562 | 92.73% | $120.38 |
| MARY POPPINS | $1,006,157 | 14,031 | 97.60% | $71.71 |
| NEWSIES | $768,352 | 8,550 | 89.44% | $89.87 |
| NICE WORK IF YOU CAN GET IT | $634,182 | 7,555 | 65.63% | $83.94 |
| ONCE | $866,108 | 7,863 | 92.90% | $110.15 |
| ROCK OF AGES | $401,624 | 4,354 | 93.35% | $92.24 |
| SPIDER-MAN TURN OFF THE DARK | $1,007,796 | 12,178 | 78.87% | $82.76 |
| THE BOOK OF MORMON | $1,592,202 | 8,752 | 102.63% | $181.92 |
| THE LION KING | $1,431,205 | 12,635 | 94.18% | $113.27 |
| THE MYSTERY OF EDWIN DROOD | $361,943 | 5,790 | 72.09% | $62.51 |
| THE OTHER PLACE | $301,779 | 4,397 | 85.35% | $68.63 |
| THE PHANTOM OF THE OPERA | $787,625 | 10,497 | 81.75% | $75.03 |
| WHO'S AFRAID OF VIRGINIA WOOLF? | $331,805 | 4,203 | 76.98% | $78.94 |
| WICKED | $1,544,023 | 14,468 | 99.97% | $106.72 |
| Total | $17,192,695 | 192,215 | 85.52% | $88.86 |
Broadway ticket sales raw data are provided courtesy of The Broadway League All other data, text, opinion, charts and commentary are copyright © 2012 nytix.com