Broadway Show Ticket Sales Analysis w/e 3/23/2014
Broadway Show Ticket Sales Analysis For Week Ending 03/23/2014 Three New Shows Hit The Stage Act One, Cabaret, And Of Mice And Men.
---
Three Shows Began Previews On Broadway This Week
Act One played 4 performances at Lincoln Center's Vivian Beaumont Theatre, with an average paid admission of $57.67 per ticket, and an average audience capacity of 61.07%.
Another not-for-profit theatre company was significantly more successful with their Broadway debut this week: the Roundabout Theatre Company's production of Cabaret had an average paid admission of $94.96 and an average capacity of 101.7%, more than selling out their house due to premium sales in its three first performances.
"Of Mice And Men" Benefits From Star-Studded Cast
The third premiere this week is also off to a strong start: Of Mice and Men, benefitting from a star-studded cast including James Franco, Chris O'Dowd, and Leighton Meester, attracted an average paid admission of $111.95, and filled its house to an average 95.6% capacity over the six performances of its first week.
Overall, these figures exemplify how household name actors and familiar show titles can succeed in attracting a full audience even before reviews are published.

"A Raisin In The Sun" Joins Millionaire's Club

A Raisin in the Sun made it into the millionaire's club this week, a real accomplishment for a straight play on Broadway, especially so early on in its run. With an average paid admission of $132.31 and a clean 100.00% audience capacity, this revival of the Lorraine Hansberry classic profited from the megastar status of its lead, Denzel Washington.
This is the third week in which this production has been running, but it is the first 8-performance week. As such, it has done equally well this week compared to the prior week, which only had 7 performances.

"The Realistic Joneses" Transferred To Broadway From Connecticut
Another straight play in previews is The Realistic Joneses, which transferred to Broadway after an acclaimed run last year at the Yale Repertory Theatre in New Haven, Connecticut.
Though Will Eno's play features famous actors including Toni Collette, Michael C. Hall, Tracy Letts, and Marisa Tomei, their star power is significantly lower than that of Denzel Washington. As such, in its first 8-performance week, the show played to only 81.38% average capacity, with an average ticket price of $76.34.

The following are the Broadway ticket sales numbers for the week ending March 23, 2014: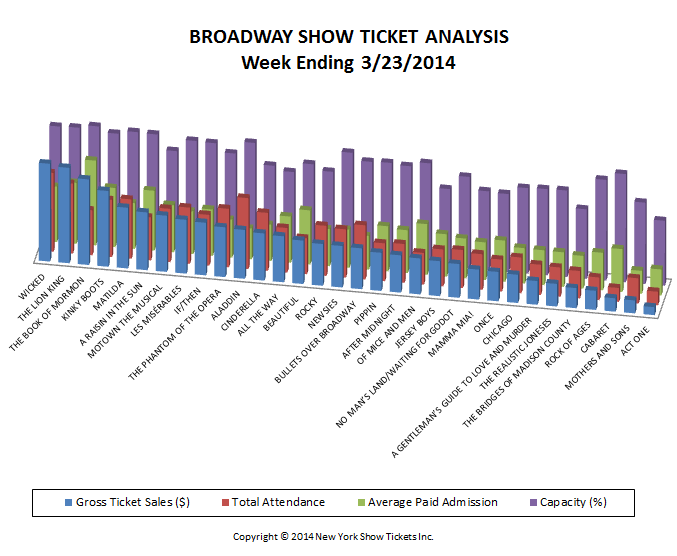 | | | | | |
| --- | --- | --- | --- | --- |
| Show | GrossGross | Total Attn | %Cap | AvgPdAdm |
| A GENTLEMAN'S GUIDE TO LOVE AND MURDER | $453,663 | 5,880 | 81.04% | $77.15 |
| A RAISIN IN THE SUN | $1,107,163 | 8,368 | 100.00% | $132.31 |
| ACT ONE | $152,704 | 2,648 | 61.07% | $57.67 |
| AFTER MIDNIGHT | $714,663 | 7,555 | 91.16% | $94.59 |
| ALADDIN | $937,099 | 13,782 | 100.16% | $67.99 |
| ALL THE WAY | $881,336 | 8,646 | 76.00% | $101.94 |
| BEAUTIFUL | $832,504 | 6,973 | 84.95% | $119.39 |
| BULLETS OVER BROADWAY | $782,289 | 10,508 | 92.09% | $74.45 |
| CABARET | $255,813 | 2,694 | 101.70% | $94.96 |
| CHICAGO | $541,652 | 6,944 | 80.37% | $78.00 |
| CINDERELLA | $902,579 | 11,245 | 80.28% | $80.26 |
| IF/THEN | $1,008,303 | 9,854 | 96.61% | $102.32 |
| JERSEY BOYS | $669,085 | 7,169 | 72.97% | $93.33 |
| KINKY BOOTS | $1,451,463 | 11,101 | 97.45% | $130.75 |
| LES MISÉRABLES | $1,031,869 | 10,931 | 97.11% | $94.40 |
| MAMMA MIA! | $573,443 | 6,915 | 74.13% | $82.93 |
| MATILDA | $1,163,417 | 11,519 | 100.55% | $101.00 |
| MOTHERS AND SONS | $248,821 | 4,909 | 76.51% | $50.69 |
| MOTOWN THE MUSICAL | $1,078,097 | 10,359 | 85.92% | $104.07 |
| NEWSIES | $795,046 | 9,384 | 98.99% | $84.72 |
| NO MAN'S LAND/WAITING FOR GODOT | $647,289 | 7,389 | 86.08% | $87.60 |
| OF MICE AND MEN | $688,832 | 6,153 | 95.57% | $111.95 |
| ONCE | $563,021 | 6,201 | 73.19% | $90.80 |
| PIPPIN | $730,892 | 7,342 | 92.70% | $99.55 |
| ROCK OF AGES | $366,648 | 4,415 | 94.66% | $83.05 |
| ROCKY | $799,879 | 9,746 | 79.52% | $82.07 |
| THE BOOK OF MORMON | $1,639,847 | 8,752 | 102.63% | $187.37 |
| THE BRIDGES OF MADISON COUNTY | $385,394 | 5,329 | 65.37% | $72.32 |
| THE LION KING | $1,828,835 | 13,575 | 99.82% | $134.72 |
| THE PHANTOM OF THE OPERA | $954,196 | 11,368 | 88.54% | $83.94 |
| THE REALISTIC JONESES | $433,391 | 5,677 | 81.38% | $76.34 |
| WICKED | $1,874,352 | 15,318 | 99.31% | $122.36 |
| Totals: | $26,493,581 | 268,649 | 87.74% | $95.47 |