Broadway Show Ticket Sales Analysis w/e 3/17/2013
Broadway Show Ticket Sales Analysis For Week Ending 03/17/2013 Reflects An Increase In Ticket Sales During The Busy Spring Season And New Shows Hit The Stage
---
Broadway Sales Continue To Rise

Spring is bringing new life to Broadway in the form of increased ticket sales. Once again there was a rise in ticket revenue as sales jumped from last week's $18,085,583 to $20,821,011.
New Shows For Spring Season
Unlike the Fall season, which failed to produce many lasting successes among its new crop of productions, the Spring season is showing far more promise. New musicals Kinky Boots and Matilda are coming close to selling out, and Cinderella is already bringing in over a million dollars in weekly ticket sales.
With a minimum of buzz and no stars (unless you count the music), Motown the Musical is doing extremely well, selling at 102.92% with an average paid admission of $97.58. In the play department, Lucky Guy is living up to its name, selling out performance at an average paid admission of $135.59 and earning a total of $1,294,233.
Most New Plays Struggle
Of course, not all new shows can be so fortunate. Despite positive buzz, the one-woman show Ann is only seeing 66.52% attendance. Breakfast at Tiffany's has a well-known title, but so far the play's average paid admission is rather low at $59.84. Vanya and Sonia and Masha and Spike is enjoying high attendance at 96.70%, but the average paid admission is only $55.62.
The following are the Broadway ticket sales numbers from the week ending March 17, 2013: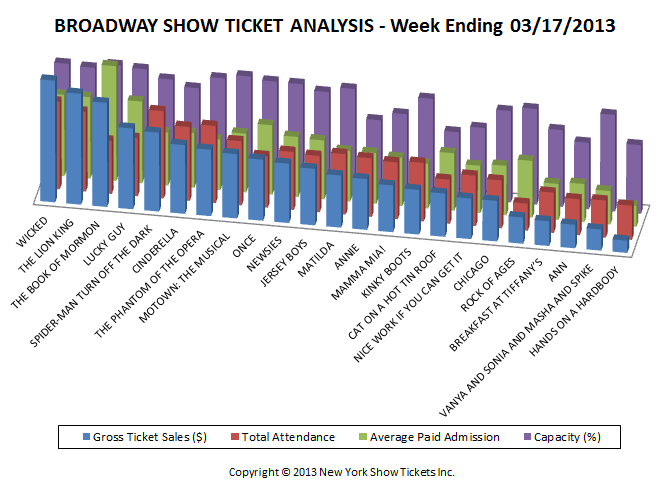 | | | | | |
| --- | --- | --- | --- | --- |
| Show Name | GrossGross | TotalAttn | %Cap | AvgPaidAdm |
| ANN | $376,134 | 5,923 | 66.52% | $63.50 |
| ANNIE | $814,915 | 9,648 | 70.61% | $84.46 |
| BREAKFAST AT TIFFANY'S | $396,866 | 6,632 | 76.83% | $59.84 |
| CAT ON A HOT TIN ROOF | $693,100 | 7,259 | 65.56% | $95.48 |
| CHICAGO | $649,577 | 7,897 | 91.40% | $82.26 |
| CINDERELLA | $1,102,496 | 12,132 | 86.61% | $90.88 |
| HANDS ON A HARDBODY | $196,151 | 5,624 | 68.72% | $34.88 |
| JERSEY BOYS | $905,013 | 9,263 | 94.29% | $97.70 |
| KINKY BOOTS | $714,331 | 9,632 | 96.63% | $74.16 |
| LUCKY GUY | $1,294,233 | 9,545 | 100.94% | $135.59 |
| MAMMA MIA! | $749,447 | 9,340 | 78.94% | $80.24 |
| MATILDA | $835,432 | 9,946 | 99.57% | $84.00 |
| MOTOWN: THE MUSICAL | $1,029,883 | 10,554 | 102.92% | $97.58 |
| NEWSIES | $951,680 | 9,554 | 99.94% | $99.61 |
| NICE WORK IF YOU CAN GET IT | $650,966 | 8,287 | 71.99% | $78.55 |
| ONCE | $977,861 | 8,472 | 100.09% | $115.42 |
| ROCK OF AGES | $420,521 | 4,460 | 95.63% | $94.29 |
| SPIDER-MAN TURN OFF THE DARK | $1,264,081 | 14,360 | 93.01% | $88.03 |
| THE BOOK OF MORMON | $1,667,180 | 8,752 | 102.63% | $190.49 |
| THE LION KING | $1,776,767 | 13,134 | 97.90% | $135.28 |
| THE PHANTOM OF THE OPERA | $1,065,032 | 12,681 | 98.76% | $83.99 |
| VANYA AND SONIA AND MASHA AND SPIKE | $338,621 | 6,088 | 96.70% | $55.62 |
| WICKED | $1,950,727 | 14,409 | 99.56% | $135.38 |
| Total | $20,821,011 | 213,592 | 89.38% | $93.79 |
Broadway ticket sales raw data are provided courtesy of The Broadway League All other data, text, opinion, charts and commentary are copyright © 2012 nytix.com
Discount Broadway Tickets
---
---