Broadway Show Ticket Sales Analysis w/e 3/16/2014
Broadway Show Ticket Sales Analysis For Week Ending 03/16/2014 With Seven Shows Joining The Millionaires Club Including Kinky Boots, Les Misérables, And Matilda.
---
Seven Broadway Shows Join Millionaires Club

With total Broadway ticket sales revenue up to $24.4 million from last weeks $21.2 million, this week sees that seven Broadway shows are now in the millionaires club. This includes Kinky Boots, Les Misérables, Matilda, Motown, Book Of Mormon, Lion King and Wicked. Les Misérables shines as the seventh top grossing show overall and it has only just opened in previews.
The Wickedly Talented Indina Menzel In If/Then

If/Then begins its run in previews with strong sales. With almost a million ($) dollars in gross Broadway ticket sales, If/Then has made it to the top ten in our Broadway Show Ticket Analysis Chart (see below). The 'wickedly talented' Idina Menzel (not Adele Dazeem) seems to be the drive of this new Broadway show which is directly reflected from the average ticket price of $105.65 and a 98.55% capacity.
After Midnight Suffered Last Week
With a rotating list of celebrity singers as the big draw for this show, the critically acclaimed After Midnight suffered greatly last week by being stuck in the no-mans-land between the end of KD Lang and start of Toni Braxton stints on the show.
It's unclear who actually sang in that role last week, but the numbers show that how the lack of celebrity draw can impact the sales numbers massively. The average paid admission sale crashed from $96.44 to $68.39, demonstrating that the celeb headliner can make a huge difference in sales.
Toni Braxton Makes Her Broadway Debut
Ironically, the capacity for After Midnight remained the same indicating that the show discounted heavily and may have papered the theatre to get the audience in. It will be interesting to see how the show recovers this week when Toni Braxton makes her debut and whether or not the gap-drop in sales can mess with overall shows ticket sales momentum or if its just a passing phase.
The show plans to rotate in Toni Braxton, KD Lang, Fantasia Barrino, Kenny "Babyface" Edmonds, Dule Hill and Adriane Lenox. All of which will provide some fascinating takes on sales data as it may just end up being a popularity contest with all things equal.
The following are the Broadway ticket sales numbers for the week ending March 16, 2014: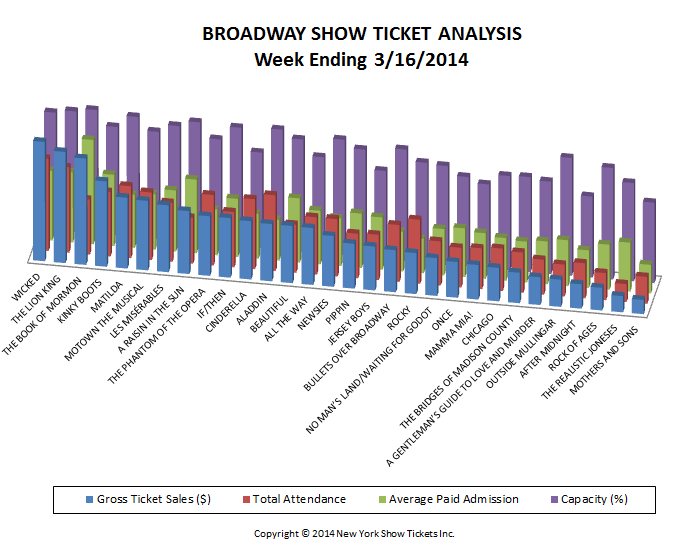 | | | | | |
| --- | --- | --- | --- | --- |
| Show | GrossGross | Total Attn | %Cap | AvgPdAdm |
| A GENTLEMAN'S GUIDE TO LOVE AND MURDER | $432,707 | 5,557 | 76.58% | $77.87 |
| A RAISIN IN THE SUN | $981,488 | 7,322 | 100.00% | $134.05 |
| AFTER MIDNIGHT | $381,020 | 5,571 | 67.22% | $68.39 |
| ALADDIN | $893,595 | 12,035 | 99.96% | $74.25 |
| ALL THE WAY | $887,748 | 9,118 | 80.15% | $97.36 |
| BEAUTIFUL | $891,835 | 7,658 | 93.30% | $116.46 |
| BULLETS OVER BROADWAY | $655,710 | 9,050 | 92.54% | $72.45 |
| CHICAGO | $523,155 | 6,756 | 78.19% | $77.44 |
| CINDERELLA | $910,028 | 11,127 | 79.43% | $81.79 |
| IF/THEN | $929,267 | 8,796 | 98.55% | $105.65 |
| JERSEY BOYS | $684,421 | 7,200 | 73.29% | $95.06 |
| KINKY BOOTS | $1,330,377 | 10,267 | 90.12% | $129.58 |
| LES MISÉRABLES | $1,043,262 | 9,397 | 95.41% | $111.02 |
| MAMMA MIA! | $538,966 | 6,500 | 69.68% | $82.92 |
| MATILDA | $1,105,243 | 11,451 | 99.96% | $96.52 |
| MOTHERS AND SONS | $222,265 | 4,278 | 66.68% | $51.96 |
| MOTOWN THE MUSICAL | $1,084,613 | 10,745 | 89.13% | $100.94 |
| NEWSIES | $792,166 | 9,114 | 96.14% | $86.92 |
| NO MAN'S LAND/WAITING FOR GODOT | $589,820 | 7,030 | 81.90% | $83.90 |
| ONCE | $556,921 | 6,297 | 74.33% | $88.44 |
| OUTSIDE MULLINGAR | $423,934 | 5,079 | 97.67% | $83.47 |
| PIPPIN | $699,835 | 7,087 | 89.48% | $98.75 |
| ROCK OF AGES | $353,712 | 4,310 | 92.41% | $82.07 |
| ROCKY | $639,757 | 10,182 | 83.08% | $62.83 |
| THE BOOK OF MORMON | $1,659,020 | 8,752 | 102.63% | $189.56 |
| THE BRIDGES OF MADISON COUNTY | $476,374 | 6,418 | 78.73% | $74.22 |
| THE LION KING | $1,733,679 | 13,598 | 99.99% | $127.50 |
| THE PHANTOM OF THE OPERA | $929,682 | 11,214 | 87.34% | $82.90 |
| THE REALISTIC JONESES | $253,222 | 2,841 | 81.45% | $89.13 |
| WICKED | $1,861,649 | 14,686 | 97.49% | $126.76 |
| Totals: | $24,465,468 | 249,436 | 87.09% | $95.00 |