Broadway Show Ticket Sales Analysis w/e 2/16/2014
Broadway Show Ticket Sales Analysis For Week Ending 02/16/2014 Show Significant Leap With Ticket Sales Jumping Across The Industry.
---
Big Leap in Broadway Ticket Sales

New York City keeps getting pummeled with snow and cold temperatures, but the freeze seems to be thawing at Broadway box offices. Total revenue increased considerably this week, with Broadway ticket sales jumping from last week's $17,841,889 up to $21,192,762 this week.
Shakespeare Double Bill Closes
Despite the Bard's enduring popularity, it's not often that Broadway productions of Shakespearean plays are certifiable hits, but the double bill of Richard III and Twelfth Night featuring Mark Rylance earned raves from critics and big bucks from audiences. Both plays closed this weekend, and enjoyed sold out performances and average ticket prices of $110.02 for their final week on Broadway.
Rocky Enters The Broadway Ring
The brand new musical version of the classic Sylvester Stallone flick Rocky began preview performances on Broadway this week. Though it has yet to prove itself a box office champ, the boxing-themed show is off to a promising start, selling at 84.97% capacity with an average paid admission of $95.69.
The following are the Broadway ticket sales numbers for the week ending February 16, 2014: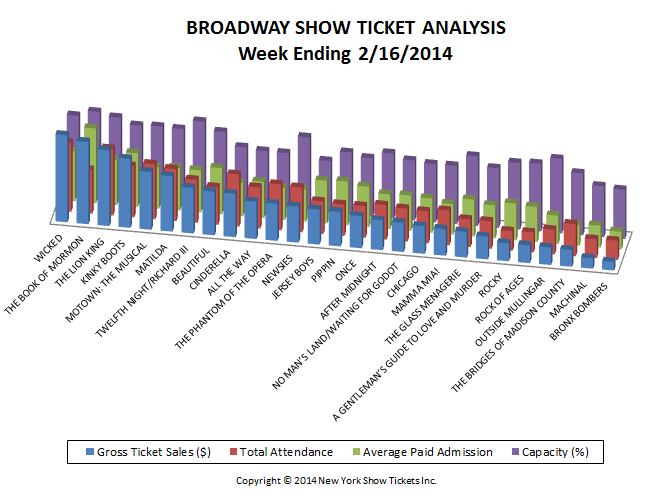 | | | | | |
| --- | --- | --- | --- | --- |
| Show | GrossGross | Total Attn | %Cap | AvgPdAdm |
| A GENTLEMAN'S GUIDE TO LOVE AND MURDER | $471,751 | 5,497 | 75.76% | $85.82 |
| AFTER MIDNIGHT | $619,847 | 6,870 | 82.89% | $90.23 |
| ALL THE WAY | $770,789 | 8,188 | 71.67% | $94.14 |
| BEAUTIFUL | $901,903 | 7,497 | 91.34% | $120.30 |
| BRONX BOMBERS | $177,559 | 3,844 | 62.57% | $46.19 |
| CHICAGO | $571,596 | 6,380 | 73.84% | $89.59 |
| CINDERELLA | $896,903 | 10,384 | 74.13% | $86.37 |
| JERSEY BOYS | $725,805 | 6,499 | 66.15% | $111.68 |
| KINKY BOOTS | $1,431,140 | 10,243 | 89.91% | $139.72 |
| MACHINAL | $216,017 | 3,763 | 64.70% | $57.41 |
| MAMMA MIA! | $550,858 | 6,908 | 74.06% | $79.74 |
| MATILDA | $1,146,444 | 10,340 | 90.26% | $110.87 |
| MOTOWN: THE MUSICAL | $1,197,720 | 10,977 | 91.05% | $109.11 |
| NEWSIES | $748,187 | 8,910 | 93.99% | $83.97 |
| NO MAN'S LAND/WAITING FOR GODOT | $606,324 | 6,544 | 76.23% | $92.65 |
| ONCE | $665,473 | 6,304 | 74.41% | $105.56 |
| OUTSIDE MULLINGAR | $362,896 | 4,916 | 94.54% | $73.82 |
| PIPPIN | $717,058 | 6,277 | 79.26% | $114.24 |
| ROCK OF AGES | $369,131 | 4,027 | 86.34% | $91.66 |
| ROCKY | $373,672 | 3,905 | 84.97% | $95.69 |
| THE BOOK OF MORMON | $1,705,114 | 8,752 | 102.63% | $194.83 |
| THE BRIDGES OF MADISON COUNTY | $348,594 | 6,424 | 78.80% | $54.26 |
| THE GLASS MENAGERIE | $531,602 | 5,520 | 88.69% | $96.30 |
| THE LION KING | $1,570,787 | 13,304 | 97.82% | $118.07 |
| THE PHANTOM OF THE OPERA | $766,994 | 9,164 | 71.37% | $83.70 |
| TWELFTH NIGHT/RICHARD III | $944,755 | 8,587 | 102.13% | $110.02 |
| WICKED | $1,803,846 | 13,810 | 95.43% | $130.62 |
| Totals: | $21,192,762 | 203,834 | 82.78% | $98.76 |
Broadway ticket sales raw data are provided courtesy of The Broadway League All other data, text, opinion, charts and commentary are copyright © 2013 nytix.com