Broadway Show Ticket Sales Analysis w/e 2/10/2013
Broadway Show Ticket Sales Analysis For Week Ending 02/10/2013 Reflects Another Big Drop In Ticket Sales, Thanks In Part To Winter Storm Nemo
---
Broadway Ticket Sales Take Another Dive

Broadway's overall ticket revenue dipped even further this week, dropping from the already low $16,564,311 down to $15,048,035. Blame for the decrease can be given to winter storm Nemo, which meteorologists began hyping early in the week.
The snow began battering New York City on Friday afternoon, carrying on through the night. Though Broadway shows weathered the storm and kept their doors open, some methods of transportation into the city experienced temporary closures and delays, making it difficult for commuters to come in to see Broadway shows.
Winter Storm Warning Impacts Ticket Sales
Furthermore, the weather forecaster-inspired hysteria surrounding the winter storm most likely spooked many would-be Broadway ticket buyers into staying away from Broadway all weekend, despite the fact that the storm was effectively over by Saturday morning and public transit within the city was running just fine.
"The Heiress" Does Well During Final Week
One of the more successful play revivals on Broadway this season, The Heiress ended its limited run on a high note, nearly selling out its theater at 96.65% capacity at an average paid admission of $101.04.
The production no doubt has enjoyed a boost from the fact that its two stars are both in hot properties right now -- Jessica Chastain in the film Zero Dark Thirty and Dan Stevens in the popular PBS drama Downton Abbey, currently airing its third season.
The following are the Broadway ticket sales numbers from the week ending February 10, 2013: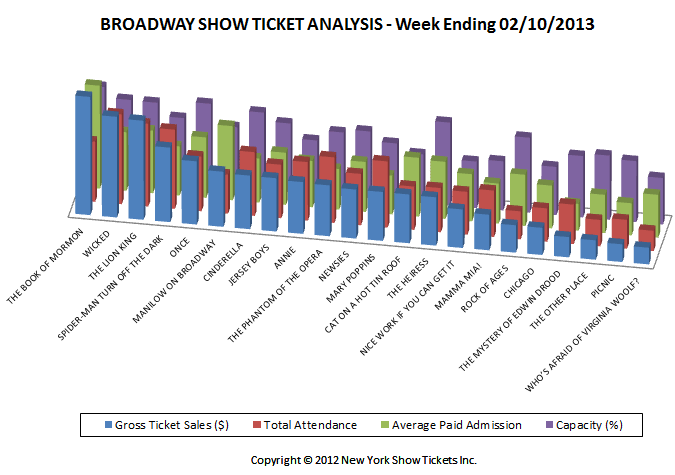 | | | | | |
| --- | --- | --- | --- | --- |
| Show Name | GrossGross | TotalAttn | %Cap | AvgPaidAdm |
| ANNIE | $696,830 | 8,504 | 62.24% | $81.94 |
| CAT ON A HOT TIN ROOF | $656,660 | 6,313 | 57.02% | $104.02 |
| CHICAGO | $365,414 | 4,839 | 56.01% | $75.51 |
| CINDERELLA | $721,654 | 9,268 | 89.22% | $77.87 |
| JERSEY BOYS | $718,117 | 7,786 | 79.25% | $92.23 |
| MAMMA MIA! | $478,909 | 6,751 | 57.06% | $70.94 |
| MANILOW ON BROADWAY | $742,022 | 5,666 | 69.48% | $130.96 |
| MARY POPPINS | $658,785 | 9,624 | 66.94% | $68.45 |
| NEWSIES | $659,853 | 7,470 | 78.14% | $88.33 |
| NICE WORK IF YOU CAN GET IT | $518,472 | 6,225 | 54.07% | $83.29 |
| ONCE | $850,309 | 7,957 | 94.01% | $106.86 |
| PICNIC | $238,562 | 4,199 | 70.93% | $56.81 |
| ROCK OF AGES | $368,708 | 4,069 | 87.24% | $90.61 |
| SPIDER-MAN TURN OFF THE DARK | $1,002,910 | 11,518 | 74.60% | $87.07 |
| THE BOOK OF MORMON | $1,590,782 | 8,752 | 102.63% | $181.76 |
| THE HEIRESS | $650,105 | 6,434 | 96.65% | $101.04 |
| THE LION KING | $1,333,769 | 12,042 | 89.76% | $110.76 |
| THE MYSTERY OF EDWIN DROOD | $272,735 | 5,734 | 71.39% | $47.56 |
| THE OTHER PLACE | $259,979 | 3,844 | 74.61% | $67.63 |
| THE PHANTOM OF THE OPERA | $684,437 | 9,535 | 74.26% | $71.78 |
| WHO'S AFRAID OF VIRGINIA WOOLF? | $223,970 | 2,950 | 54.03% | $75.92 |
| WICKED | $1,355,055 | 13,067 | 90.29% | $103.70 |
| Total | $15,048,035 | 162,547 | 74.99% | $89.78 |
Broadway ticket sales raw data are provided courtesy of The Broadway League. All other data, text, opinion, charts and commentary are copyright © 2012 nytix.com