Broadway Show Ticket Sales Analysis w/e 12/22/2013
Broadway Show Ticket Sales Analysis For Week Ending 12/22/2013 Show An Overall Increase In Ticket Sales With Two Shows Passing The Two Million Dollar Mark
---
Broadway Ticket Sales Are Up

Overall revenue on Broadway increased by nearly a million this week, with sales rising from $26,577,878 to $27,539,204. This bump is surely due to the swell of tourists coming into New York for the holidays.
Machinal Begins Previews
The Roundabout Theatre Company picked an unusual time, right amidst the holiday bustle, to start preview performances of its latest production, Machinal -- perhaps hoping to capitalize from the tourist infusion. However, sales were unimpressive with an average paid admission of $35.01 and a theater filled to 69.19% capacity.

Two Shows Make Two Million
A pair of Broadway heavyweights made it past the two million mark this week, The Lion King and Wicked. The Lion King came out as the week's top earner with $2,206,379 (a change in a recent trend that has normally had Wicked at the top). Wicked came in second with $2,153,098. As is typical, The Book of Mormon had the #3 spot, but, at $1,962,932, it did not make it into the Two Millionaires Club.
The following are the Broadway ticket sales numbers from the week ending December 22, 2013: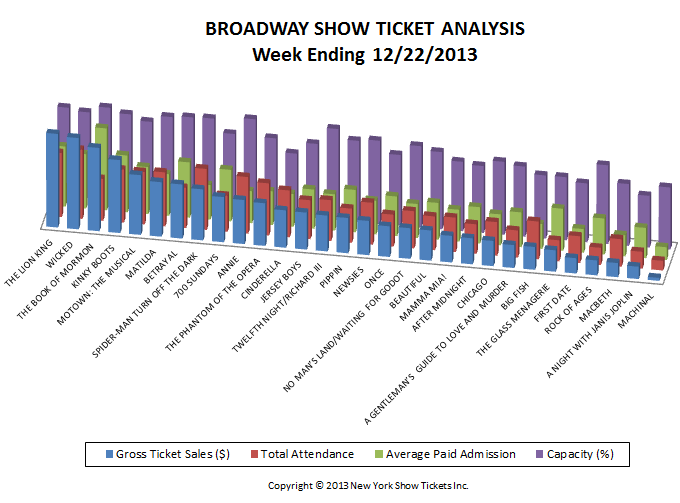 | | | | | |
| --- | --- | --- | --- | --- |
| Show | GrossGross | Total Attn | %Cap | AvgPdAdm |
| 700 SUNDAYS | $1,064,456 | 7,549 | 85.65% | $141.01 |
| A GENTLEMAN'S GUIDE TO LOVE AND MURDER | $539,230 | 5,666 | 78.09% | $95.17 |
| A NIGHT WITH JANIS JOPLIN | $291,763 | 3,518 | 57.79% | $82.93 |
| AFTER MIDNIGHT | $612,939 | 6,180 | 74.57% | $99.18 |
| ANNIE | $1,037,800 | 11,830 | 104.06% | $87.73 |
| BEAUTIFUL | $711,141 | 7,056 | 85.96% | $100.79 |
| BETRAYAL | $1,276,143 | 8,424 | 100.00% | $151.49 |
| BIG FISH | $538,081 | 7,925 | 70.21% | $67.90 |
| CHICAGO | $594,505 | 7,026 | 81.32% | $84.62 |
| CINDERELLA | $881,703 | 9,795 | 69.92% | $90.02 |
| FIRST DATE | $361,670 | 5,599 | 65.47% | $64.60 |
| JERSEY BOYS | $871,578 | 8,130 | 82.76% | $107.21 |
| KINKY BOOTS | $1,719,272 | 11,080 | 97.26% | $155.17 |
| MACBETH | $334,034 | 5,769 | 68.88% | $57.90 |
| MACHINAL | $70,446 | 2,012 | 69.19% | $35.01 |
| MAMMA MIA! | $627,873 | 7,200 | 77.19% | $87.20 |
| MATILDA | $1,286,509 | 11,265 | 98.33% | $114.20 |
| MOTOWN: THE MUSICAL | $1,407,739 | 10,970 | 90.99% | $128.33 |
| NEWSIES | $805,718 | 8,767 | 92.48% | $91.90 |
| NO MAN'S LAND/WAITING FOR GODOT | $720,707 | 7,767 | 90.48% | $92.79 |
| ONCE | $722,299 | 6,666 | 78.68% | $108.36 |
| PIPPIN | $831,288 | 7,150 | 90.28% | $116.26 |
| ROCK OF AGES | $351,984 | 3,576 | 87.63% | $98.43 |
| SPIDER-MAN TURN OFF THE DARK | $1,203,125 | 12,755 | 100.72% | $94.33 |
| THE BOOK OF MORMON | $1,962,932 | 8,752 | 102.63% | $224.28 |
| THE GLASS MENAGERIE | $504,049 | 4,379 | 70.36% | $115.11 |
| THE LION KING | $2,206,379 | 13,399 | 98.52% | $164.67 |
| THE PHANTOM OF THE OPERA | $1,005,309 | 10,896 | 84.86% | $92.26 |
| TWELFTH NIGHT/RICHARD III | $845,435 | 8,524 | 101.38% | $99.18 |
| WICKED | $2,153,098 | 14,486 | 95.40% | $148.63 |
| Totals: | $27,539,204 | 244,11 | 85.03% | $106.55 |
Broadway ticket sales raw data are provided courtesy of The Broadway League All other data, text, opinion, charts and commentary are copyright © 2013 nytix.com