Broadway Show Ticket Sales Analysis w/e 12/16/2012
Broadway Show Ticket Sales Analysis For Week Ending 12/16/2012 Reflects A Slight Decrease In Ticket Sales With Non-Holiday Themed Plays Struggling
---
Small Decrease In Broadway Ticket Sales

Total ticket sales for Broadway shows were slightly lower this week than last, coming in at $23,488,097 (about $400,000 less than last week's take). With this being high tourist season, it would seem that Broadway sales should be higher, not lower. However, the drop could be due to lower attendance among locals, some of whom might have been busy with Chanukah festivities and others who may have been overwhelmed with pre-Christmas shopping and the end-of-year work rush.
Two New Shows Start Performances
The Other Place, an Off-Broadway play that is now taking its chances in the Big Leagues, started preview performances this week. Starring Laurie Metcalf (Roseanne), the drama managed to fill 70.63% of the theater (not bad for a new play with little buzz), but the average paid admission was only $44.79. Another new production, William Inge's Picnic, also began performances this week and experienced similar numbers (72.59% capacity with average admission at $37.82).
Many Broadway Plays Continue To Struggle

It's no surprise, but most Broadway plays continue to be shut out of the holiday bounty. While holiday-oriented musicals like Annie, A Christmas Story, and Elf (not to mention heavy hitters like Wicked, The Book of Mormon, The Lion King, Spider-Man, and Once) all made over a million this week, most Broadway plays earned only a fraction of that amount.
Boasting tabloid favorite Katie Holmes didn't help Dead Accounts to fill even half its theater, and star Paul Rudd (who is particularly high profile right now due to his forthcoming movie This Is 40) wasn't able to help Grace fill more than 51.19% of its theater. It's possible that star-wattage simply doesn't count for much during the Christmas season, when tourist-heavy audiences are more focused on seeing family shows than an edgy new play.
The following are the Broadway ticket sales numbers from the week ending December 16, 2012: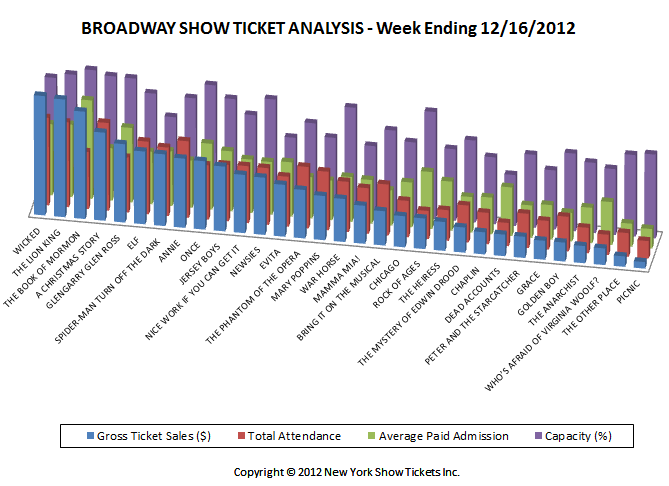 | | | | | |
| --- | --- | --- | --- | --- |
| Show Name | Gross | Attendance | Capacity | AvgPaidAdm |
| A CHRISTMAS STORY | $1,377,131 | 13,479 | 98.86% | $102.17 |
| ANNIE | $1,081,871 | 11,753 | 86.01% | $92.05 |
| BRING IT ON THE MUSICAL | $536,398 | 7,835 | 73.42% | $68.46 |
| CHAPLIN | $345,699 | 4,838 | 57.87% | $71.45 |
| CHICAGO | $486,418 | 5,588 | 64.68% | $87.05 |
| DEAD ACCOUNTS | $337,545 | 3,561 | 44.12% | $94.79 |
| ELF | $1,137,915 | 11,150 | 87.00% | $102.06 |
| EVITA | $810,297 | 7,671 | 59.48% | $105.63 |
| GLENGARRY GLEN ROSS | $1,224,543 | 8,443 | 98.54% | $145.04 |
| GOLDEN BOY | $295,970 | 5,329 | 67.29% | $55.54 |
| GRACE | $296,626 | 4,419 | 51.19% | $67.13 |
| JERSEY BOYS | $1,012,884 | 8,681 | 88.37% | $116.68 |
| MAMMA MIA! | $594,417 | 6,993 | 58.35% | $85.00 |
| MARY POPPINS | $691,677 | 8,984 | 62.49% | $76.99 |
| NEWSIES | $895,240 | 8,712 | 91.13% | $102.76 |
| NICE WORK IF YOU CAN GET IT | $910,619 | 8,747 | 75.98% | $104.11 |
| ONCE | $1,069,427 | 8,359 | 98.76% | $127.94 |
| PETER AND THE STARCATCHER | $330,938 | 5,243 | 63.14% | $63.12 |
| PICNIC | $101,587 | 2,686 | 72.59% | $37.82 |
| ROCK OF AGES | $478,863 | 4,316 | 92.54% | $110.95 |
| SPIDER-MAN TURN OFF THE DARK | $1,121,302 | 10,516 | 68.11% | $106.63 |
| THE ANARCHIST | $268,824 | 3,900 | 60.79% | $68.93 |
| THE BOOK OF MORMON | $1,677,950 | 8,752 | 102.62% | $191.72 |
| THE HEIRESS | $450,505 | 4,704 | 61.83% | $95.77 |
| THE LION KING | $1,840,393 | 13,038 | 97.18% | $141.16 |
| THE MYSTERY OF EDWIN DROOD | $393,684 | 5,696 | 70.92% | $69.12 |
| THE OTHER PLACE | $163,000 | 3,639 | 70.63% | $44.79 |
| THE PHANTOM OF THE OPERA | $757,858 | 9,441 | 73.53% | $80.27 |
| WAR HORSE | $672,506 | 7,705 | 90.10% | $87.28 |
| WHO'S AFRAID OF VIRGINIA WOOLF? | $259,917 | 3,115 | 56.91% | $83.44 |
| WICKED | $1,866,094 | 13,452 | 92.95% | $138.72 |
| Total: | $23,488,097 | 230,745 | 75.40% | $94.34 |
Broadway ticket sales raw data are provided courtesy of The Broadway League All other data, text, opinion, charts and commentary are copyright © 2012 nytix.com