Broadway Show Ticket Sales Analysis w/e 11/4/2012
Hurricane Sandy Took A Heavy Toll On Broadway This Week Causing A Significant Drop In Total Ticket Revenue, The Book Of Mormon Rises As The Top Earner, And The Performers Began Previews
---
Broadway Ticket Sales Plummet Due to Hurricane Sandy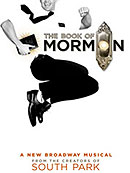 The total ticket revenue for Broadway shows this past week experienced an extremely sharp decrease, dropping from the already lower-than-usual $20,083,783 to an alarmingly low $13,578,724. Broadway normally sells $22 Million in ticket inventory, so it was a loss of $9.5 Million in just one week. This Broadway sales decrease was of course no surprise, since Hurricane Sandy necessitated the cancellation of all Broadway shows on Monday and Tuesday, with some shows also cancelling performances on Wednesday.
Even once performances re-started, Broadway had many other post-storm troubles to contend with. Airport closures and delayed flights kept tourists away for a few days (though many hopeful Broadway shows did offer special discounts to draw stranded tourists out of their hotel rooms), and the over-crowded and only partially running public transit system kept many locals from visiting Times Square.
"The Book of Mormon Tops "The Lion King"
The Book of Mormon finally beat out The Lion King on total ticket revenue for the week, though it likely has Hurricane Sandy to thank since The Lion King was one of the few Broadway shows that cancelled performances on Wednesday. These two popular musicals, along with Wicked (which came in 2nd place among the top three earners), were the only Broadway shows to bring in over $1 million this past week--an impressive feat given the fact that New York City didn't even have much working public transit for half of the week.
The Hardest Hit Broadway Show
A number of shows weren't even able to crack the $200,000 mark when it came to total sales: An Enemy of the People, Bring It On, Cyrano de Bergerac, Peter and the Starcatcher, Scandalous, The Mystery of Edwin Drood, and The Performers. Having just begun preview performances last week when the impending arrival of Hurricane Sandy was already starting to cause problems on Broadway, The Performers has had the misfortune to begin during a far-from-ideal time. But though the Broadway comedy featuring Henry Winkler only filled its theater to 58.14% capacity with an average paid admission of $42.76 last week, good buzz may help it see better numbers next week, when it has its official opening night.
The Following are the Broadway Ticket Sales Numbers from the Week Ending November 04, 2012: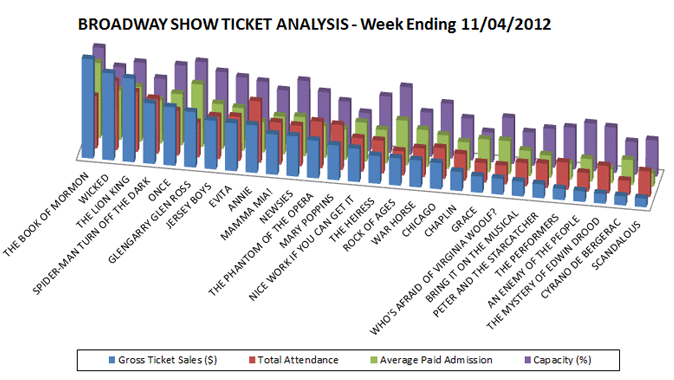 | | | | | |
| --- | --- | --- | --- | --- |
| Show Name | GrossGross | TotalAttn | %Cap | AvgPaidAdm |
| AN ENEMY OF THE PEOPLE | $142,175 | 2,756 | 61.14% | $51.59 |
| ANNIE | $638,714 | 9,048 | 77.49% | $70.59 |
| BRING IT ON THE MUSICAL | $198,918 | 3,416 | 42.68% | $58.23 |
| CHAPLIN | $256,337 | 3,915 | 53.52% | $65.48 |
| CHICAGO | $350,888 | 4,553 | 70.26% | $77.07 |
| CYRANO DE BERGERAC | $123,220 | 2,138 | 41.95% | $57.63 |
| EVITA | $642,500 | 6,515 | 80.83% | $98.62 |
| GLENGARRY GLEN ROSS | $744,703 | 5,135 | 95.89% | $145.02 |
| GRACE | $219,878 | 2,894 | 38.32% | $75.98 |
| JERSEY BOYS | $651,908 | 6,288 | 85.34% | $103.67 |
| MAMMA MIA! | $541,421 | 6,198 | 68.96% | $87.35 |
| MARY POPPINS | $465,738 | 6,627 | 61.46% | $70.28 |
| NEWSIES | $539,986 | 5,977 | 83.36% | $90.34 |
| NICE WORK IF YOU CAN GET IT | $445,632 | 4,945 | 49.09% | $90.12 |
| ONCE | $783,614 | 6,614 | 89.31% | $118.48 |
| PETER AND THE STARCATCHER | $185,508 | 3,599 | 49.53% | $51.54 |
| ROCK OF AGES | $365,178 | 3,545 | 86.87% | $103.01 |
| SCANDALOUS | $117,402 | 3,772 | 46.50% | $31.12 |
| SPIDER-MAN TURN OFF THE DARK | $810,685 | 8,082 | 69.79% | $100.31 |
| THE BOOK OF MORMON | $1,332,221 | 7,658 | 102.63% | $173.96 |
| THE HEIRESS | $373,615 | 4,837 | 72.66% | $77.24 |
| THE LION KING | $1,121,501 | 8,862 | 88.07% | $126.55 |
| THE MYSTERY OF EDWIN DROOD | $130,347 | 4,044 | 58.30% | $32.23 |
| THE PERFORMERS | $149,584 | 4,023 | 53.36% | $37.18 |
| THE PHANTOM OF THE OPERA | $505,593 | 6,852 | 71.15% | $73.79 |
| WAR HORSE | $362,566 | 4,234 | 56.58% | $85.63 |
| WHO'S AFRAID OF VIRGINIA WOOLF? | $212,620 | 2,767 | 58.97% | $76.84 |
| WICKED | $1,166,275 | 10,149 | 80.15% | $114.92 |
| Total: | $13,578,724 | 149,443 | 67.65% | $83.74 |
Broadway ticket sales raw data are provided courtesy of The Broadway League All other data, text, opinion, charts and commentary are copyright © 2012 nytix.com