Broadway Show Ticket Sales Analysis w/e 10/7/2012
This Week On Broadway, Ticket Sales Saw A Significant Increase, Annie Made Its Debut With A Strong Start, The Heiress Also Opened With Impressive Numbers, And The Lion King Tops The Charts
---
Big Increase in Overall Broadway Ticket Sales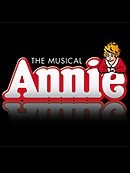 Total Broadway ticket sales saw a huge upsurge this week, rising from just over $17 million last week to $20,107,204. This is a good sign that the new Broadway season has officially started, as tourists begin making their autumn pilgrimages to New York City and locals start to check out the season's new Broadway shows.
New Musical "ANNIE" Debuts on Broadway
Annie debuts on the chart this week and is already showing promising numbers, such as a theater filled at 84.86% capacity. This is not surprising considering Annie is already a famous "brand," complete with its iconic orphan protagonist and a slew of well-known songs, including "Tomorrow" and "It's a Hard Knock Life".
"The Heiress" Opened this Week
The other new show to begin performances this week is The Heiress, and that one is showing even better numbers, filling at 93.66% capacity with an average paid admission of $84.59. Even with only a few performances under its belt, The Heiress is already showing up this season's other classic play revivals, An Enemy of the People, Cyrano de Bergerac, and Who's Afraid of Virginia Woolf?, which have not been able to get their average paid admissions to rise even as high as $60. But that is likely because The Heiress has a secret weapon in co-star Dan Stevens, who has gained a cult following over the last couple years with his role in the PBS smash success Downton Abbey.
Their star, Jessica Chastain, has been a break-out film star, appearing in such movies as The Tree of Life and The Help. The ticket sales chart is only considering The Heiress based on three shows because the show premiered just last Saturday, October 6. 2012. With a high average ticket price, a capacity of 93.66% and continued support of these actors we anticipate the The Heiress will do well in upcoming weeks.
"The Book of Mormon" Dethrones as Top Broadway Show
This week, leading up to the extended Columbus Day weekend, the Broadway ticket market saw The Lion King and Wicked rise above the sold out Book of Mormon for the first time in gross ticket sales. These three shows are close to 100% capacity, so they didn't actually sell any more tickets - they just priced their ticket face value higher to get the extra financial boost during the popular holiday run-up week. The producers at The Book of Mormon also attempted to raise their prices to match this increased demand, but they lacked the experience of the other shows and didn't raise it enough, losing out on their their top spot in Broadway ticket sales revenue.
The Book of Mormon ended up committing the Broadway cardinal sin of allowing ticket brokers to yield more value from their ticket purchases in a popular time and not funneling those profits back into the Broadway production. For the record, The Lion King raised their average ticket prices by $17.19 (from $119.27 to $136.46) after reaching a 100% capacity in previous weeks. The Lion King is now the top grossed show this week in ticket sales, surpassing The Book Of Mormon.
"Wicked" Moves into the No.2 Slot on Broadway
Wicked jumped on the band wagon with a $10.61 increase in their average ticket price from $114.32 to $124.93. This increased both their Gross Margin in addition to the number of tickets sold by 1,026, landing Wicked as the second highest grossing Broadway show in ticket sales. The Book of Mormon had been the top grossing show for some time, but not this week. With only a $3.71 increase in ticket price, the sold out show The Book Of Mormon increased their overall gross, but not nearly enough to keep pace with the other Broadway shows and thus lost their #1 spot and were effectively relegated to the #3 spot.
The Following are the Broadway Ticket Sales Numbers from the Week Ending October 7, 2012: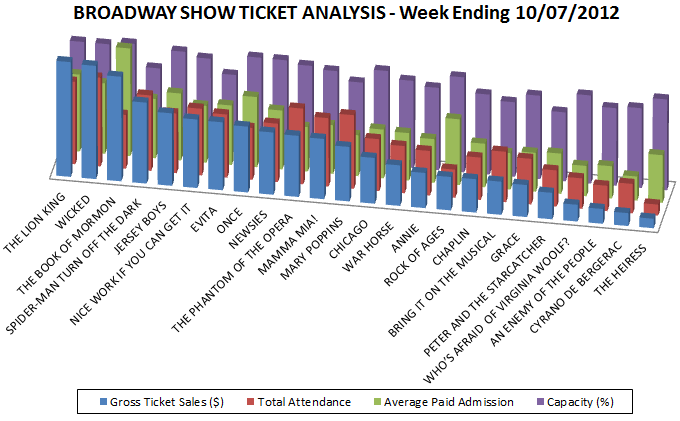 | | | | | |
| --- | --- | --- | --- | --- |
| Show Name | GrossGross | TotalAttn | %Cap | AvgPaidAdm |
| AN ENEMY OF THE PEOPLE | $235,576 | 4,125 | 80.07% | $57.11 |
| ANNIE | $560,928 | 7,247 | 84.86% | $77.40 |
| BRING IT ON THE MUSICAL | $529,272 | 8,210 | 76.93% | $64.47 |
| CHAPLIN | $532,747 | 6,903 | 82.57% | $77.18 |
| CHICAGO | $729,458 | 8,439 | 97.67% | $86.44 |
| CYRANO DE BERGERAC | $205,262 | 4,794 | 82.31% | $42.82 |
| EVITA | $1,084,321 | 10,281 | 79.72% | $105.47 |
| GRACE | $511,130 | 7,423 | 85.99% | $68.86 |
| JERSEY BOYS | $1,156,115 | 9,735 | 99.09% | $118.76 |
| MAMMA MIA! | $961,683 | 11,139 | 92.95% | $86.33 |
| MARY POPPINS | $869,373 | 11,989 | 83.40% | $72.51 |
| NEWSIES | $993,020 | 9,513 | 99.51% | $104.39 |
| NICE WORK IF YOU CAN GET IT | $1,093,515 | 10,851 | 94.26% | $100.78 |
| ONCE | $1,051,081 | 8,454 | 99.88% | $124.33 |
| PETER AND THE STARCATCHER | $422,517 | 5,904 | 71.10% | $71.56 |
| ROCK OF AGES | $532,998 | 4,573 | 98.05% | $116.55 |
| SPIDER-MAN TURN OFF THE DARK | $1,291,290 | 12,292 | 79.61% | $105.05 |
| THE BOOK OF MORMON | $1,668,832 | 8,752 | 102.63% | $190.68 |
| THE HEIRESS | $151,328 | 1,789 | 93.66% | $84.59 |
| THE LION KING | $1,831,098 | 13,419 | 100.02% | $136.46 |
| THE PHANTOM OF THE OPERA | $975,303 | 12,334 | 96.06% | $79.07 |
| WAR HORSE | $646,331 | 7,684 | 89.85% | $84.11 |
| WHO'S AFRAID OF VIRGINIA WOOLF? | $267,184 | 4,976 | 90.90% | $53.69 |
| WICKED | $1,806,846 | 14,463 | 99.94% | $124.93 |
| Total: | $20,107,204 | 205,289 | 90.04% | $93.06 |
Broadway ticket sales raw data provided courtesy of The Broadway League All other data, charts and commentary are copyright © 2012 nytix.com