Broadway Show Ticket Sales Analysis w/e 10/28/2012
Hurricane Sandy Had A Noticeable Impact On Broadway Ticket Sales With This Week's Revenue Dropping By $2 Million, Glengarry Glen Ross, Featuring Al Pacino, Achieved Remarkable Success
---
Hurricane Sandy Causes Drop in Broadway Ticket Sales
Weekly total sales revenue on Broadway went down for the first time in several weeks, dropping from $22,023,787 to $20,083,783. There is little doubt that the significant $2 million drop was directly related to the specter of Hurricane Sandy, which was making its way up to New York City during the course of last week. Though the devastating storm had not yet hit on Sunday, many potential Broadway ticket buyers were surely scared away from Broadway and from NYC altogether due to the storm's imminent arrival.
Public transit was shut down that evening and all Sunday night Broadway shows were canceled. Sadly next week's total ticket revenue will surely be far lower, taking into account the fact that Broadway shows were canceled across the board on Monday and Tuesday, along with several shows canceled on Wednesday. Even with all Broadway shows back to normal schedules as of Thursday, November 1, there is no question that the storm's aftermath is continuing to keep Broadway ticket buyers at bay.
Big Broadway Hits See Small Decline
Even the big Broadway hits are not completely immune to disaster, as Broadway smashes like The Book of Mormon, The Lion King, and Wicked saw drops in their weekly ticket grosses. However, these losses were relatively slight, and even though next week will show even lower numbers for them due to Hurricane Sandy, these are the shows that can expect to bounce back quickly.
Al Pacino Conquers Broadway
The writing was already on the wall last week when Glengarry Glen Ross began previews at nearly 100% capacity and with an average paid admission rivaled only by The Book of Mormon. But now it is clear that the Broadway revival starring Al Pacino is a bona fide smash, easily making it into the elite group of Broadway shows that boast a weekly gross of over $1 million. The theater filled to 98.45% capacity this week, with an average paid admission of $154.73.
"Frankie Valli" Bests "Jersey Boys" in Average Admission
In the final week of their limited run at the Broadway Theatre, Frankie Valli and The Four Seasons on Broadway saw strong numbers, getting the theater to 89.97% capacity. Though it had little chance of beating the weekly gross of Jersey Boys--the Broadway musical that tells the true story of Frankie Valli's rise to fame--since Jersey Boys plays at a larger theater, Frankie Valli in the flesh managed to get a higher average paid ticket price of $121.67, compared to Jersey Boys' average admission price of $104.88.
The Following are the Broadway Ticket Sales Numbers from the Week Ending October 28, 2012: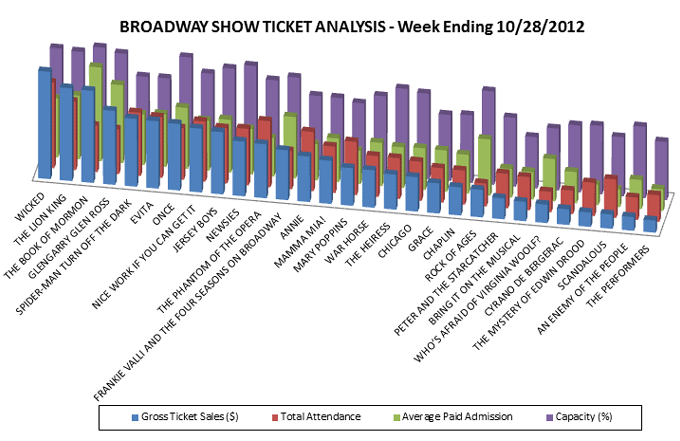 | | | | | |
| --- | --- | --- | --- | --- |
| Show Name | GrossGross | TotalAttn | %Cap | AvgPaidAdm |
| AN ENEMY OF THE PEOPLE | $212,257 | 3,678 | 71.39% | $57.71 |
| ANNIE | $703,126 | 9,802 | 73.46% | $71.73 |
| BRING IT ON THE MUSICAL | $297,777 | 5,481 | 51.36% | $54.33 |
| CHAPLIN | $434,473 | 5,640 | 67.46% | $77.03 |
| CHICAGO | $531,685 | 6,454 | 85.37% | $82.38 |
| CYRANO DE BERGERAC | $241,344 | 3,899 | 66.95% | $61.90 |
| EVITA | $1,040,801 | 10,003 | 77.57% | $104.05 |
| FRANKIE VALLI AND THE FOUR SEASONS ON BROADWAY | $770,182 | 6,330 | 89.97% | $121.67 |
| GLENGARRY GLEN ROSS | $1,142,044 | 7,381 | 98.45% | $154.73 |
| GRACE | $466,187 | 5,698 | 66.01% | $81.82 |
| JERSEY BOYS | $959,737 | 9,151 | 93.15% | $104.88 |
| MAMMA MIA! | $667,027 | 7,684 | 73.28% | $86.81 |
| MARY POPPINS | $581,807 | 8,782 | 69.81% | $66.25 |
| NEWSIES | $845,173 | 9,338 | 97.68% | $90.51 |
| NICE WORK IF YOU CAN GET IT | $984,485 | 9,919 | 86.16% | $99.25 |
| ONCE | $1,028,424 | 8,507 | 100.51% | $120.89 |
| PETER AND THE STARCATCHER | $324,351 | 5,716 | 68.83% | $56.74 |
| ROCK OF AGES | $424,387 | 3,809 | 93.33% | $111.42 |
| SCANDALOUS | $222,066 | 6,371 | 58.90% | $34.86 |
| SPIDER-MAN TURN OFF THE DARK | $1,047,792 | 10,441 | 77.28% | $100.35 |
| THE BOOK OF MORMON | $1,423,087 | 7,658 | 102.63% | $185.83 |
| THE HEIRESS | $541,450 | 6,709 | 88.18% | $80.70 |
| THE LION KING | $1,431,056 | 11,331 | 96.52% | $126.30 |
| THE MYSTERY OF EDWIN DROOD | $223,455 | 5,507 | 68.56% | $40.58 |
| THE PERFORMERS | $187,397 | 4,383 | 58.14% | $42.76 |
| THE PHANTOM OF THE OPERA | $833,059 | 10,935 | 85.16% | $76.18 |
| WAR HORSE | $578,501 | 6,746 | 78.88% | $85.75 |
| WHO'S AFRAID OF VIRGINIA WOOLF? | $283,385 | 3,383 | 61.80% | $83.77 |
| WICKED | $1,657,271 | 14,173 | 97.93% | $116.93 |
| Total: | $20,083,783 | 214,909 | 79.47% | $88.90 |
Broadway ticket sales raw data are provided courtesy of The Broadway League All other data, text, opinion, charts and commentary are copyright © 2012 nytix.com