Broadway Show Ticket Sales Analysis w/e 10/21/2012
This Week On Broadway, New Shows Like Glengarry Glen Ross With Al Pacino And Frankie Valli And The Four Seasons On Broadway Have Significantly Increased Ticket Sales Nearly Filling Capacity
---
New Broadway Shows Boost Gross Ticket Revenue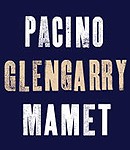 Broadway saw a bigger leap in total ticket sales this past week, as the revenue surged from $20,614,956 to $22,023,787. Some of that is due to increased interest in existing shows, but most of the increase comes as a result of three new Broadway shows appearing on the boards this week.
"Glengarry Glen Ross" Reports Outstanding Ticket Ssles
David Mamet's Glengarry Glen Ross made an impressive debut, selling 99.88% of the theater at an average paid admission of a whopping $164.47 (second only to The Book of Mormon, at $189.13 per ticket). These numbers would normally be considered extraordinary for a revival of a Broadway play, but they are a little less surprising when you consider Glengarry Glen Ross stars the legendary actor Al Pacino.
The Original "Jersey Boys" Take Broadway
Another newcomer, Frankie Valli and The Four Seasons on Broadway, also showed enviable numbers, filling the Broadway Theatre to 96.10% capacity, with an average paid admission of $125.00. This limited-run concert event is not only a big draw for fans of 1960s pop music, but it is also no doubt bringing in fans of the hit musical Jersey Boys who appreciate the opportunity to see the real-life Jersey boy Frankie Valli singing live on Broadway. The show doesn't have any of the other members of the original singing group other than Mr Valli, but fans don't seem to care, driving the show to robust ticket sales.
Edwin Drood Starts Previews on Broadway
The third new Broadway show this week, The Mystery of Edwin Drood, did not make as big of an impression, but it has not yet had enough performances to give a very clear sense of what kind of ticket sales it might have (hence the very small gross of $176,694). So far, though, it is filling at 86.72% at a very low average paid admission ticket price of $41.12. This musical, based on an unfinished Charles Dickens novel, rarely gets produced and has a clever gimmick of allowing the audience to choose the ending, so it could easily benefit from positive word-of-mouth as Broadway previews continue.
The Following are the Broadway Ticket Sales Numbers from the Week Ending October 21, 2012: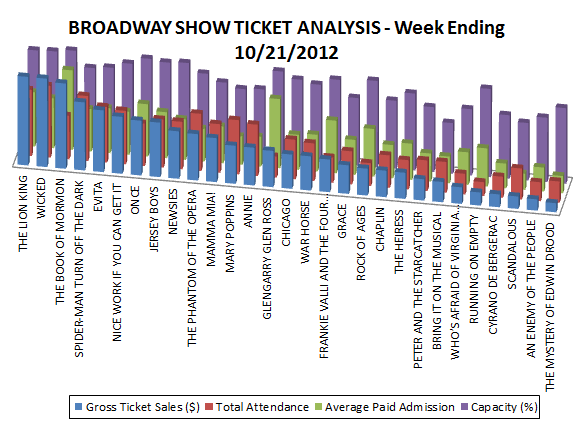 | | | | | |
| --- | --- | --- | --- | --- |
| Show Name | GrossGross | TotalAttn | %Cap | AvgPaidAdm |
| AN ENEMY OF THE PEOPLE | $217,806 | 3,803 | 73.82% | $57.27 |
| ANNIE | $733,956 | 10,335 | 77.45% | $71.02 |
| BRING IT ON THE MUSICAL | $393,195 | 6,198 | 58.08% | $63.44 |
| CHAPLIN | $514,816 | 6,514 | 77.92% | $79.03 |
| CHICAGO | $666,105 | 7,985 | 92.42% | $83.42 |
| CYRANO DE BERGERAC | $249,257 | 4,243 | 72.85% | $58.75 |
| EVITA | $1,198,969 | 11,206 | 86.90% | $106.99 |
| FRANKIE VALLI AND THE FOUR SEASONS ON BROADWAY | $633,900 | 5,071 | 96.10% | $125.00 |
| GLENGARRY GLEN ROSS | $703,775 | 4,279 | 99.88% | $164.47 |
| GRACE | $554,173 | 6,659 | 77.14% | $83.22 |
| JERSEY BOYS | $1,058,814 | 9,685 | 98.59% | $109.33 |
| MAMMA MIA! | $854,181 | 9,760 | 81.44% | $87.52 |
| MARY POPPINS | $740,217 | 10,904 | 75.85% | $67.88 |
| NEWSIES | $921,648 | 9,562 | 100.02% | $96.39 |
| NICE WORK IF YOU CAN GET IT | $1,105,092 | 10,762 | 93.49% | $102.68 |
| ONCE | $1,063,940 | 8,547 | 100.98% | $124.48 |
| PETER AND THE STARCATCHER | $413,479 | 6,177 | 74.39% | $66.94 |
| ROCK OF AGES | $521,696 | 4,604 | 98.71% | $113.31 |
| RUNNING ON EMPTY | $254,816 | 2,801 | 101.05% | $90.97 |
| SCANDALOUS | $241,613 | 6,233 | 65.86% | $38.76 |
| SPIDER-MAN TURN OFF THE DARK | $1,321,997 | 13,071 | 84.66% | $101.14 |
| THE BOOK OF MORMON | $1,655,294 | 8,752 | 102.63% | $189.13 |
| THE HEIRESS | $507,850 | 5,888 | 88.08% | $86.25 |
| THE LION KING | $1,718,718 | 13,303 | 99.16% | $129.20 |
| THE MYSTERY OF EDWIN DROOD | $176,694 | 4,297 | 86.72% | $41.12 |
| THE PHANTOM OF THE OPERA | $899,485 | 11,518 | 89.70% | $78.09 |
| WAR HORSE | $662,956 | 7,578 | 88.61% | $87.48 |
| WHO'S AFRAID OF VIRGINIA WOOLF? | $322,346 | 4,156 | 75.92% | $77.56 |
| WICKED | $1,717,002 | 14,458 | 99.90% | $118.76 |
| Total: | $22,023,787 | 228,349 | 86.84% | $93.09 |
Broadway ticket sales raw data are provided courtesy of The Broadway League All other data, text, opinion, charts and commentary are copyright © 2012 nytix.com