Broadway Show Ticket Sales Analysis w/e 10/14/2012
This Week On Broadway, Ticket Sales Have Seen A Steady Increase In Revenue, Comedian Lewis Black's Limited -Run Show, Running On Empty, Achieved Full Theater Capacity Showing Early Success
---
Total Broadway Ticket Sales Numbers Rise Steadily
Following last week's impressive $3 million jump in ticket sales, total weekly revenue on Broadway seems to be on a slow and steadily upward trend, with a roughly $500,000 increase since last week. As more new Broadway shows start performances, which is happening every week now, the numbers are certain to continue to rise.
Lewis Black Makes Good Showing in Short Run on Broadway
Comedian Lewis Black's limited-run one-man show Running on Empty made a fine showing in its debut week, filling the theater to 100% capacity and earning an average paid admission price of $89.30. Given that it is an extremely limited engagement (scheduled to play only from October 9-20), has a relatively low ticket price for a Broadway show, and taking into account that Black has a built-in cult following of comedy fans, it is not surprising that Running on Empty is already a success. Its next and final week is likely to do just as well.
Broadway Musical "Scandalous" Begins Previews
Another Broadway newcomer, Scandalous, is not faring quite as well so far. Its 88.68% theater capacity is fairly strong, but the average paid admission is quite low at $55.33. The fact that the new musical is getting quite a bit of exposure on The Today Show due to Kathie Lee Gifford's involvement (she penned the book and lyrics) has helped fill seats, but clearly most people are taking advantage of the show's discounts, which have been readily available for weeks. It also appears that "Papering" is in effect for this show, which has a dramatic effect on the average price paid, dragging it down to be the least profitable show on Broadway, something the producers will not be able to afford to do in the long term.
Trends Among Top Shows Continue
Nice Work If You Can Get It, which joined the millionaire's club last week when it brought in over a $1 million in weekly revenue, is continuing strong at $1,076,731 in total sales. Evita, Jersey Boys, Once, Spider-Man the Musical, The Book of Mormon, The Lion King, and Wicked are the only other Broadway shows that made over one million last week, with The Lion King and Wicked narrowly beating out The Book of Mormon in total sales as they did last week due to the fact that their theaters are so much larger and they have more seats to sell. The Book of Mormon continues to get the most bang for its buck by far, receiving an average paid admission of $189.63 (compared to The Lion King's $132.93).
"The Lion King" and "Wicked" Take Top Broadway Sales Spot Again
Last week, The Lion King and Wicked surpassed The Book of Mormon in Gross Sales for the first time ever, mostly due to the increase in average ticket prices for the holiday week. This week, Broadway producers went back to their normal non-holiday prices and although the top three Broadway shows sold 100% of their of their tickets, the Lion King won again, beating Wicked by $78,000 and pounding Book of Mormon by over $100,000 into third place, identifying in shift in fortunes. The Book of Mormon has been sold-out continuously for the last year, but the relatively small size of the theater seems to be limiting the amount of sales revenue this Broadway show can generate.
Mormon has only one variable factor left that they can adjust to improve overall sales revenue and that is their base ticket price. But even with the highest average face-value ticket price on Broadway, The Book of Mormon has continued to sell-out making it appear that their tickets are still under priced, even at this high price - consumers appear to be willing to pay much higher prices for this show and are less sensitive to price than the producers anticipated.
Theater Forum Debate Over Show's Decision
No comment from the show on the thinking behind this, but the forums seem to indicate that its an honorable, albeit naive, move because they do not want to appear to be price gouging their audience - but that's exactly what happens when the after market ticket brokers get hold of their tickets and when this kind of profit yield left on the table for them to grab, money that should belong to the production itself rather then in ticket brokers pockets. In our value analysis, the amount of yield on this show is the Average Face Value of $189.93 compared to the AVG Value of ticket broker sales at $297.52, a profit yield of $108 per ticket for ticket brokers.
The Following are the Broadway Ticket Sales Numbers from the Week Ending October 14, 2012: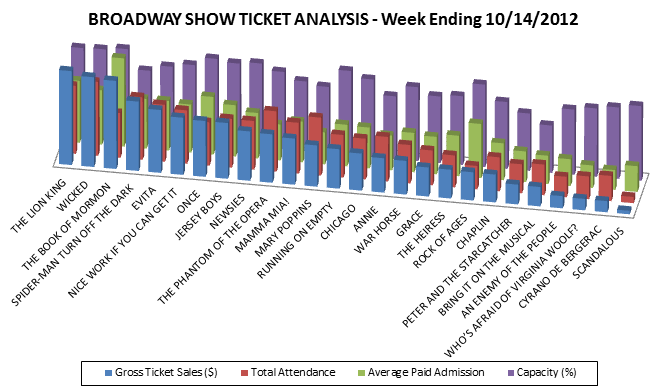 | | | | | |
| --- | --- | --- | --- | --- |
| Show Name | GrossGross | TotalAttn | %Cap | AvgPaidAdm |
| AN ENEMY OF THE PEOPLE | $230,281 | 3,997 | 77.58% | $57.61 |
| ANNIE | $647,763 | 8,708 | 74.58% | $74.39 |
| BRING IT ON THE MUSICAL | $365,689 | 6,006 | 56.28% | $60.89 |
| CHAPLIN | $525,723 | 6,651 | 79.56% | $79.04 |
| CHICAGO | $698,373 | 7,976 | 92.31% | $87.56 |
| CYRANO DE BERGERAC | $210,342 | 4,935 | 84.74% | $42.62 |
| EVITA | $1,185,495 | 11,138 | 86.37% | $106.44 |
| GRACE | $547,708 | 6,828 | 79.10% | $80.21 |
| JERSEY BOYS | $1,051,374 | 9,547 | 97.18% | $110.13 |
| MAMMA MIA! | $869,580 | 9,938 | 82.93% | $87.50 |
| MARY POPPINS | $777,553 | 11,323 | 78.76% | $68.67 |
| NEWSIES | $930,248 | 9,516 | 99.54% | $97.76 |
| NICE WORK IF YOU CAN GET IT | $1,076,731 | 10,435 | 90.64% | $103.18 |
| ONCE | $1,051,649 | 8,499 | 100.41% | $123.74 |
| PETER AND THE STARCATCHER | $372,904 | 5,669 | 68.27% | $65.78 |
| ROCK OF AGES | $531,654 | 4,566 | 97.90% | $116.44 |
| RUNNING ON EMPTY | $742,860 | 8,319 | 100.04% | $89.30 |
| SCANDALOUS | $66,341 | 1,199 | 88.68% | $55.33 |
| SPIDER-MAN TURN OFF THE DARK | $1,306,682 | 12,241 | 79.28% | $106.75 |
| THE BOOK OF MORMON | $1,659,600 | 8,752 | 102.63% | $189.63 |
| THE HEIRESS | $542,464 | 6,244 | 81.73% | $86.88 |
| THE LION KING | $1,769,949 | 13,315 | 99.25% | $132.93 |
| THE PHANTOM OF THE OPERA | $912,429 | 11,798 | 91.88% | $77.34 |
| WAR HORSE | $634,303 | 7,507 | 87.78% | $84.49 |
| WHO'S AFRAID OF VIRGINIA WOOLF? | $215,495 | 4,449 | 81.28% | $48.44 |
| WICKED | $1,691,769 | 14,468 | 99.97% | $116.93 |
| Total: | $20,614,956 | 214,024 | 86.87% | $90.38 |
Broadway ticket sales raw data are provided courtesy of The Broadway League All other data, text, opinion, charts and commentary are copyright © 2012 nytix.com