Broadway Show Ticket Sales Analysis w/e 10/13/2013
Broadway Show Ticket Sales Analysis For Week Ending 10/13/2013 Reflect Another Jump In Ticket Sales With New Shows Vying For Audience Attention
---
Another Jump In Broadway Sales

Total Broadway ticket sales continue to soar upwards as several new shows are in the process of opening on the Great White Way. Sales this week jumped by more than $3 million, going from last week's $21,422,658 up to $24,614,027.
Newest Shows Vie For Audiences
There are many new Broadway shows now competing to get audiences in seats right now. So far Betrayal (which has movie star Daniel Craig in the lead) and The Glass Menagerie (which received glowing reviews) are the only genuine hits. Most of the other shows -- such as A Time to Kill, Big Fish, and First Date -- are either struggling or doing decent business that is respectable but not necessarily good enough to keep them running very long.
However, even with less-than-stellar sales, many of these shows will make the effort to keep running for the next few months in order to take advantage of the Thanksgiving and Christmas holidays, when Broadway inevitably sees its best ticket sales.
Soul Doctor Has A Weak Final Week
The new show Soul Doctor, a biographical musical about the famed "rock 'n' roll rabbi" Shlomo Carlebach, ended its Broadway run without much advance notice this past Sunday, October 13.
Although Soul Doctor closed in a hurry, the writing was on the wall since it first began performances in the late summer, as the show never managed to do very strong business and was always offering considerable discounts on tickets. In its last week, the tuner came close to filling its theater to 75% capacity, but the average paid admission was a mere $30.52 per ticket.
Close Race Between Top Four Broadway Shows
Disney's The Lion King came out on top this week with total earnings of $1,885,054, but its most close competitors came in very close. Second place went to Wicked at $1,874,654, and third went to the smash hit The Book of Mormon at $1,844,539. Coming in the fourth slot was Tony-winning newcomer Kinky Boots, which brought in $1,810,202.
The following are the Broadway ticket sales numbers from the week ending October 13, 2013: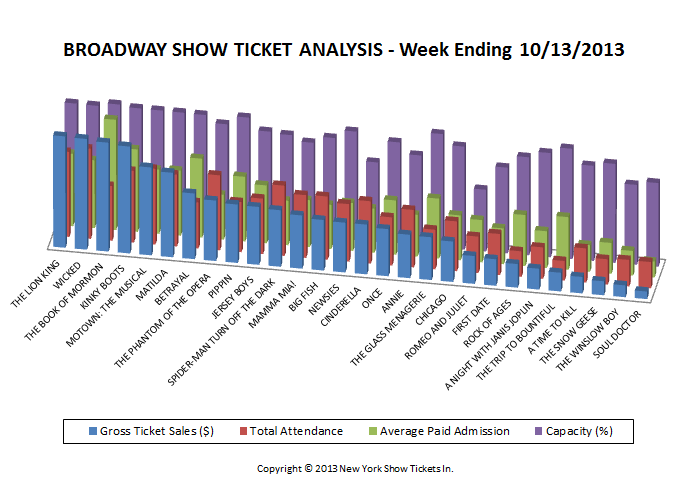 | | | | | |
| --- | --- | --- | --- | --- |
| Show | GrossGross | Total Attn | %Cap | AvgPdAdm |
| A NIGHT WITH JANIS JOPLIN | $353,070 | 5,023 | 93.16% | $70.29 |
| A TIME TO KILL | $278,494 | 5,464 | 85.16% | $50.97 |
| ANNIE | $735,228 | 9,182 | 80.77% | $80.07 |
| BETRAYAL | $1,112,027 | 7,371 | 100.00% | $150.87 |
| BIG FISH | $856,110 | 10,112 | 89.58% | $84.66 |
| CHICAGO | $684,614 | 7,961 | 92.14% | $86.00 |
| CINDERELLA | $842,893 | 9,964 | 71.13% | $84.59 |
| FIRST DATE | $448,331 | 6,559 | 76.70% | $68.35 |
| JERSEY BOYS | $980,494 | 8,862 | 90.21% | $110.64 |
| KINKY BOOTS | $1,810,202 | 11,480 | 100.77% | $157.68 |
| MAMMA MIA! | $900,507 | 10,027 | 83.67% | $89.81 |
| MATILDA | $1,430,085 | 11,499 | 100.38% | $124.37 |
| MOTOWN: THE MUSICAL | $1,488,380 | 12,124 | 100.56% | $122.76 |
| NEWSIES | $843,620 | 9,198 | 97.03% | $91.72 |
| ONCE | $798,203 | 7,692 | 90.79% | $103.77 |
| PIPPIN | $989,455 | 8,007 | 101.10% | $123.57 |
| ROCK OF AGES | $399,628 | 4,090 | 87.69% | $97.71 |
| ROMEO AND JULIET | $470,744 | 5,832 | 55.27% | $80.72 |
| SOUL DOCTOR | $128,256 | 4,202 | 74.82% | $30.52 |
| SPIDER-MAN TURN OFF THE DARK | $956,929 | 11,243 | 88.78% | $85.11 |
| THE BOOK OF MORMON | $1,844,539 | 8,752 | 102.63% | $210.76 |
| THE GLASS MENAGERIE | $724,363 | 6,327 | 101.65% | $114.49 |
| THE LION KING | $1,885,054 | 13,603 | 100.02% | $138.58 |
| THE PHANTOM OF THE OPERA | $1,023,947 | 11,986 | 93.35% | $85.43 |
| THE SNOW GEESE | $236,863 | 4,030 | 88.57% | $58.77 |
| THE TRIP TO BOUNTIFUL | $317,826 | 3,148 | 98.71% | $100.96 |
| THE WINSLOW BOY | $199,512 | 4,232 | 71.49% | $47.14 |
| WICKED | $1,874,654 | 14,430 | 99.71% | $129.91 |
| Totals: | $24,614,027 | 232,400 | 89.85% | $99.29 |
Broadway ticket sales raw data are provided courtesy of The Broadway League All other data, text, opinion, charts and commentary are copyright © 2013 nytix.com