Broadway Show Ticket Sales Analysis w/e 1/6/2013
Broadway Show Ticket Sales Analysis For Week Ending 01/06/2013 Reflects A Drop In Ticket Sales After Last Week's High And Five Shows Conclude
---
Broadway Ticket Sales Drop From Last Week's High

Broadway came back down to earth this week, following a spectacular rise in ticket sales during Christmas Week that brought revenue up over 37 million.
Coming in at a total ticket revenue of $24,501,265 this week, Broadway still enjoyed healthy sales as a result of still-high tourist and holiday-going traffic during New Year's. Unfortunately, as Broadway settles into the traditionally slow months of January and February, it's likely only downhill from here.
Last Chance For Closing Broadway Shows
There were five Broadway shows that concluded their runs at the end of this past week, which is no surprise since many struggling shows will often play through the holidays then close in January as ticket buyers rapidly disappear. Long-running favorite War Horse went out with a bang, almost selling out at 99.03% capacity.
Musicals Chaplin and Elf did respectably, with each filling roughly 80% of their theaters and earning average paid admissions of just over $75. The play Grace took in a total of $418,788 in ticket sales, which was more than most Broadway plays. The Katie Holmes starring play Dead Accounts, however, didn't do as well, only filling to 44.92% capacity; however, the average paid admission was fairly good at $70.96.
The following are the Broadway ticket sales numbers from the week ending January 6, 2013: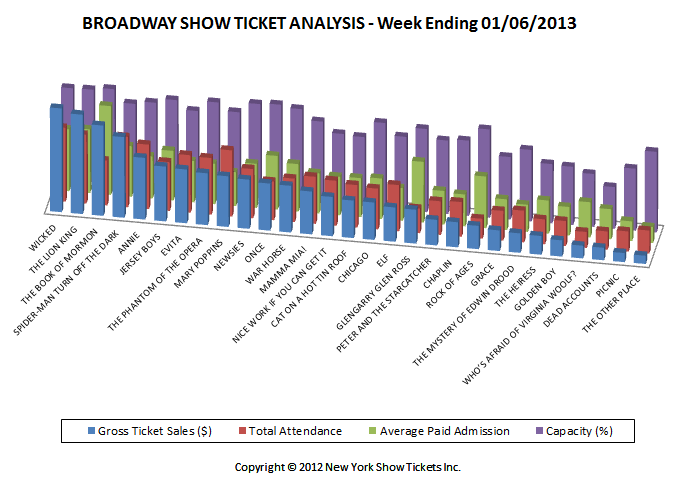 | | | | | |
| --- | --- | --- | --- | --- |
| Show Name | Gross | Attendance | Capacity | AvgPaidAdm |
| ANNIE | $1,252,683 | 12,570 | 91.99% | $99.66 |
| CAT ON A HOT TIN ROOF | $761,845 | 8,289 | 74.86% | $91.91 |
| CHAPLIN | $509,381 | 6,776 | 81.05% | $75.17 |
| CHICAGO | $758,785 | 7,955 | 92.07% | $95.38 |
| DEAD ACCOUNTS | $254,255 | 3,583 | 44.92% | $70.96 |
| ELF | $696,616 | 9,012 | 79.11% | $77.30 |
| EVITA | $1,091,836 | 11,229 | 87.07% | $97.23 |
| GLENGARRY GLEN ROSS | $687,771 | 4,792 | 89.57% | $143.52 |
| GOLDEN BOY | $329,636 | 4,884 | 62.81% | $67.49 |
| GRACE | $418,788 | 5,781 | 67.35% | $72.44 |
| JERSEY BOYS | $1,112,848 | 9,509 | 96.79% | $117.03 |
| MAMMA MIA! | $869,907 | 9,185 | 87.59% | $94.71 |
| MARY POPPINS | $1,028,946 | 12,896 | 89.71% | $79.79 |
| NEWSIES | $998,814 | 9,608 | 100.50% | $103.96 |
| NICE WORK IF YOU CAN GET IT | $796,705 | 8,779 | 76.26% | $90.75 |
| ONCE | $956,660 | 7,539 | 101.80% | $126.89 |
| PETER AND THE STARCATCHER | $519,744 | 6,571 | 79.13% | $79.10 |
| PICNIC | $184,458 | 3,951 | 66.74% | $46.69 |
| ROCK OF AGES | $473,248 | 3,881 | 95.10% | $121.94 |
| SPIDER-MAN TURN OFF THE DARK | $1,636,789 | 13,709 | 88.79% | $119.40 |
| THE BOOK OF MORMON | $1,833,432 | 8,752 | 102.63% | $209.49 |
| THE HEIRESS | $380,424 | 4,851 | 63.76% | $78.42 |
| THE LION KING | $2,017,921 | 13,421 | 100.04% | $150.36 |
| THE MYSTERY OF EDWIN DROOD | $396,214 | 6,186 | 77.02% | $64.05 |
| THE OTHER PLACE | $167,770 | 4,477 | 86.90% | $37.47 |
| THE PHANTOM OF THE OPERA | $1,052,613 | 11,042 | 98.28% | $95.33 |
| WAR HORSE | $948,043 | 8,469 | 99.03% | $111.94 |
| WHO'S AFRAID OF VIRGINIA WOOLF? | $258,795 | 3,115 | 57.05% | $83.08 |
| WICKED | $2,106,339 | 14,420 | 99.64% | $146.07 |
| Total | $24,501,265 | 235,232 | 84.05% | $98.19 |
Broadway ticket sales raw data are provided courtesy of The Broadway League All other data, text, opinion, charts and commentary are copyright © 2012 nytix.com