Broadway Show Ticket Sales Analysis Chart w/e 01/05/2020
Broadway Show Ticket Sales Analysis Chart w/e 01/05/2020
---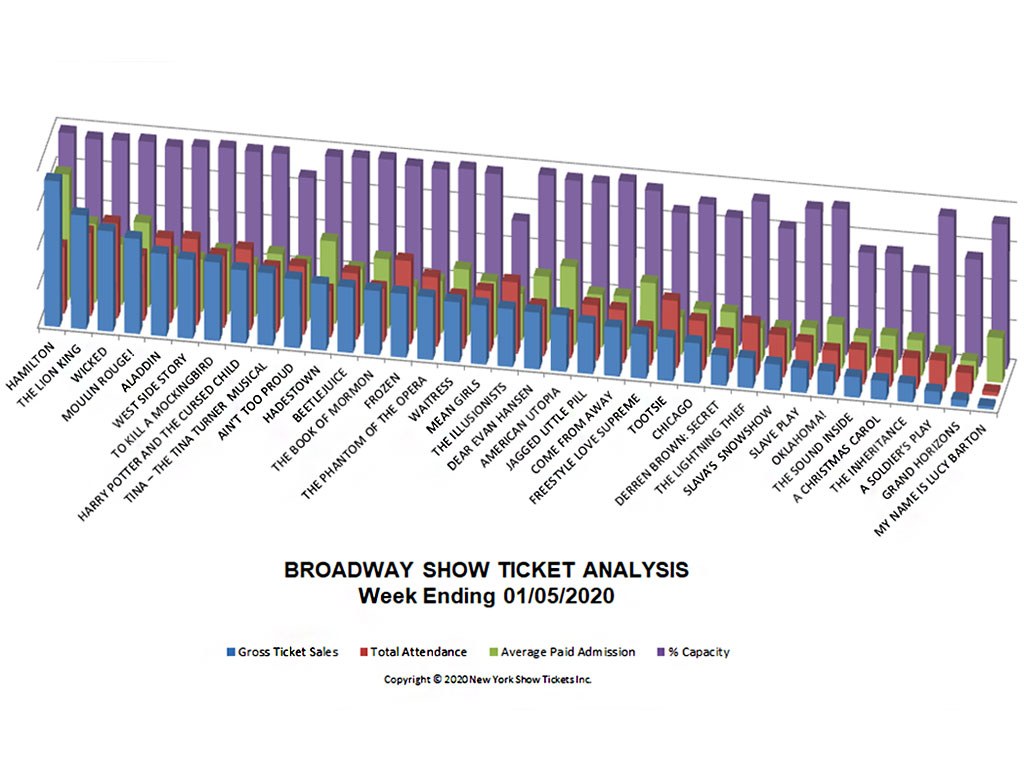 | | | | | | |
| --- | --- | --- | --- | --- | --- |
| # | Show Name | Gross | TotalAttn | %Capacity | AvgPdAdm |
| 32 | A CHRISTMAS CAROL | $418,556 | 4,744 | 69.93% | $88.23 |
| 34 | A SOLDIER'S PLAY | $286,010 | 4,932 | 97.72% | $57.99 |
| 10 | AIN'T TOO PROUD | $1,507,514 | 11,022 | 86.00% | $136.77 |
| 5 | ALADDIN | $1,807,151 | 13,622 | 98.60% | $132.66 |
| 20 | AMERICAN UTOPIA | $1,237,144 | 6,709 | 99.73% | $184.40 |
| 12 | BEETLEJUICE | $1,435,799 | 10,680 | 102.19% | $134.44 |
| 25 | CHICAGO | $883,805 | 7,918 | 91.64% | $111.62 |
| 22 | COME FROM AWAY | $1,073,381 | 8,544 | 102.10% | $125.63 |
| 19 | DEAR EVAN HANSEN | $1,245,047 | 7,995 | 101.56% | $155.73 |
| 26 | DERREN BROWN: SECRET | $661,050 | 6,005 | 84.43% | $110.08 |
| 23 | FREESTYLE LOVE SUPREME | $971,365 | 5,971 | 97.57% | $162.68 |
| 14 | FROZEN | $1,397,782 | 13,453 | 99.86% | $103.90 |
| 35 | GRAND HORIZONS | $151,061 | 3,319 | 70.92% | $45.51 |
| 11 | HADESTOWN | $1,451,289 | 7,447 | 101.40% | $194.88 |
| 1 | HAMILTON | $3,194,411 | 10,757 | 101.56% | $296.96 |
| 8 | HARRY POTTER AND THE CURSED CHILD | $1,602,106 | 12,976 | 100.00% | $123.47 |
| 21 | JAGGED LITTLE PILL | $1,113,295 | 8,951 | 99.46% | $124.38 |
| 17 | MEAN GIRLS | $1,297,303 | 9,746 | 99.45% | $133.11 |
| 4 | MOULIN ROUGE! | $2,085,754 | 10,469 | 100.51% | $199.23 |
| 36 | MY NAME IS LUCY BARTON | $65,298 | 619 | 95.82% | $105.49 |
| 30 | OKLAHOMA! | $521,044 | 5,025 | 96.49% | $103.69 |
| 28 | SLAVA'S SNOWSHOW | $570,732 | 6,777 | 80.30% | $84.22 |
| 29 | SLAVE PLAY | $541,916 | 6,017 | 94.85% | $90.06 |
| 13 | THE BOOK OF MORMON | $1,409,907 | 8,605 | 102.73% | $163.85 |
| 18 | THE ILLUSIONISTS | $1,268,153 | 11,519 | 69.76% | $110.09 |
| 33 | THE INHERITANCE | $409,320 | 4,935 | 58.86% | $82.94 |
| 27 | THE LIGHTNING THIEF | $655,762 | 8,298 | 96.67% | $79.03 |
| 2 | THE LION KING | $2,493,061 | 13,431 | 98.99% | $185.62 |
| 15 | THE PHANTOM OF THE OPERA | $1,375,934 | 11,167 | 99.39% | $123.21 |
| 31 | THE SOUND INSIDE | $447,916 | 5,511 | 69.03% | $81.28 |
| 9 | TINA – THE TINA TURNER MUSICAL | $1,588,633 | 10,381 | 100.34% | $153.03 |
| 7 | TO KILL A MOCKINGBIRD | $1,724,760 | 11,585 | 100.91% | $148.88 |
| 24 | TOOTSIE | $955,611 | 10,827 | 84.48% | $88.26 |
| 16 | WAITRESS | $1,316,747 | 8,444 | 101.00% | $155.94 |
| 6 | WEST SIDE STORY | $1,730,917 | 13,920 | 100.00% | $124.35 |
| 3 | WICKED | $2,200,110 | 15,358 | 99.68% | $143.25 |
| | TOTALS | $43,095,641 Dollars | 317,679 People | | |
This Week on Broadway:

Broadway sales went down 23% after the holiday season came to an end. However, sales were still up $5.5 million compared to this time last year. Three shows closed this week, including one of Broadway's seven holiday shows set to close over the next couple of weeks.

Twas the Night Before... By Cirque du Soleil closed on December 29, 2019 after its limited run at Madison Square Garden. The show was the famous circus company Cirque du Solei's acrobatic interpretation of the famous poem The Night Before Christmas by Clement Clarke Moore. Twas the Night Before received positive reviews from critics who praised the show's lighthearted and entertaining spectacles.

Harry Connick, Jr. - A Celebration of Cole Porter closed on December 29, 2019, ending its three-week limited engagement at the Nederlander Theatre. The show performed well at the box office, making $4,434,144 for just 26 total performances. The show starred Harry Connick Jr., the popular Emmy and Grammy award winning singer who has released 26 albums over his career. Harry Connick Jr. has also starred on Broadway and earned a Tony nomination for composing music for the 2001 Broadway show Thou Shalt Not. Harry Connick, Jr. - A Celebration of Cole Porter explored the music of the famous Broadway composer Cole Porter who rose to fame in 1920. Critics praised the show's creative use of multimedia and Connick's strong performance of Porter's iconic catalog.

Derren Brown: Secret finished its limited run at the Cort Theatre on January 4, 2020. The show stars the famous British illusionist and mentalist Derren Brown. Brown, known for his television series Mind Control and Trick of the Mind, and has won two Olivier awards for his performances on stage in Something Wicked This Way Comes in 2006 and Svengali in 2012. Derren Brown: Secret marked Brown's Broadway debut, and the show performed modestly, filling an average of 70% of its capacity. The show featured several of Brown's tricks and illusions and relied on audience participation during parts of the show.
The Broadway show ticket analysis raw data has been provided courtesy of The Broadway League and has been collated and analyzed by the New York Show Tickets data team. All data, text, opinion, charts and commentary are copyright © 2020 nytix.com
Discount Broadway Tickets
---
---