Broadway Musicals That Closed in January 2023
Six Broadway Musicals Closed in January 2023 and We Shed Some Details On Why They Closed. Broadway Show Closings and The Highlights (and Lowlights) of Broadway Musicals That Bit The Dust.
---
Broadway Musicals Closing in January 2023: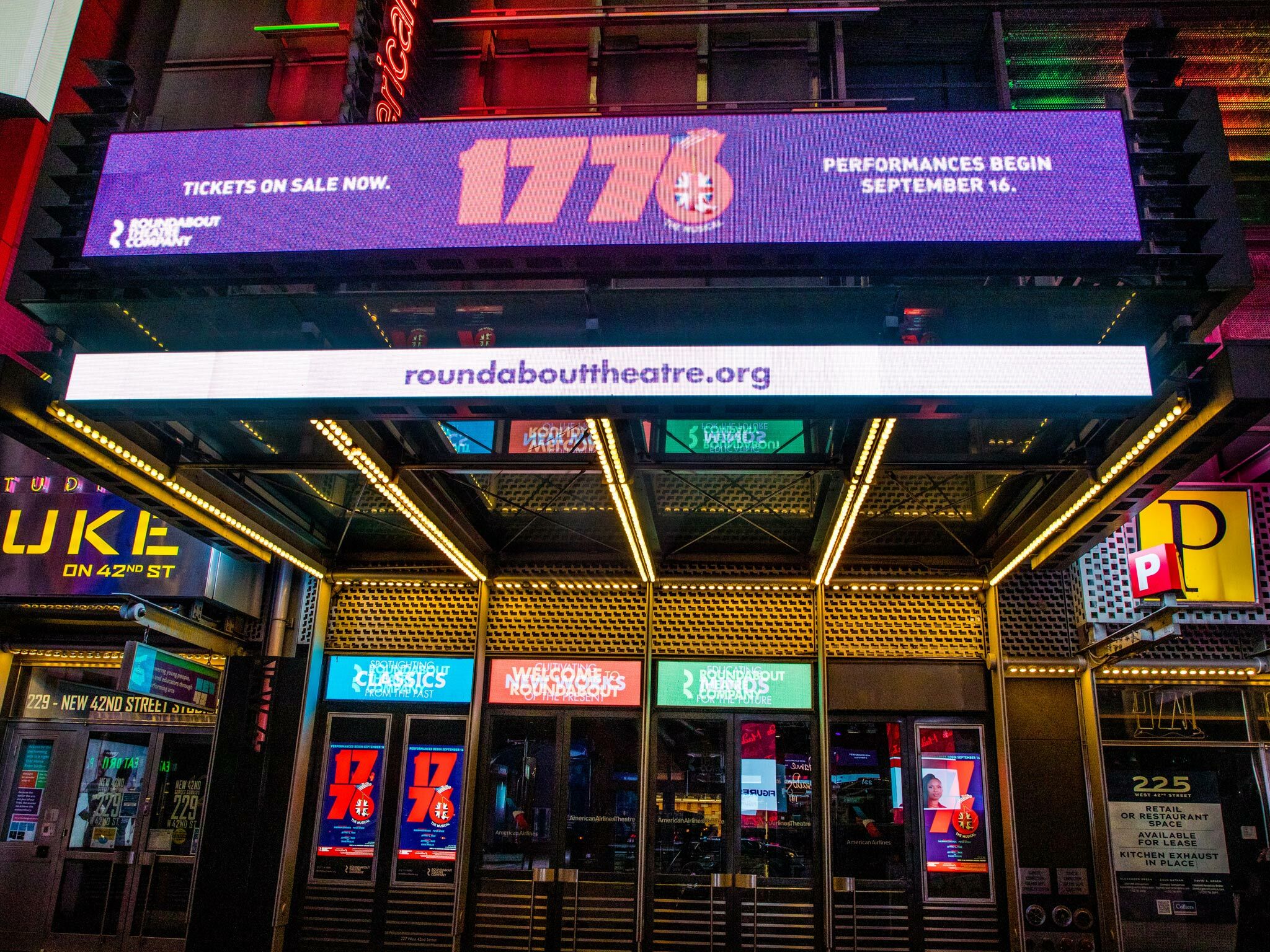 1776 (October 6, 2022 — January 8, 2023, American Airlines Theatre)
Heading off the first cluster of casualties of 2023 was Jeffrey L Page and Diane Paulus' iconoclastic reconceiving of Peter Stone and Sherman Edwards' Tony Award winning best musical 1776, not to be confused with that other American history musical still playing to sold out crowds just a few streets over.
The cast of founding fathers was brought to life in this version by a multiracial troupe of female, transgender, and non-binary actors.
On its face, the plot of the show sounds dry— a bunch of stodgy politicians debate the finer points of the Declaration of Independence until the document passes muster. But 1776 is often recognized as having one of the most compelling, structurally sound books in the American musical theatre canon.
While this new iteration was met positively at the American Repertory Theatre in Cambridge, MA, its Broadway mounting seemed to be overshadowed by off-stage drama throughout its whole short-lived run. Most notably, company member Sara Porkalob brought a whole lot of attention to the production by way of a revealing print interview in October. Porkalob, who played South Carolina delegate Edward Rutledge in the show, openly criticized the directors for cringey choices and a problematic rehearsal process.
The young actor also glibly— and now famously— claimed that she only gives 75% of herself to each performance, a statistical soundbite that certainly riled up the industry.
Why the Show Closed
This show will likely be remembered more for its controversy than its content. Sometimes that kind of notoriety can bring in audiences who want to know what all the fuss is about. But not in this case. Many dismissed the revival as a gimmick, an empress with no clothes of sorts. If Paulus and Page wanted to make a subversive statement about the United States by having non-male actors translate an historical narrative then they should've done that through a brand new vehicle.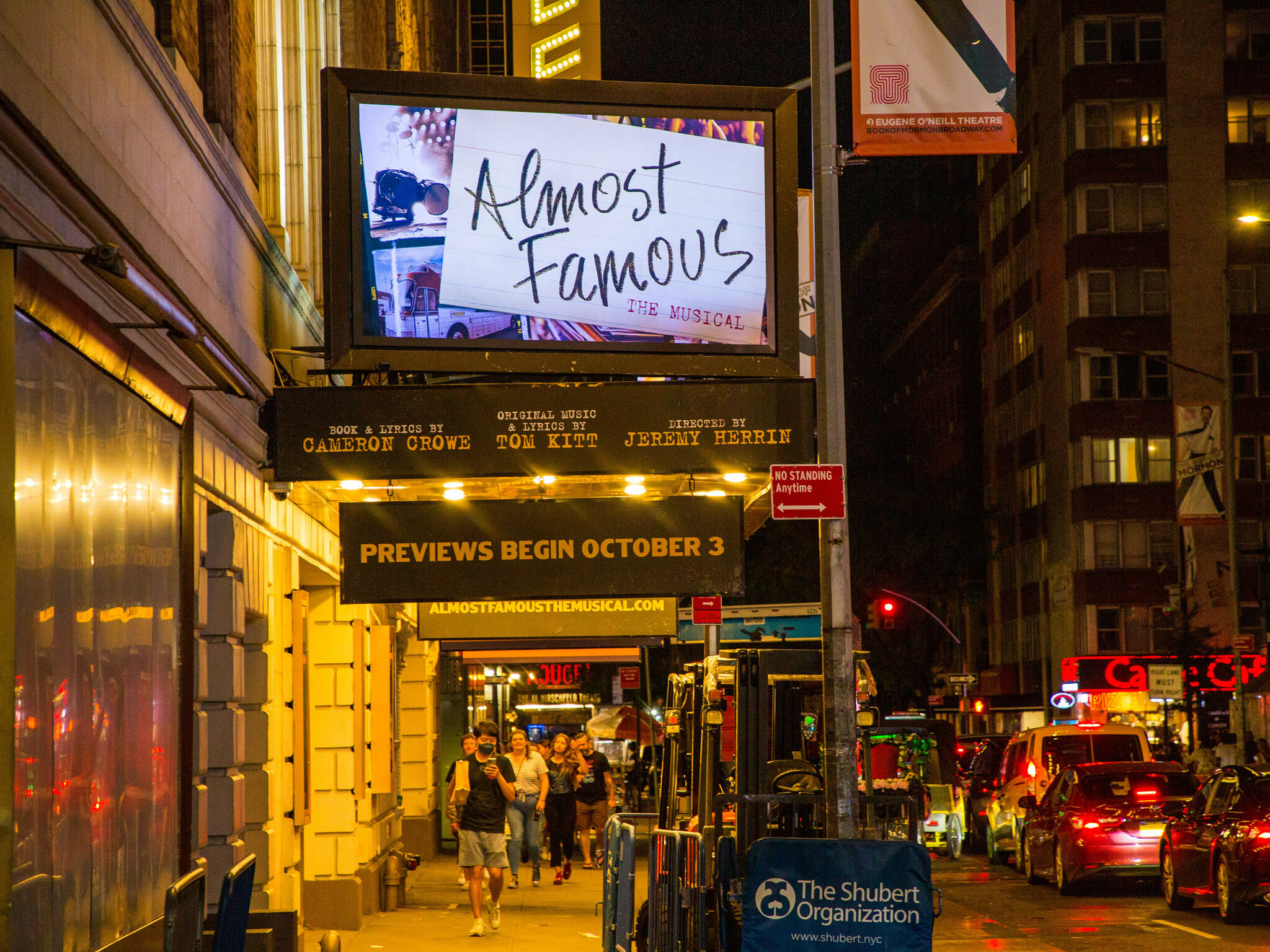 Almost Famous (November 3, 2022 — January 8, 2023, Bernard Jacobs Theatre)
Based on the very popular 2000 Oscar winning film starring Billy Crudup and Kate Hudson, the musical adaptation (with a book by the movie's writer and director Cameron Crowe, music by Tom Kitt and lyrics credited to Crowe and Kitt) did not fare as well as its cinematic predecessor.
The classic coming of age story chronicles the life and times of protagonist William Miller, a 15-year old aspiring music journalist in the 1970s (and a quasi-stand-in for Crowe himself). Hired by Rolling Stone magazine to accompany a band on the rise, William goes on an unforgettable journey framed by the colors, sounds, and people he encounters along the way.
Why the Show Closed
The ill-fated musical had a lot going for it on paper: title recognition, writerly pedigree (both Crowe and Kitt are decorated with high accolades), and a story rooted in music. So why the early demise for an endeavor that seems to have had a recipe for success? Well, with tepid reviews, lack of bankable stars, and the liability of an original score (in other words, NOT the actual music of the 1970s), people just weren't interested in shelling out the big bucks.
The ticket buying public has spoken and they'd rather stay home and stream the movie.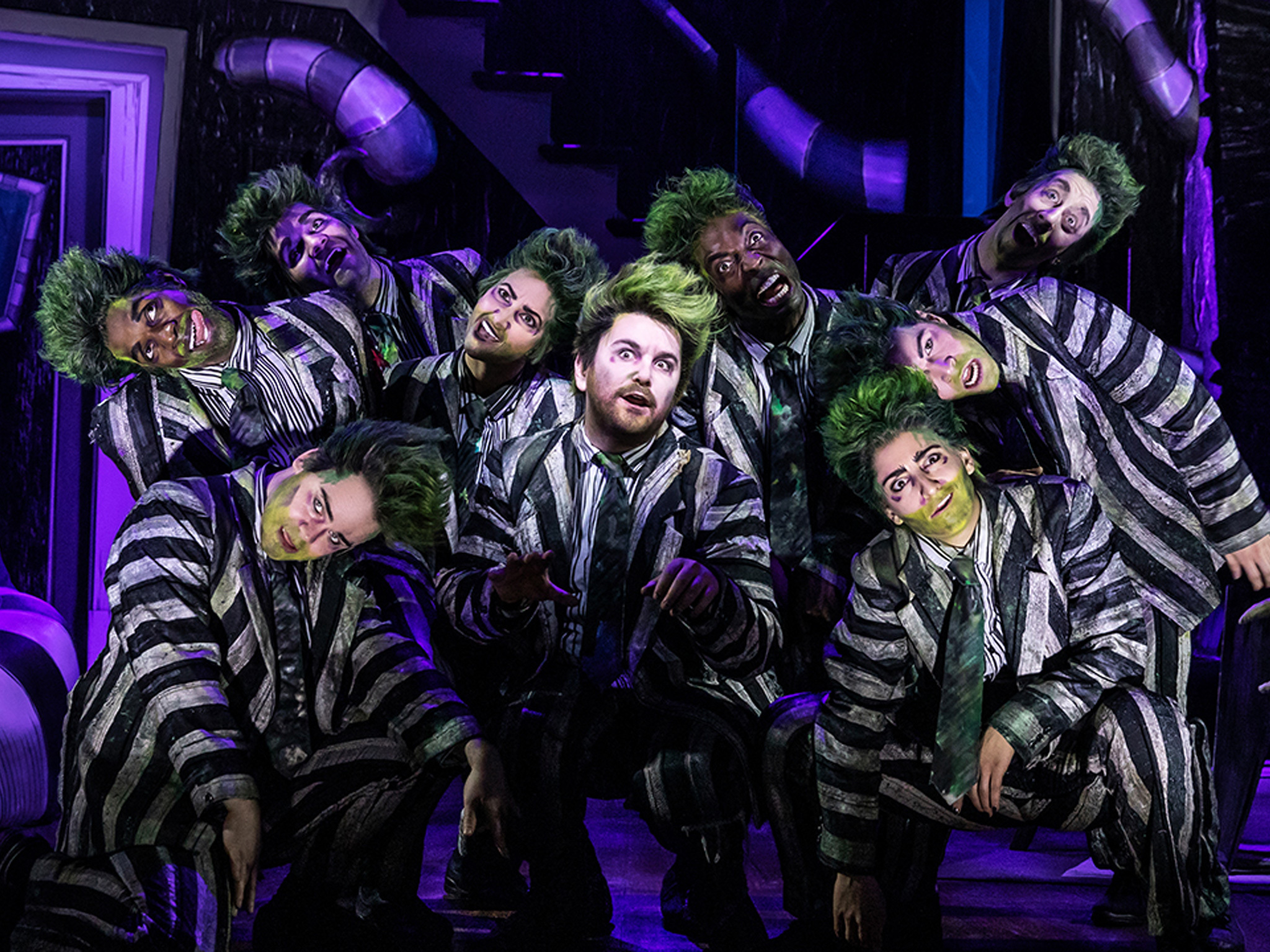 Beetlejuice (April 15th, 2019 — March 12th , 2020, Winter Garden Theatre; April 8th, 2022 — January 8th, 2023, Marquis Theatre)
Another film to stage transfer, Beetlejuice the musical has the appropriate distinction of being raised from the dead. The show was initially set to close in June of 2020 but a little pandemic called COVID and the Broadway shutdown meant that its last performance happened prematurely, unbeknownst to the cast and crew.
Tragic, to be sure. But the downtime of COVID had some theatrical silver linings. The fan favorite Beetlejuice managed to resurrect itself and reopen at a different theatre after a two-year hiatus!
The wild, whimsical tale centers on Lydia Deetz, just your average teen-aged girl who has an all-consuming fixation with death. As if by divine intervention, young Lydia is befriended by a few haunting spirits: the stripes-loving titular demonic spirit and a recently deceased couple. The angsty teen summons Beetlejuice to frighten her own parents, resulting in calamity, chaos, and comedy.
Why the Show Closed
Not many shows get the kind of literal new lease on life that was afforded to the 8-time Tony Award nominated musical macabre. And while the show didn't break any box office records and its reincarnation eventually ran out of box office steam, it was a major crowd pleaser, one that invited all manner of cosplay. Beetlejuice was a big hit with the younger set, especially those who would like to celebrate Halloween every day of the year.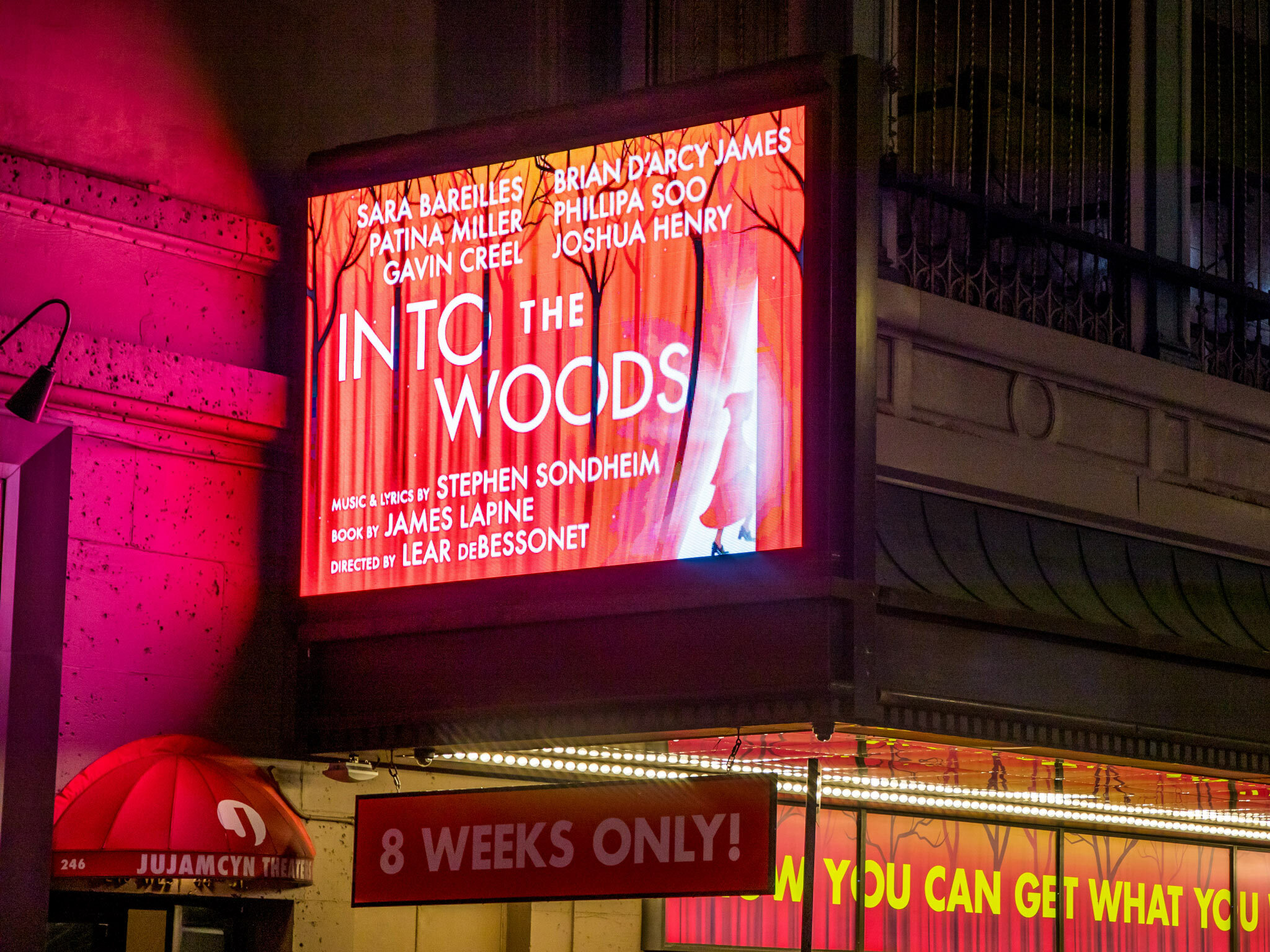 Into The Woods (July 10th, 2022 — January 8th, 2023, St. James Theatre)
A veritable who's who of Broadway's elite took their turn traipsing through Stephen Sondheim and James Lapine's titular woods during a limited run that had no intention of gracing Broadway in the first place. The fairy tale fantasia debuted epically at City Center's Encores series in May of 2022 before planting its beanstalk a few blocks south.
Starry cast members have included Sara Bareilles, Neil Patrick Harris, Stephanie J. Block, Sebastian Arcelus, Gavin Creel, Heather Headley and Phillipa Soo.
Everything came together for this moment-ous production. With a host of bankable Broadway stars (even the revolving door of replacements have been buzz-worthy), the natural appeal of classic fables and familiar characters, and the bittersweet timing following the death of composer/lyricist Stephen Sondheim, this consummate (and shockingly first) revival of Into The Woods gave audiences of all ages the happily ever after they were seeking.
This is not to say that Into The Woods is sappy, saccharine fare. To the contrary, the musical melange of Grimm folktales of yore (Jack and the Beanstalk, Cinderella, Little Red Riding Hood, Rapunzel) woven into an original tale of a baker and his wife, goes to some very dark places. Infidelity, infertility, death— all are explored vividly by the creators. In spite of its more somber approach to what may seem like children's subject matter, the meaningfully poignant score and well-crafted storytelling make for a nourishing theatrical experience.
Why the Show Closed
Sometimes even successful shows shutter and that's by design. Into The Woods was never intended as an open-ended run and is planning a high profile national tour including most of the closing Broadway cast.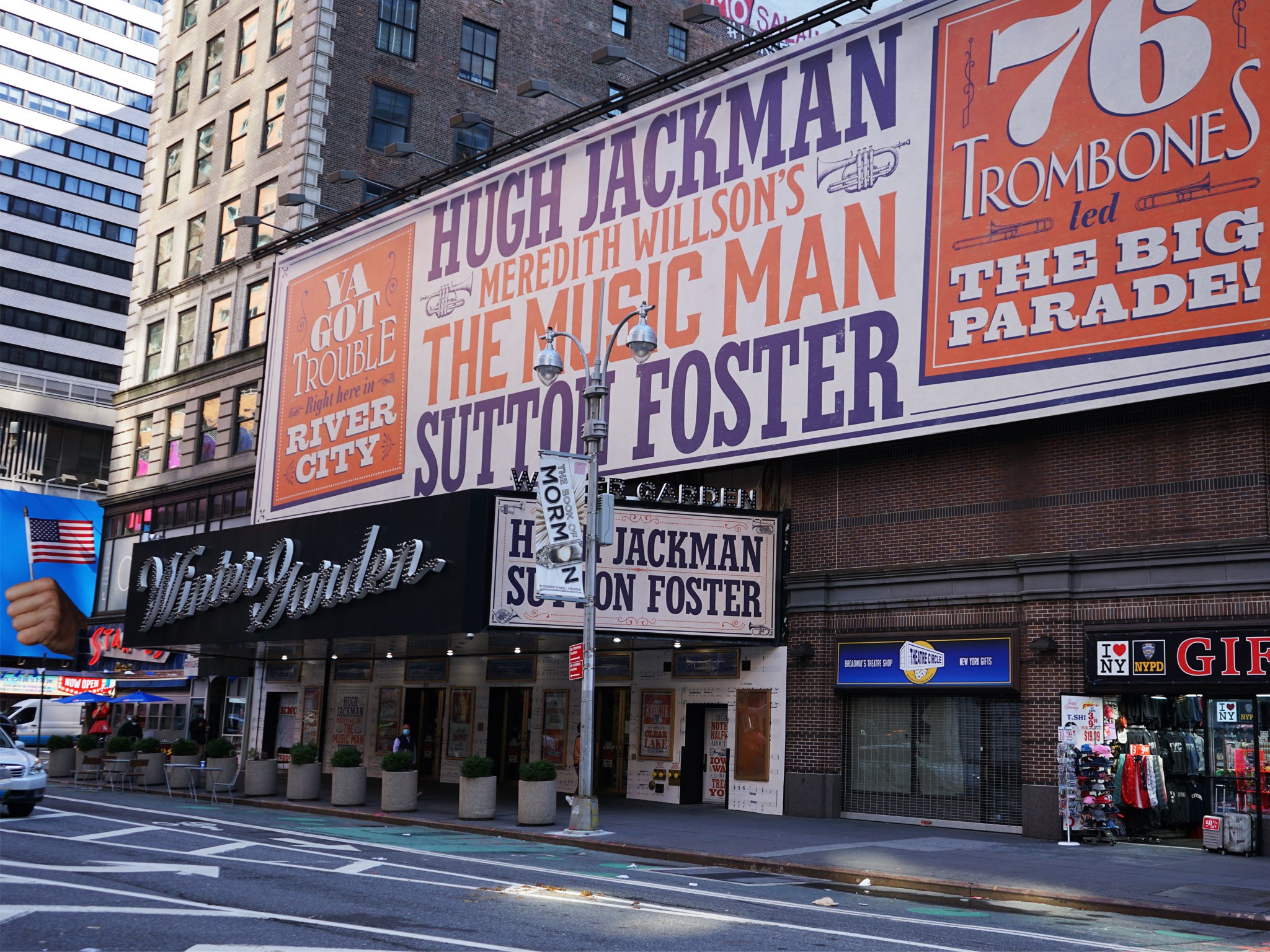 The Music Man (February 10th, 2022 — January 15th, 2022, Winter Garden Theatre)
Wolverine is exiting the building! After almost a year of playing huckster-turned-hero Harold Hill, Hugh Jackman is retiring his baton.
The Music Man is an old-fashioned story of a con artist with a dream, one that's thwarted by some small town wholesome goodness and the love of an honest woman, the proverbial spinster Marian Paroo (played in this revival by Broadway's most reliable leading lady, triple threat Sutton Foster). The toe-tapping feel good bona fide hit struck a chord with audiences during a time when escapism was high on the entertainment agenda.
Why the Show Closed
Timing is everything. The fact that Meredith Willson's juggernaut— this latest revival broke all kinds of box office records and premium ticket price ceilings— is closing, has nothing to do with its revenue or even staying power.
Simply put, Hugh Jackman's contract is up and instead of trying to find a replacement for the Aussie heartthrob hoofer, producers have decided to leave well enough alone and go out on a high note. Rumors briefly circulated about Justin Timberlake taking over the role but it was all empty scuttlebutt.

A Strange Loop (April 26th, 2022 — January 15th, 2022, Lyceum Theatre)
Transferring from Playwrights Horizons', where the now Tony Award and Pulitzer Prize winner premiered in the before-times, Michael R. Jackson's unabashedly raw and real musical creation makes no apologies for its truth-telling. A Strange Loop was not for the faint of heart, or the faint of art.
The searing fantasia delves graphically into themes of racism, identity, sex, family dynamics, inner demons and trauma. Jackson, who wrote the music, lyrics and book for his magnum opus, freely addresses the autobiographical nature of the complex portrait he has composed. A big hit off-Broadway and a critical darling, the succès d'estime of a musical never really found its footing on Broadway, where audiences are used to more mainstream fare.
Why the Show Closed
Newly minted Best Musical Tony Award winners often see a massive spike in their ticket sales. A Strange Loop certainly reaped some financial benefit from the laurels and the exposure but not enough to keep it afloat in the long run. The show was also plagued with COVID and illness related issues throughout its Broadway occupancy.
Staffing deficiencies even resulted in Jackson stepping in himself to play the lead role of Usher (Jackson's avatar) in the final week of the run. Those performances were presented in more of a concert style.

So, the body count for musicals in January 2023 comes to six, which is not shocking but still disappointing. Add in the abrupt shutdown of K-POP in December, and it feels like Broadway really cleaned house this winter.