Broadway Musicals: A Jewish Legacy Airs on PBS Tonight
A New Documentary Will Air On PBS Celebrating The Impact Of Jewish People On Broadway Titled Broadway Musicals: A Jewish Legacy
---
Celebrating The Jewish Legacy On Broadway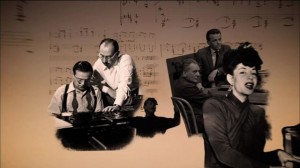 Fans of Broadway and those who work in the theater industry have often remarked on the major impact that Jewish people have had on the musical artform (there's an entire song about the phenomenon in the musical Spamalot). Michael Kantor's new documentary, Broadway Musicals: A Jewish Legacy, now explores this connection in depth.
The 90-minute program airs tonight, January 1, on PBS as part of the network's popular "Great Performances" series. (Check local listings for exact times.) Broadway's own Joel Grey (Cabaret, Chicago) narrates Broadway Musicals: A Jewish Legacy, and the documentary includes footage from Broadway musicals as varied as Fiddler on the Roof, The Producers, Funny Girl, and Wicked, along with interviews with many of Broadway's most notable writers and composers.
New Documentary To Air On PBS
Stephen Sondheim, Stephen Schwartz, Richard Rodgers, Oscar Hammerstein II, Irving Berlin, George and Ira Gershwin, Jerome Kern, Kurt Weill, and Leonard Bernstein are among the many Broadway titans featured. The documentary closely examines the unusual fact that during the early decades of the development of American musical theater, Broadway shows were almost exclusively created by Jewish Americans.
Broadway performers, writers, and producers like Harold Prince, March Shaiman, Phyllis Newman, John Kander, and Mel Brooks are among the many interviewed for the documentary to talk about the past and continuing influence that American Jews have on Broadway theater. Visit www.pbs.org/gperf to learn more.