Broadway Favorites To Honor Barbra Streisand
Barbara Streisand Will Be Honored By The Film Society Of Lincoln Center At The 40th Annual Chaplin Award Gala For Her Legendary And Incomparable Career
---
Legendary Barbara Streisand Honored At 40th Annual Chaplin Award Gala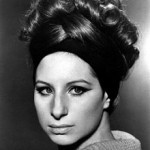 The Film Society of Lincoln Center has announced that it will be honoring stage, film, and recording legend Barbra Streisand at the 40th Annual Chaplin Award Gala on April 22, and some of Broadway's brightest will be on hand to pay their respects through performance.
Liza Minnelli and Kristin Chenoweth will be among the Broadway favorites offering up their musical talents during the ceremony. The tribute to Barbra Streisand, which will culminate in the famed artist being presented with the Chaplin Award by President Bill Clinton, will also include performances from luminaries like Tony Bennett and Wynton Marsalis.
Streisand's Incomparable Career
Many film stars will be in attendance at the gala, such as Kris Kristofferson, Pierce Brosnan, Richard Dreyfuss, Amy Irving, and Blythe Danner.
"The Board is very excited to have Barbra Streisand as the next recipient of The Chaplin Award," stated The Film Society of Lincoln Center's board chairman Ann Tenenbaum. "She is an artist whose long career of incomparable achievements is most powerfully expressed by the fact that her acclaimed Yentl was such a milestone film."