Broadway Composer Richard Adler Dies at Age 90
Broadway Says Goodbye To One Of The Great Composers/Lyricists Of The Golden Age, Richard Adler, Who Passed Away At The Age Of 90
---
Broadway Says Goodbye To Richard Adler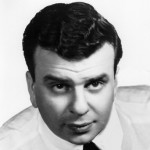 Richard Adler, one of the great composer/lyricists of Broadway's Golden Age, has passed away at the age of 90. Adler is best known for two of his collaborations with Jerry Ross, The Pajama Game and Damn Yankees. Originally produced on Broadway in 1954, The Pajama Game became a Broadway hit again in 2006 when Harry Connick, Jr. and Kelli O'Hara starred in a Roundabout Theatre Company revival of the musical comedy.
The tuneful score written by Richard Adler and Jerry Ross (the two men shared both composing and lyric-writing duties in their collaborations) resulted in at least two well-known musical theater songs, "Hernando's Hideaway" and "Steam Heat".
Adler's Impressive Career
Perhaps even more famous than The Pajama Game is the duo's follow-up musical, the baseball-themed Damn Yankees, which first appeared on Broadway in 1955 and enjoyed a successful revival (starring Bebe Neuwirth and Victor Garber) in 1994. The Damn Yankees score is stuffed with many memorable tunes, including "(You Gotta Have) Heart," "Near To You," "Those Were the Good Old Days," and "Two Lost Souls".
Recently the show's seductive ballad "Whatever Lola Wants, Lola Gets" has received even more popular attention by way of a national Pepsi commercial featuring Modern Family's Sofia Vergara and soccer star David Beckham. Richard Adler is survived by his wife Susan Ivory, three children, and three grandchildren.