"Bring It On: The Musical" Broadway Show Review
Despite Its Low-Key Arrival On Broadway During The Summer, Bring It On: The Musical Has Proven To Be A Pleasant Surprise For The 2012-2013 Season, Dazzling Us With Acrobatic Performances
---
Broadway Musical Kicks Off Broadway Season with Flair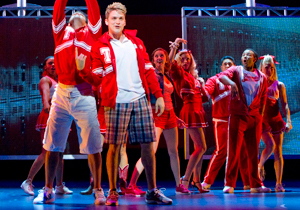 Bring It On, now playing at the St. James Theatre, didn't come to Broadway with much fanfare. Loosely based on the 2000 movie of the same name, Bring It On: The Musical began by playing touring engagements on the road, then sneaked onto Broadway in the middle of the summer (usually a dead time for Broadway), scheduled for only a limited engagement. Given its somewhat sheepish approach onto Broadway, most people didn't expect much for this competitive cheerleading-themed musical. However, Bring It On has managed to be a pleasant surprise, kicking off the 2012-2013 Broadway season with flair. The thing that first catches your eye in Bring It On: The Musical is the acrobatics.
Many real-life competitive cheerleaders are in the show's cast, and they pull off some incredible moves onstage, flipping, somersaulting, and being flung far up into the air. Bring It On has more going for it, though, than the "special effects" provided by these talented young people. It also has a smart, silly, and often hilarious book by Jeff Whitty (Avenue Q), who creates a cast of well-drawn characters that each have their individual quirks (kudos also to the youthful cast, who bring these colorful characters to life). One of Bring It On's innovations is employing two songwriting teams. The show centers on two very different high schools that ultimately compete against each other, so it seems appropriate to have multiple songwriters.
Catch "Bring It On: The Musical" Through January 20
In the Heights' Lin-Manuel Miranda, along with Tom Kitt (Next To Normal) and Amanda Green, provide the songs, utilizing very different styles to highlight the differences between the worlds of these two schools. A few songs are a bit bland, but on the whole it is a strong score. (The incredibly catchy number "Do Your Own Thing" deserves to be a Top 40 radio hit right now.) Originally scheduled to play into October, enthusiastic audience reaction and ticket sales has already encouraged Bring It On: The Musical to extend through January 20, so you have plenty of time to catch this high-flying cheerleading crowd-pleaser.
Discount Broadway Tickets
---
---