Bebe Neuwirth Returning to Broadway's Chicago
Bebe Neuwirth Returns To Broadway To Star In The Long-Running Broadway Revival Chicago As Leading Lady Matron 'Mama' Morton
---
Bebe Neuwirth Returns To Broadway To Star In "Chicago" Revival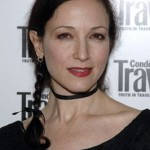 Stage and television performer Bebe Neuwirth (TV's Cheers and Frasier) earned a Tony Award for her turn as Velma Kelly in the long-running Broadway revival of the musical Chicago back in 1997. Years later, she returned to the production to play the show's other main role, Roxie Hart.
And now Bebe Neuwirth will be graduating to a third role, that of the matron Mama Morton, when she comes back to Chicago again for a limited engagement early next year. "Simply put, Bebe Neuwirth is Chicago," stated producer Barry Weissler.
Leading Lady Matron 'Mama' Morton
"This January she's back again, now as Matron 'Mama' Morton, making her the first leading lady in Broadway history to play all three principal roles." Bebe Neuwirth is scheduled to be in the show from January 14 to March 9, 2014. Chicago plays on Broadway at the Ambassador Theatre, located at 219 West 49th Street.