"Amazing Grace" Shutters Its Doors on Broadway
Amazing Grace Concluded Its Run Early At The Nederlander Theatre On Broadway On October 25, 2015, After Suffering At The Box Office And Earning Mixed Reviews, It Is Going On A National Tour
---
Musical About the Origins Of Eponymous Hymn Closes Early
This past week, after playing 24 preview performances followed by 116 regular performances, Amazing Grace closed its doors on Broadway. It had been playing at the Nederlander Theatre since June 25, 2015, and officially opened on July 16, 2015 to mixed reviews. The show was written by a first-time Broadway musical writer named Christopher Smith, who wrote the music and lyrics, and co-wrote the book with Arthur Giron (also a first-time Broadway writer). The musical had a successful run in Chicago as a Broadway tryout, which persuaded the producers Carolyn Rossi Copeland, Alexander Rankin, and AG Funding LLC to bring the show to Broadway.
The musical had difficulty finding an audience, struggling to connect with theatre-goers in a competitive marketplace. The show deals with the origins of the hymn "Amazing Grace," how it was written by a man named John Newton who was once a slave trader and becomes an abolitionist, inspiring him to write this now famous song. The musical has been described as uplifting, dealing with a true story and the transformation of a man caught between the heritage of his father and the modern notion of civil liberties and equality for all.
Broadway Musical Will Embark on National Tour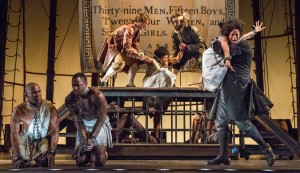 The tour will be produced by Troika Entertainment, who is also the group behind the national tours of such shows as 42nd Street, Annie, Joseph and the Amazing Technicolor Dreamcoat, Evita, and Priscilla Queen of the Desert. Further details are yet to be announced, including cities in which the show will play and dates of performances.
With success out of town in Chicago, the producers are hopeful that Amazing Grace will find more success on the road in cities across the nation. Furthermore, the faith-based nature of the show implies a more optimistic future for the show in less liberal cities than New York, where more religious communities can relate to the themes of faith and the popular song sung in churches.
Difficult Box Office, Never Reaching Even Half of Gross Potential
With a potential weekly box office gross of $1,097,840 across eight performances at the Nederlander Theatre, Amazing Grace never brought in more than $476,631, which took place in the week ending October 25, 2015. Generally, its weekly grosses hovered around the $300,000 mark, with an average percentage reached of gross potential throughout the run of 28.64%. For a show with no name recognition (other than the song that shares its title), no major stars, and no other marks of familiarity for an ever demanding Broadway audience, the show faced an uphill battle from the beginning.
Unfortunately for the show, it never managed to overcome these challenges, and likely lost its entire initial Broadway capitalization. However, the national tour does hold some promise for recouping back at least part of this investment, and future licensing for regional and amateur productions will continue to bring in limited income for years to come.