All-Female Glengarry Glen Ross Reading Presented in L.A.
Los Angeles County Museum Of Art Presents Special Reading Of A David Mamet Drama With All-Female Performers Reading The All-Male Script
---
All-Female Cast Performs All-Male Script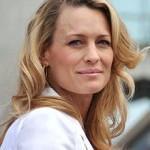 With the recent Broadway revival of Glengarry Glen Ross featuring Al Pacino still fresh in many theatergoers minds, the Los Angeles County Museum of Art is presenting a reading of the famed David Mamet drama that features female actors performing the all-male script.
This Glengarry Glen Ross reading will star Robin Wright (currently impressing audiences in Netflix's House of Cards series) as Ricky Roma, Catherine O'Hara as Shelley Levene, Maria Bello in the role of Dave Moss, Mae Whitman as John Williamson, and Allison Janney playing the part of George Aaronow.
Broadway's Revival Of "Glengarry Glen Ross"
The reading is part of Jason Reitman's "Live Read" series, in which well-known film scripts are featured in live readings. (Presumably the cast will read from the screenplay of the Glengarry Glen Ross movie adaptation.) The Glengarry Glen Ross reading is scheduled to take place on February 21 at 7:30pm.
Discount Broadway Tickets
---
---