"Airline Highway" Begins Broadway Performances
Airline Highway, Produced By Lisa D'Amour, Began Previews On April 1, 2015. Box Office Sales Have Been Struggling And The Show Only Received Mixed Reviews.
---
MTC Produces A Broadway Play By A Female Writer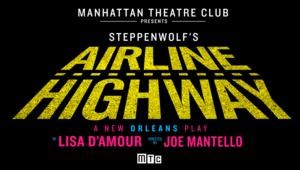 The Manhattan Theatre Club has been receiving a lot of criticism for their failure to produce a play on Broadway by a female playwright over the past two years. For the first time, they broke that streak with the production of Lisa D'Amour's Airline Highway, which began previews at the Samuel J. Friedman Theatre on April 1, 2015.
The show opened on April 23, 2015, and is scheduled to run until June 14, 2015. Lisa D'Amour is a renowned playwright, but this is the first time her work has been seen on Broadway.
Lisa D'Amour's Impressive Career
Her other plays include Nita & Zita, for which she received an Obie Award in 2003, Terrible Things, for which she received MAP Fund award in 2008, and Ten Thousand Things, for which she received the award for Best New Play from the Austin Critics' Circle in 2002. Her play Detroit was scheduled to be produced on Broadway, but it was instead produced Off-Broadway by Playwrights Horizons in 2012-2013.
This is therefore a great achievement for her work to finally be seen by a wider audience. Airline Highway is directed by Joe Mantello, whose many Broadway directing credits include An Act of God, The Last Ship, Casa Valentina, I'll Eat You Last: A Conversation with Sue Mengers, and The Other Place.
"Airline Highway" Takes Place In A Run-Down New Orleans Motel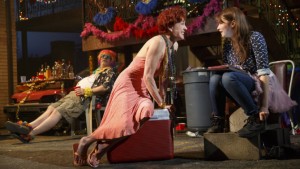 Airline Highway takes place in New Orleans, where Lisa D'Amour was formerly a Carnival Queen. She utilizes her firsthand knowledge of the crazy range of characters in that town to craft this play.
The concept of the play is an all-night party that the friends throw for their friend in honor of her death, before she has died. This pal is Miss Ruby, who lays upstairs on her deathbed, and then eventually makes it down to the parking lot party, with her bed in tow.
A Celebration Of Life
She was a kind of maternal figure to all these tragic souls, and they are celebrating her life with a preemptive funeral. The other characters include Sissy Na Na, a wise and learned transvestite who will take on the matriarchal role once Miss Ruby has passed.
We also meet the motel manager, a man who does odd jobs at the motel, and a variety of hippies and outcasts who form a tight-knit community. This little-known play by a little-known writer is having a tough time making tracks at the box office.
"Airline Highway" Can't Take Flight In Box Office
In the last reported week of box office figures, the week ending April 26, 2015, the show only brought in $126,468, which represents 23.44% of its gross potential. In the week prior, the show reached its peak thus far with a weekly gross of $144,334, which represents 24.49% of the show's gross potential.
The average paid ticket has ranged between $29.08 and $37.42, showing a heavy amount of discounting. And yet they are still not managing to completely fill up the audience, as this last week had an average audience capacity of 86.7%. The peak in terms of audience capacity was the week before, at an average of 90.8%. Because this play is produced by Manhattan Theatre Club, it will likely survive this difficult string of box office losses, but it will still not be easy to last until June if sales don't pick up.
Discount Broadway Tickets
---
---