"A Raisin in the Sun" Concludes Performances
A Raisin In The Sun Concludes Its Run On Broadway, Having Won Three Tony Awards, Recouped Its Capitalization, And Earned The Audience Of Obama Family.
---
An Unequivocal Success On Broadway
Kenny Leon's acclaimed revival of Lorraine Hansberry's A Raisin in the Sun played its final performance at the Ethel Barrymore Theatre last night: Sunday, June 15, 2014. Starring Denzel Washington as Walter Lee Younger, this production took home three Tony Awards last weekend: those for Best Revival of a Play, Best Director of a Play (Kenny Leon), and Best Featured Actress in a Play (Sophie Okonedo).
This was the most wins for any straight play at this year's Tony Awards, and the show was also nominated for an additional two acting awards: those for Best Performance by an Actress in a Leading Role in a Play (LaTanya Richardson Jackson), and Best Performance by an Actress in a Featured Role in a Play (Anika Noni Rose).
Denzel Washington Praised For His Performance In "A Raisin In The Sun"
Though Denzel Washington was not nominated, Kenny Leon, in accepting his Tony Award, made it clear he believed this was a snub. After all, Washington received unqualified praise for his performance, and he furthermore won the Tony Award for Best Performance by an Actor in a Leading Role in a Play for 2010's Fences, also directed by Leon.
Successful Recoupment Of Capitalization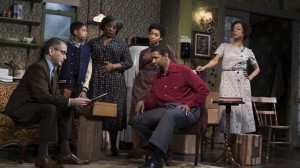 The run was by all measures successful, as the producers announced last week that the play managed to recoup its entire capitalization, which is reported to be $4.25 million.
This is a very large cost for a straight play with a limited engagement, but the investment, as well as the profit potential, was significantly upped due to the star casting of Denzel Washington, whose innumerable fans reliably flock to the theatre for the opportunity to see him in live performance.
Sold Out Limited Engagement Run
The recoupment is especially impressive given the briefness of the play's run, which totaled only 85 performances in addition to 27 preview performances since it began on March 8, 2014 (the official opening was April 3, 2014).
This achievement was only possible due to the high demand for tickets, which allowed premium pricing and very limited discounting. The entire run was sold out, the average ticket price each week was generally over $140, and the top ticket price for premium seats was $348. In general, the weekly gross reached around 110% of its potential (due to premium pricing), and each weekly gross was almost without exception over $1.1 million.
Solidifying Its Place In Broadway History
This is the third time A Raisin in the Sun has played on Broadway. The premiere was in 1959, marking the first time a play written by a black woman was seen on Broadway. The first revival was in 2004, also directed by Kenny Leon.
Though that production won two Tony Awards (Best Actress for Phylicia Rashad, and Best Featured Actress for Audra McDonald), it did not win the award for Best Revival (though it was nominated), nor was Kenny Leon nominated for the award he would win in 2014: Best Director.
President Barack Obama Attended "A Raisin In The Sun"
Critics discussed how this production was a significantly more mature achievement than Leon's first attempt, which may justify the difference in awards reception. This production also had the honor of being attended by the President of the United States, Barack Obama, and his family.
On Friday, April 11, 2014, West 47th Street was swarming was security guards, as the first family made its way to the theatre. Barack and Michelle Obama also had attended a revival of August Wilson's Joe Turner's Come and Gone in 2009, and Michelle had taken her daughters to the musicals Memphis and The Addams Family.
Success For The Whole Broadway Community
All in all, this production was a crowning achievement for its producers, who make up a great selection of the producing society of Broadway, including Scott Rudin, Roger Berlind, Jon Platt, Scott Delman, Roy Furman, Stephanie McClelland, Ruth Hendel, Sonia Friedman, and Daryl Roth.
In this light, it was actually a success for the Broadway community as a whole, pumping much needed blood into the life of quality-driven productions on Broadway.