"A Doll's House, Part 2" Closes On Broadway Several Months Early
Lucas Hnath's Play A Doll's House, Part 2 Concluded On September 24, 2017, Several Months Earlier Than Planned, But Months Later Than Originally Scheduled.
---
Originally Scheduled To End In July, Then Extended To January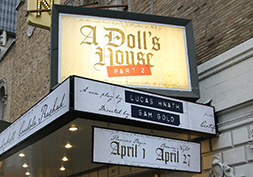 On March 30, 2017, A Doll's House, Part 2 began previews at the John Golden Theatre, ahead of its opening night on April 27, 2017. At that time, it was scheduled to play a 16-week limited engagement, closing on July 25, 2017.
The initial grosses were dismal, with numbers amounting to less than 20% of the show's gross potential each week. After opening night, the reviews were extraordinary, and the numbers began to climb, and then on May 2, 2017, the Tony Award nominations were announced.
Tony Award Nominations
The production earned an impressive 8 nods, which caused the weekly grosses to climb. These were the nominations for Best Play, Best Performance by an Actor in a Leading Role in a Play for Chris Cooper, Best Performance by an Actress in a Leading Role in a Play for Laurie Metcalf, two nominations for Best Performance by an Actress in a Featured Role in a Play for both Jayne Houdyshell and Condola Rashad, Best Costume Design of a Play, Best Lighting Design of a Play, and Best Direction of a Play for Sam Gold.
Within a month, the show was bringing in grosses in the 60% range of its gross potential, peaking the week of the Tony Awards, when the show brought in a weekly gross of $533,186, or 73.92% of gross potential. The following week was almost as good, with a weekly gross of $530,698, or 73.57% of gross potential.
Casting Changes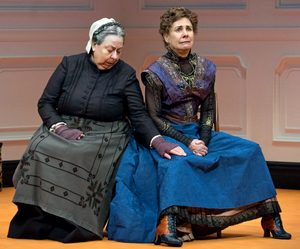 With such confidence, the show's lead producer, Scott Rudin, decided to announce an extension. Rather than the normal extension of just a few weeks or a month, Rudin went all the way. Instead of closing in July as planned, the new closing date was announced of January 7, 2018.
This was an incredibly ambitious move, and involved the necessity of replacing three of the four actors. Tony nominee Laurie Metcalf was replaced by the actress Julie White, Tony nominee Chris Cooper was replaced by Stephen McKinley Henderson, and Tony nominee Condola Rashad was replaced by Erin Wilhelmi.
202 Performances
Only Jayne Houdyshell stuck with it until the end. Unfortunately for Rudin, the end came sooner than that optimistic extension. The numbers began to drop again shortly after the Tony Awards, so due to these low ticket sales, the show finally closed on September 24, 2017. Nevertheless, that is still a hefty run for a straight play, as it ran for 202 performances, including previews.
New Productions On The Rise
While the Broadway production has come to a close earlier than anticipated, there are other productions of the play coming to theatres all over the world. Thus far, a production has been announced in Melbourne Australia starring Marta Dusseldorp, with performances beginning August 2018.
In addition, regional theatres throughout the United States will surely be clamoring for the chance to mount this show. In the meantime, one of Lucas Hnath's previous plays, The Christians, is enjoying a slew of productions in cities such as San Francisco and Chicago.
A Marvelous Piece Of Theatre
Therefore, while this play has closed earlier than expected, it actually closed a lot later than originally scheduled, and it will certainly go down in history as a marvelous piece of theatre. And who knows – perhaps 15 years later, the door that slammed closed on this production will hear a faint knock once again for a Broadway revival – just as A Doll's House, Part 2 imagines as a sequel to Ibsen's famous work A Doll's House, which concludes with Nora's departure, supposedly for forever. As this work has shown, the end is not always the end.