A Chance to Win Les Misérables Memorabilia
In Advance Of Opening Day, The New Film Les Misérables Will Offer Fans The Opportunity To Win Memorabilia From The Movie And Broadway Musical
---
"Les Misérables" Fan Sweepstakes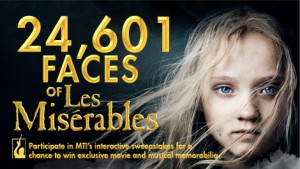 Music Theatre International (MTI), which licenses productions of the musical Les Misérables, in conjunction with Universal Studios, the studio behind the soon-to-open film version of the beloved musical, is presenting the "24,601 Faces of Les Misérables Sweepstakes," offering fans an opportunity to win memorabilia from the movie and musical.
You can enter the Les Miz sweepstakes by uploading a video of yourself describing your favorite Les Miz moment, a photo or video of you and friends at a showing of the movie, or by uploading a photo or video of yourself from a production of Les Misérables (or a production of the Les Misérables School Edition) that you participated in.
Four Winners Will Receive An Assortment Of Prizes
You also need to give the photo/video a title, include a small description, and be sure to tag the picture with the number "24601". Four winners will be selected to win an assortment of prizes, such as the Les Misérables libretto autographed by the show's creators, promotional materials from the film, the original Victor Hugo novel, the original Broadway cast recording of the show, and the Les Misérables in Concert 25th Anniversary DVD.
Entries are being accepted through the end of the day on January 3, 2013. Winners will be selected at random each Friday of the sweepstakes.
Discount Broadway Tickets
---
---