"A Bronx Tale" Musical Earns Mixed Reviews
A Bronx Tale Opened To Mixed Reviews, Receiving A Good Review In The New York Times But Generally Earning Mediocre Reviews.
---
Robert De Niro And Jerry Zaks Direct The Musical Of Chazz Palminteri's Story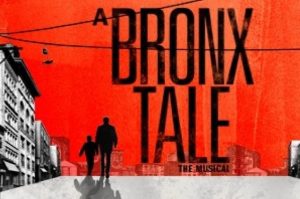 This past week, A Bronx Tale opened at the Longacre Theatre. The show had been running in previews since November 3, 2016, and is presently scheduled to continue for an open ended run.
This new musical has a book by Chazz Palminteri, who also wrote the play of the same name, in which he starred as a one-man show, first Off-Broadway in 1989, and then on Broadway in 2007 to 2008.
"A Bronx Tale The Musical" A Long Time In The Making
When Robert De Niro first saw this play, he offered to buy the film rights, which Palminteri granted as long as he could pen the screenplay and star in the film. De Niro agreed, and also co-starred in and directed the film, which was released in 1993. Therefore, the path was laid long ago for A Bronx Tale the Musical, which is now open and running on Broadway.
With lyrics by Glenn Slater (School of Rock, Leap of Faith, Sister Act, The Little Mermaid) and a score by Alan Menken (Aladdin, Leap of Faith, Newsies, Sister Act, The Little Mermaid), the show stars a cast that does not include Palminteri or De Niro. Rather, Bobby Conte Thornton makes his Broadway debut in the lead part of Calogero Anello, originally played by Chazz Palminteri in his one-man show based off his life growing up as an Italian-American in the Bronx.
Mixed Reviews From Critics, Praised By The New York Times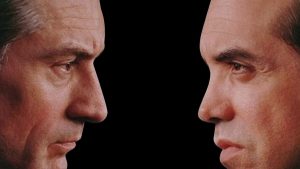 Upon opening, the majority of critics were not entirely blown away by this new musical. Only Charles Isherwood of the New York Times offered it a rave review, but even then he admitted that it doesn't "break ground" or "dazzle."
He compared it to comfort food, which in this case is presumably food that is comfortable for committed musical theatre fans only, as he alludes to its "reliable pleasures" and "polished professionalism."
Fills National Demand For A Fan Favorite
Without saying the name of the show, he allows that it is no Hamilton, but nonetheless he enjoyed it. Other reviewers set the bar higher in terms of originality. Frank Scheck of the Hollywood Reporter felt the tale has worn its welcome, after the film and series of plays from the subject matter. Matt Windman from AM New York felt the story was derivative of better musicals such as West Side Story and Jersey Boys, and also that the tone was excessively solemn and sentimental.
Joe Dziemianowicz from NY Daily News states that the directors did not squander their gifts with this show, but they haven't dug deeply into their imagination, either. Chris Jones of the Chicago Tribune remarks that the "Rich Dad, Poor Dad" narrative is not new, but that this show represents how Broadway can fulfill the national demand for the same old fare.
Demonstrating Some Promise At The Box Office
Despite these less than stellar reviews, A Bronx Tale is managing to sell fairly well at the box office. While it is by no means selling out, the show has brought in over 75% of its gross potential in every week since it began previews. In the first partial week of 3 performances, the show actually brought in 91.58% of its gross potential, showing strong promise right out of the gate.
However, more recent weeks have seen more modest success, with the last reported week of box office figures, the week ending December 4, 2016, bringing in a weekly gross of $723,675, or 76.24% of its gross potential over eight performances. This past week was in fact the first full week of eight performances.
Lack Of Brand Recognition May Limit Run
Another high performing week was the week before that, which was also the week of the Thanksgiving holiday, which brought in a gross of $717,860 over 7 performances, and which represents 87.09% of its gross potential. Nevertheless, with such questionable quality from these reviews, and with limited brand recognition despite the feature film and the stardom of the co-director De Niro, this show may not break through to hit status at any point in its run.