3rd Annual TEDxBroadway Scheduled for February 24, 2014
Broadway And TED Talks Join Forces In Its Third Annual Event To Discuss "What Is The Best Broadway Can Be" With A Panel Of Notable Speakers
---
What Is The Best Broadway Can Be?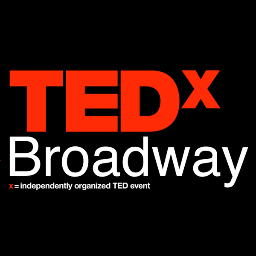 Broadway meets the popular TED talks format with TEDxBroadway, a one-day event that will be held at the multi-stage Off-Broadway venue New World Stages in midtown New York City on Monday, February 24, 2014.
This third annual TEDxBroadway will tackle the question: What's the best Broadway can be? TEDxBroadway takes a broad view of the Broadway community, inviting anyone affected by the Broadway business, from fans to neighborhood organizations, to take part in this day-long discussion of Broadway's potential future.
Selection Of Scheduled Speakers
Tony Award winning Pippin director Diane Paulus (who also serves as the American Repertory Theater's artistic director) and actress/comic/musician Lea DeLaria (TV's Orange is the New Black) are among the scheduled speakers who have a Broadway pedigree.
The event will also feature speakers from other sectors, such as Sree Sreenivasan, who serves as chief digital officer at the Metropolitan Museum of Art; David Drake of the private equity advisory firm LDJ Capital; and Dan Gurney, who founded Concert Window and also has the distinction of being 6-time U.S. champion of the button accordion.
Help Shape The Future Of Broadway
Past participants in TEDxBroadway have included the likes of producer Daryl Roth, actor George Takei, critic Terry Teachout, and playwright Kristoffer Diaz. "TEDxBroadway invites everyone who has an interest in Broadway to participate in shaping its future," stated event co-organizer Jim McCarthy. "Certainly, Broadway is most often associated with theatre but, it's also a place where many industries and people intersect. Our goal is to present positive ideas that will benefit the entire Broadway ecosystem."
Tickets to the TEDxBroadway conference are $100. Learn more at http://www.tedxbroadway.com.