Zachary Levi To Star in First Date on Broadway
Casting Announced For New Musical First Date Scheduled To Begin Previews At The Long Acre Theatre On Broadway On July 9th, Officially Opening August 4th.
---
Zachary Levi And Krystra Rodriguez Headline New Broadway Musical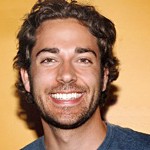 Casting has finally been announced for the new musical First Date, which will be coming to Broadway this summer. Zachary Levi (best known as the star of TV's Chuck) and Krysta Rodriguez (The Addams Family) will headline the production, and they will be joined by co-stars Sara Chase, Kristoffer Cusick, Blake Hammond, Kate Loprest, and Vicki Noon.
Set in real time, First Date follows a series of hilarious shenanigans that take place when high-strung Aaron (played by Zachary Levi) and serial-dater Casey (Krysta Rodriguez) have dinner at a bustling New York City restaurant.
"First Date" Begins Preview Performances At The Longacre Theatre On Broadway
The musical's book was written by Austin Winsberg (Gossip Girl) and the music and lyrics are by Michael Weiner and Alan Zachary. First Date, which had its world premiere in Seattle, will begin preview performances at the Longacre Theatre on Broadway on July 9, with the official opening night set for August 4.