"You Can't Take It With You" Opens on Broadway
You Can't Take It With You Opened On September 28, 2014 At The Longacre Theatre To Rave Reviews. However, The Financial Figures Are Only Mediocre.
---
A Critical Hit With Financial Difficulties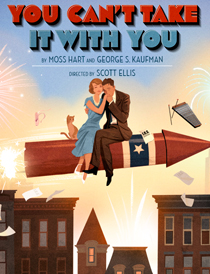 On September 28, 2014, You Can't Take It With You opened at Broadway's Longacre Theatre after 39 preview performances. Starring James Earl Jones as the patriarch of the quirky Sycamore family, this classic 1937 comedy by George S. Kaufman and Moss Hart received generally rave reviews from critics.
However, despite appreciation and even celebration by some of New York City's most dependable reviewers, the show is struggling to attract ticketbuyers at the box office. In the five full or partial weeks that the show has been open so far, the audience capacity has ranged between a weekly average of 80 to 90 percent; however the potential reached of the weekly gross fluctuated between 40 and 55%.
Heavy Discounts And Marketing May Help "You Can't Take It With You"
This demonstrates that the producers are offering heavy discounts to ticketbuyers, who are happily taking advantage of the offers. However, the show will only be able to stay open so long with numbers like these.
Nevertheless, it should be noted that these figures represent the pre-opening data, and that it is possible word will quickly spread now that the reviews are in. However, Broadway audiences have been decreasingly swayed by critical response in most cases, and are more generally made aware of shows through marketing campaigns, and thus the positive reviews are by no means a certain bet to improve the box office figures.

The Reviews Are In
Ben Brantley, the most significant theatre critic at New York's most significant newspaper, The New York Times, loved You Can't Take It With You. He opened his laudatory review by saying the only part of the show that he could complain about is the ache in his cheeks from smiling so much throughout the entire two and a half hour show.
Even though the show won the 1937 Pulitzer Prize for Drama, he did not expect to enjoy this revival so much. Apparently, the show has stood the test of time, rather than becoming dated, so much that Brantley refers to this family comedy as the Platonic ideal of family dysfunction. And Brantley was not alone in his praise.
Irresistible Timeless Hit
David Rooney at the Hollywood Reporter, representing the West Coast perspective on the situation, stated that the play remains irresistible after all these years. He calls the director Scott Ellis a comedy pro, and he gives Jones his due respect by calling him a theater lion with natural gravitas.
The Huffington Post, representing the younger urban viewpoint, also gave the play a thumbs up, stating that the audience leaves in a state of euphoria.
Fran Kranz Taking On A Leading Part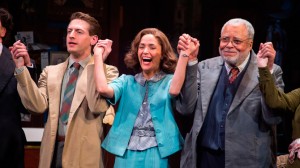 The young comedic actor Fran Kranz made his Broadway debut in the 2012 revival of Death of a Salesman starring Philip Seymour Hoffman, and received great notices for his memorable supporting role. You Can't Take It With You marks his second Broadway performance.
He has also received recognition for his roles in television shows such as Joss Whedon's "Dollhouse" and films such as Cabin in the Woods and Much Ado About Nothing.
Rose Byrne Makes Broadway Debut
This is the first time, however, that he has been given a proper leading part as the romantic lead. He told Variety that this is an honor he does not take lightly, and he jumped at the chance to lead the show alongside James Earl Jones and Rose Byrne, the latter of whom made her Broadway debut.
This appears to be the second of many Broadway outings for the up-and-coming actor, who is likely to become a name more people know in coming years. You Can't Take It With You is scheduled to run until January 4, 2015.