"You Can't Take It With You" Closes
You Can't Take It With You concludes its run at the Longacre Theatre on Sunday, February 22, 2015. It received fairly positive reviews but was still a somewhat tough sell at the box office.
---
Final Performance Sunday, February 22nd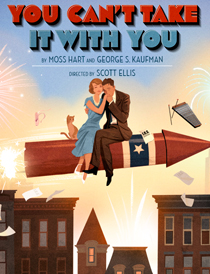 On Sunday, February 22, 2015,
You Can't Take It With You
will play its final performance at Broadway's Longacre Theatre. It began previews on August 26, 2014, and the official opening night took place on September 28, 2014. This comedic revival is directed by Scott Ellis, who also helmed
The Elephant Man
starring Bradley Cooper, which wraps up performances the day before. The play was written by Moss Hart and George S. Kaufman, and original music was written for this production by Jason Robert Brown (
Parade
,
The Bridges of Madison County
). The play starred James Earl Jones as the patriarch, Grandpa Martin Vanderhof. Furthermore, Rose Byrne starred alongside him, making her Broadway debut. Additional roles were played by Fran Kranz (
Death of a Salesman
), Annaleigh Ashford (
Kinky Boots
), and Byron Jennings (
Arcadia
). This comedy, originally written in 1936, takes place during the Great Depression. It is also a timely revival for the New York theatre scene, as last season Lincoln Center put on a play called
Act One
, which dealt with the life and collaborative partnership of Moss Hart and George S. Kaufman.
Critical Praise, and Commercial Survival
Upon its opening night on September 28, 2014, critics were generally pleased with
You Can't Take It With You
. Ben Brantley from The New York Times said that the only problem might be the pain in your cheeks after smiling for two and a half hours straight. Robert Kahn of NBC New York praised the performances of James Earl Jones, as well as Rose Byrne who is known for her performances in TV's
Damages
as well as the film
Bridesmaids
. David Rooney from The Hollywood Reporter enjoyed the play's escapist pleasure, emphasizing a life well lived rather than one marked by success. On the other hand, Mark Kennedy from the Associated Press did not enjoy the references from the Great Depression, such as Eleanor Roosevelt, Calvin Coolidge, and the 48 States. Unfortunately, the concept of a farcical Broadway "laughfest" has died down since the 30s, and a comedy that was once thought hilarious may now come off as a glorified television sitcom. Nevertheless, this Pulitzer Prize winning play from 1937 managed to charm critics and audiences alike in 2015, which is no small achievement.
A Difficult Sell at the Box Office
Despite the overall laudatory response from reviewers, the box office was a tough sell for this play revival in light of the highly competitive season. The show's highest weekly gross took place in the week ending October 19, 2014, when it brought in $680,921, which represented 87.4% of its gross potential. Still, it mostly hovered around the $400,000 to $500,000 marks, with the lowest weekly gross of $334,244, which took place just recently in the week ending February 8, 2015. Though the play has notable stars such as the esteemed James Earl Jones, the cutthroat competition proved a bit too much to allow this play to be a real hit on Broadway.