Writers Guild of America Honors Playwright Tom Stoppard
Tom Stoppard Received The Writers Guild Of America West's 2013 Laurel Award For Screen, Honoring His Lifetime Achievements In Writing Motion Pictures
---
Tom Stoppard Honored by The Writers Guild Of America West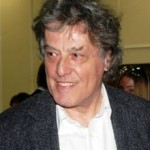 Playwright Tom Stoppard, whose acclaimed plays have frequently appeared on Broadway, is being given the Writers Guild of America West's 2013 Laurel Award for Screen, an award that honors a lifetime achievement of outstanding writing for motion pictures.
The award will be given on February 17 at a ceremony in Los Angeles. Though Broadway theater fans tend to think of Tom Stoppard primarily as a playwright, given such distinguished theatrical work as Rosencrantz and Guildenstern Are Dead, Arcadia (which was recently revived on Broadway), and the sprawling trilogy The Coast of Utopia, he has been writing steadily for the screen since 1965.
Stoppard's Impressive Career
Stoppard started out as a television writer in the mid-'60s and then began screenwriting in the mid-'70s. Among his many screenwriting credits, some of the most prominent are Brazil, Empire of the Sun, the recently released Anna Karenina, and Shakespeare in Love, for which he won an Oscar. Tom Stoppard has been a member of the Writers Guild of America since 1991.
In reference to his being honored with the Laurel Award , WGAW vice president Howard A. Rodman said, "We did not want to let his acknowledged brilliance as a playwright blind us to his dramatic talents in our own field ... Whether adapting the masters – Nabokov, Greene, Ballard, le Carré, Doctorow, Tolstoy – or crafting his own tales, Stoppard brings dignity and coherence to the act of imagination."