Writers Guild of America Honors Playwright Tom Stoppard
---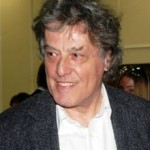 Playwright Tom Stoppard, whose acclaimed plays have frequently appeared on Broadway, is being given the Writers Guild of America West's 2013 Laurel Award for Screen, an award that honors a lifetime achievement of outstanding writing for motion pictures. The award will be given on February 17 at a ceremony in Los Angeles. Though Broadway theater fans tend to think of Tom Stoppard primarily as a playwright, given such distinguished theatrical work as
Rosencrantz and Guildenstern Are Dead
,
Arcadia
(which was recently revived on Broadway), and the sprawling trilogy
The Coast of Utopia
, he has been writing steadily for the screen since 1965. Stoppard started out as a television writer in the mid-'60s and then began screenwriting in the mid-'70s. Among his many screenwriting credits, some of the most prominent are
Brazil
,
Empire of the Sun
, the recently released
Anna Karenina
, and
Shakespeare in Love
, for which he won an Oscar. Tom Stoppard has been a member of the Writers Guild of America since 1991. In reference to his being honored with the Laurel Award , WGAW vice president Howard A. Rodman said, "We did not want to let his acknowledged brilliance as a playwright blind us to his dramatic talents in our own field ... Whether adapting the masters – Nabokov, Greene, Ballard, le Carré, Doctorow, Tolstoy – or crafting his own tales, Stoppard brings dignity and coherence to the act of imagination."
Discount Broadway Tickets
---
---