World Peace Concert Features Broadway Performers
In The 3rd Annual Artists For World Peace Event, Broadway Performers Sing And Dance For A Non-Profit Working To Provide Various Community Services
---
Broadway Performers Sing And Dance For A Good Cause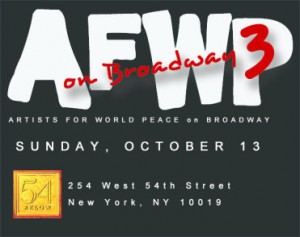 The 3rd annual "Artists for World Peace on Broadway" benefit will give numerous Broadway performers an opportunity to gather to sing and dance in an intimate setting and raise money for a good cause at the same time.
The event is scheduled for this Sunday, October 13 at 8:45pm. The concert will feature Clarke Thorell (Annie, Hairspray), Stephen Carrasco (Kinky Boots, Ghost), Liana Hunt (Newsies), Natalie Gallo (Jersey Boys), Blake Whyte (Wicked), Ian Paget (Soul Doctor), and many others.
Proceeds Will Support "Artists For World Peace" Non-Profit
The evening will close with an original Bollywood dance number choreographed by Monica Kapoor (Mamma Mia!). "Artists for World Peace on Broadway" will be held at 54 Below (254 W. 54th Street). Tickets are $150, and proceeds from the event will support the non-profit Artists for World Peace, which works to feed and house the poor and to provide various community services. Learn more at ArtistsForWorldPeace.org.