Wicked Reopens In-Person Ticket Lottery for $30
Broadway Blockbuster Wicked Became The First Broadway Show To Reinstate the In-Person Ticket Lottery Post- Pandemic and Its a Much Better Experience Than Its Online-Only Version
---
Wicked In-Person Lottery: Back By Popular Demand
Broadway's long running megahit musical Wicked has returned to offering a live ticket lottery, the only Broadway show to do so in the wake of the pandemic.
Fans and hopeful ticket buyers alike can congregate in person in the Gershwin Theatre's breezeway two-and-a-half hours prior to performances for a chance to purchase a $30 ticket (including a $2 facility fee).
Winners are announced two hours before curtain, and each person may buy up to two tickets, cash only. Twenty-six tickets are up for grabs.
Since not all lottery winners select 2 tickets, there may be a single ticket left at the end forcing someone to attend solo or give up the ticket entirely. Conversely, some individual romantics may purchase a pair in hopes of befriending a stranger with the lure of an affordable ticket to one of the hottest shows in town.
The Gershwin Breezeway
Wicked, playing at Broadway's largest house, has the spatial luxury to accommodate such an ambitious endeavor which makes it unique on Broadway.
With seating capacity of almost 2,000 patrons, the Gershwin's roomy real estate also provides ample outdoor space for thrifty theatergoers to gather without interfering with the heavy traffic and general chaos of the theatre district, as well as for those still trying to take COVID safety precautions.
Once inside the theatre, masks continue to be optional, but most people still wear them.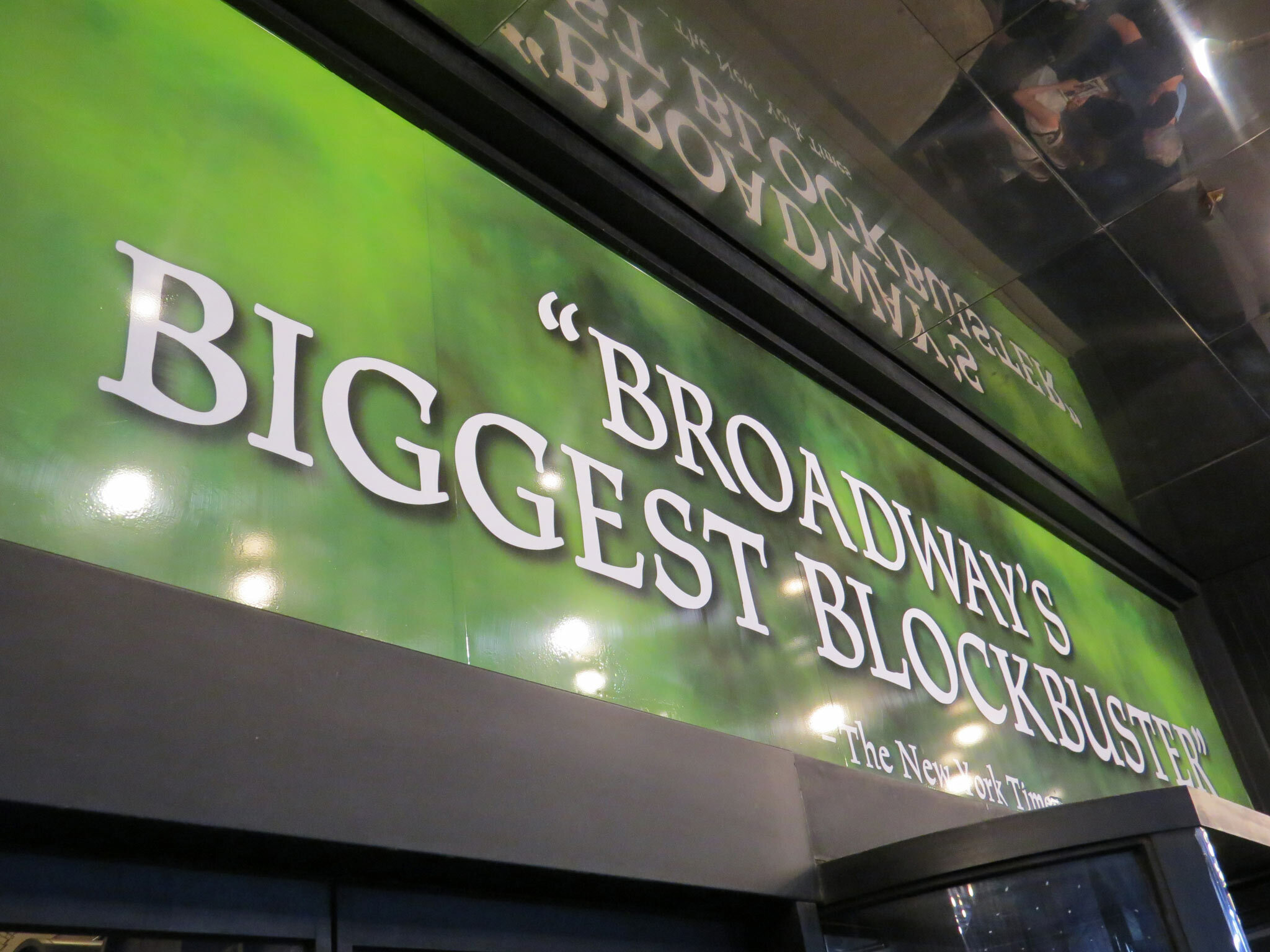 In line Or Online Lottery?
The ritual of selling affordable lottery tickets to eager fans started with Jonathan Larson's Rent, a musical trailblazer in all respects. Proving to be wildly popular, not to mention a gesture of goodwill on behalf of producers, many Broadway shows have offered their own ticket lottery since then. Ticket prices and seating locations naturally vary.
While the ultimate goal may be to get tickets, the lottery culture has gone beyond simply waiting in line for tickets. New friendships, community bonding, sharing of food and drink, group sing-alongs and live performances have all been part of the in-person lottery experience.
Online and digital lotteries started well before the pandemic and show no sign of slowing down. They don't require the time, patience, and level of commitment to enter. Just a few clicks and you're eligible.
Some shows motivate potential winners to publicize their entries on social media by increasing the chances of winning for those who share, but many entrants are at odds with this policy.
Hamilton In-Person Lottery Shut Down Over Safety Concerns
In 2016, Hamilton fans proved to be a bit too enthusiastic.
Dubbed Ham4Ham, the pre-drawing live entertainment became a major draw in itself. Even those disappointed not to win a lottery ticket were still treated to an abbreviated show of sorts featuring cast members, Broadway stars and Lin-Manuel Miranda himself.
But the massive crowds made the exhibition untenable, requiring police to herd folks into fenced corrals on both sides of 46th Street. Subsequently, Ham4Ham went digital with sporadic live performances over the years since the announced suspension.
Diehard Hamilton fans can visit the show's fandom page to watch virtually every single Ham4Ham performance via archived footage, but it's a far cry from being there.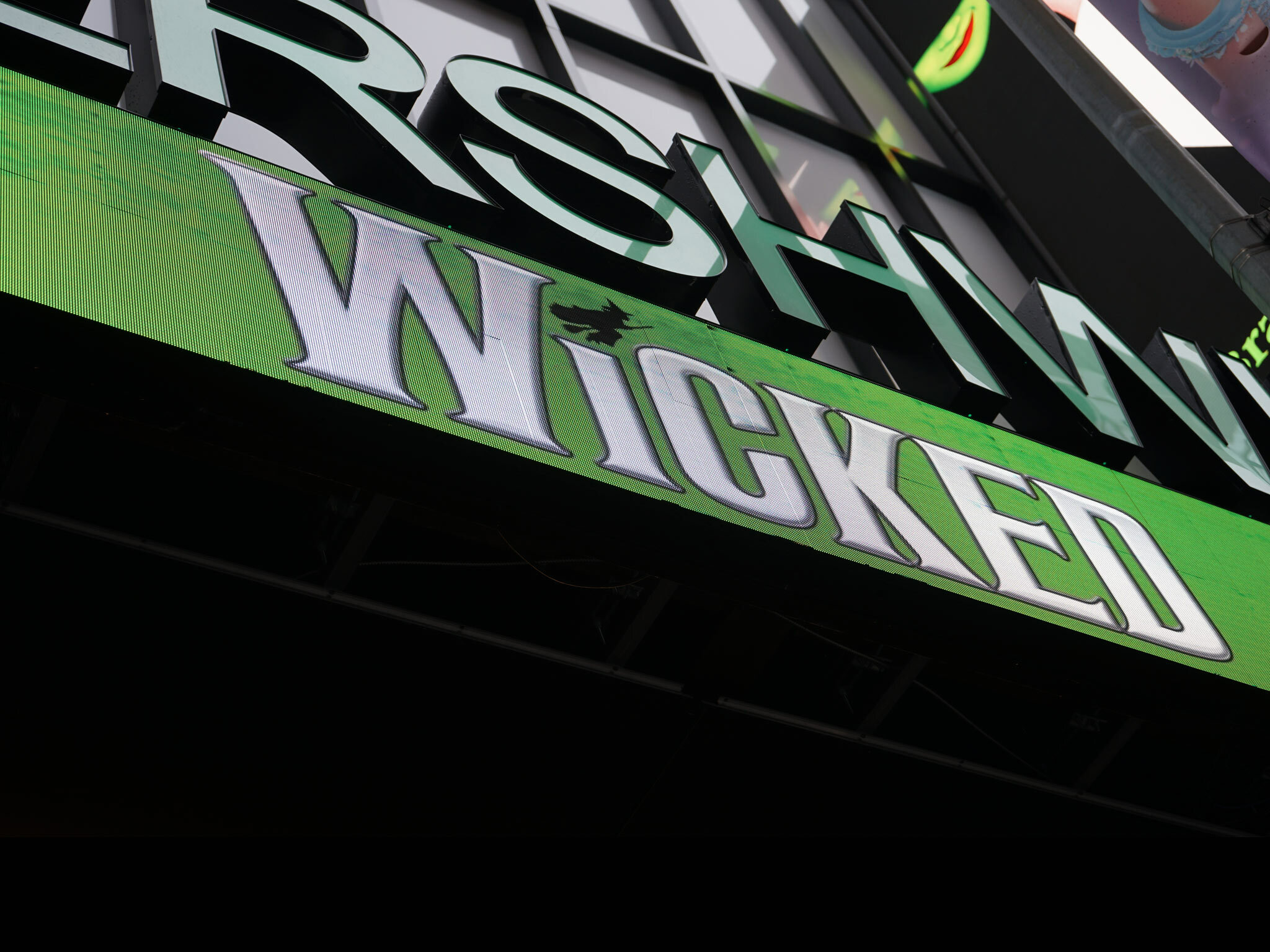 Wicked-pedia
With a catchy score by Stephen Schwartz and a compelling book by Winnie Holzman, the tale of two witches opened on Broadway in the fall of 2003, soon to reach its 20th anniversary. Wicked is currently the 5th longest running Broadway show of all time.
Notable stars who have appeared in the stage version of Wicked include Idina Menzel, Kristin Chenoweth, Ana Gasteyer, Megan Hilty, Taye Diggs, Joey McIntyre, Annaleigh Ashford, Ben Vereen, Joel Grey and Rue McClanahan.
Wicked is Here For Good
Wicked ticket sales remain robust, grossing anywhere from $1.3 million to $2.3 million in a given week, and capacity percentages generally staying strong in the high 90s. Aside from the lottery, student rush and military rush, discounts are not available. Full-price tickets start at $99.
Given its popularity, a two-part film adaptation of Wicked, directed by Jon M. Chu and starring Cynthia Erivo and Ariana Grande (as Elphaba and Glinda respectively), is currently in the works, with tentative release dates in December of 2024 and January 2025.
It's safe to say that Wicked, in all its incarnations, will be raking in the green for the foreseeable future and beyond and the in-person Ticket Lottery is just another way to get to see the hit show.