"Wicked" is Now 8th Longest Running Broadway Show Ever
Wicked Has Surpassed Mamma Mia! As The Eighth Longest Running Show Of All Time, Phantom Of The Opera Remains Number One.
---
Wicked Surpasses "Mamma Mia!" With Performance Number 5,759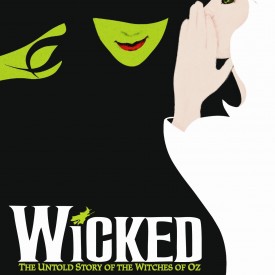 Wicked: the Untold Story of the Witches of Oz is arguably the most successful contemporary musical in the world today. When it began performances on October 8, 2003, ahead of an opening night on October 30, 2003, it quickly rose to the top as one of the most lucrative shows on Broadway.
While the reviews were not unanimously positive when it first premiered, this was quickly overshadowed by the uproarious support from fans pouring in from all corners of the world. The show has broken the house record at its theatre, the Gershwin theatre, twenty times, and recouped its significant capitalization of $14 million within the impressive time of 15 months.
"Wicked" Reaches $3 Million Mark
On January 1, 2006, Wicked surpassed The Producers for the record for highest weekly gross of all time, bringing in $1,610,934. While these were the pre-Hamilton days, and the numbers were lower overall, it was certainly an impressive feat at the time. I
n the last week of 2013, Wicked became the first show ever to reach the $3 million mark in a weekly gross. Beyond the Broadway production, there have been multiple North American tours, numerous long-term engagements in Los Angeles' Pantages Theatre, and international productions in cities from London to Dublin to Melbourne.
Climbing The Ladder Of Success
In addition to English-language productions, the show has been translated into six languages, with productions appearing in German, Japanese, Dutch, Korean, Spanish, and Portuguese. In addition to these countless achievements, Wicked has added another milestone to its impressive history: it has surpassed Mamma Mia! in becoming the 8th longest running show of all time. With the 5,759th performance on August 16, 2017, Wicked is quickly climbing the ladder, surpassing shows that had previously held this honor.
Tough Competition For "Wicked"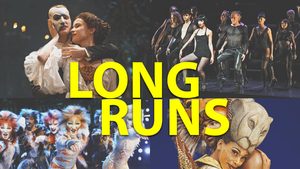 While it is certainly remarkable that Wicked has climbed to eighth in terms of longest-running shows, it has some stiff competition if it intends to make its way all the way to the top. While Mamma Mia! has now been demoted to the ninth longest running show of all time, it still holds the record for the longest running jukebox musical of all time.
In seventh place is currently Oh! Calcutta!, which ran for 5,959 performances from September 24, 1976 to August 6, 1989. Wicked will quickly overtake that record in just 200 more performances, or within 25 weeks.
"Les Misérables" Currently In 5th
In the current position of sixth place is A Chorus Line, which ran for 6,137 performances from July 25, 1975 to April 28, 1990. Wicked will overtake sixth place in 178 performances after it reaches seventh place, which amounts to another 22 and a quarter weeks after that. Next, in the present position of fifth place is Les Misérables, which ran for 6,680 performances from March 12, 1987 to May 18, 2003.
It will take Wicked another 543 performances to overtake the position of fifth place, which would be over a year later.
Finally, the last currently closed show to hold a record above Wicked is the original production of Cats, which ran for 7,485 performances from October 7, 1982 to September 10, 2000. So, after Wicked overtake Les Misérables, it will be another 805 performances, or over 100 weeks, before it reached fourth place.
Longest Running Show Is Still "The Phantom Of The Opera"
After that, it's all up to chance, as the current record holders for first, second, and third place are still in the game. The record holder for third place is The Lion King, which began performances on November 13, 1997, and has since played over 8,222 performances. In second place is Chicago, which began performances on November 14, 1996, and has since played over 8,619 performances.
Finally, in first place is The Phantom of the Opera, which began performances on January 26, 1988 and is still running with over 12,294 performances. Wicked's future may be unlimited, but unless these top three shows close anytime soon, it may never see the heights of this challenge.