Watch Your Step: Picasso Gets Tripped Up
After Sustaining An 6 Inch Hole By An Unlucky Visitor, Pablo Picasso's The Actor Can Be Fully Repaired, Hopefully In Time For The Picasso Exhibit
---
An Unlucky Visitor Tore a 6-Inch Hole In An $80 Million Painting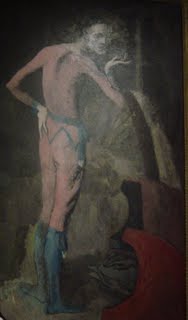 Art has its perils—at least if you were a visitor to New York's Metropolitan Museum of Art (Fifth Avenue and 82nd Street) on Friday. A visitor--Overenthusiastic? Awkward? Cursed?--lost her balance and fell into the Picasso painting "The Actor," valued at $80 million.
The visitor tore a six-inch gash in the lower right-hand corner of the painting, unusual in part for its large size—6 feet by 4 feet. The work is also important in that it signaled a move from Picasso's "Blue Period," in which he used mainly shades of blue, to a rose period.
"The Actor" Was Painted By Pablo Picasso
Picasso painted "The Actor" in the winter of 1904-05. It was donated to the Met in 1952 by automobile heiress Thelma Chrysler Foy, and has hung in a second-floor gallery since then.
The painting shows a stick-thin figure in a pink stage costume, and is displayed with some of Picasso's other early works. The woman who damaged the painting was participating in an adult education class in the afternoon, and somehow stumbled and fell.
The Damage Can Be Fully Repaired
A Museum statement says that the damage can be fully repaired and that the hole was not made in a focal point of the painting. The painting, which was removed from the gallery, will supposedly be repaired in time to be displayed in an exhibit of 250 Picasso works entitled "Picasso in The Metropolitan Museum of Art" that opens April 27 and runs through August 1.
Considering the sheer number of people that move through the Museum each day, if not each hour, it's actually a wonder that more accidents don't happen more often.