War Horse To Close on Broadway in January
---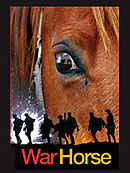 Lincoln Center Theater has announced that its long-running hit
War Horse
will be shuttering on January 6, 2013. The epic play with music will have played for nearly two years on Broadway when it closes. Touching audiences with its sweeping and story of a young man searching for his beloved horse in the midst of World War I, and also impressing them with its incredible life-size puppets,
War Horse
enjoyed both critical and commercial success. But ticket sales gradually started to decrease this year, with capacity getting as low as 60% mid-summer. Though
War Horse
ticket sales have improved recently, the massive production is too costly to survive such dips in sales in the long term.
A January 2012 end date gives the show an opportunity to reap the financial benefits of the lucrative Thanksgiving and Christmas holiday seasons (when War Horse is likely to do particularly good business with family audiences), closing just as the winter doldrums set in. With War Horse concluding its run at the Vivian Beaumont Theatre, Lincoln Center Theater will now be able to resume using the space for its regular seasonal programming. Ever since War Horse premiered and proved to be a lasting hit, LCT has had to use other Broadway houses for its productions. The original West End production of War Horse continues to play in London, and the U.S. tour is also still out on the road. Upcoming productions in Australia and Berlin are also being planned, so War Horse will soldier on even after it leaves Broadway.