Uma Thurman Begins in "The Parisian Woman"
The Parisian Woman Has Begun Previews On Broadway At The Hudson Theatre, Written By Beau Willimon, Directed By Pam Mackinnon, And Starring Uma Thurman.
---
Beau Willimon Makes Broadway Playwriting Debut
On November 9, 2017, The Parisian Woman played its first preview at the newly renovated Hudson Theatre on Broadway. It is scheduled for an opening night on November 30, 2017.
The play is written by Beau Willimon, whose previous plays include Lower Ninth, Spirit Control, and Farragut North, the last of which he also adapted into a screenplay for the film The Ides of March, which was directed by and starring George Clooney.
Creator Of "House Of Cards"
In addition, he is the creator of the very successful Netflix television show House of Cards, one of that network's first original series, for which he served as showrunner for the first four seasons, and he is currently developing a new television series for Hulu about the first mission to Mars.
With this rapid ascent to success in film and television from his origins in the theatre, this is the first time that Beau Willimon has a play on Broadway. In addition to Willimon's Broadway debut, the lead actress, Uma Thurman, is also appearing on Broadway for the first time.
Uma Thurman's Celebrated Career
Thurman is a highly celebrated actress whose film credits include Nymphomaniac, Kill Bill: Volume 1, Kill Bill: Volume 2, Pulp Fiction, The Producers, and The Avengers. In The Parisian Woman, Thurman stars alongside Phillipa Soo (Tony Award nominee for Hamilton), Blair Brown (Copenhagen, James Joyce's The Dead), Josh Lucas (The Glass Menagerie, films such as Sweet Home Alabama, A Beautiful Mind), and Marton Csokas.
The play is directed by Pam MacKinnon, Tony Award winner for the 2013 revival of Who's Afraid of Virginia Woolf?, whose other credits include Amélie, China Doll, The Heidi Chronicles, A Delicate Balance, and Clybourne Park.
Inspired By Henri Becque's 1885 Play "La Parisienne"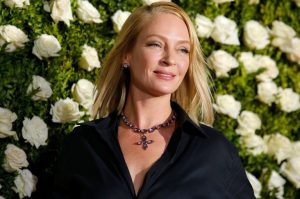 The Parisian Woman is a story about a power couple, Chloe (played by Uma Thurman) and Tom (played by Josh Lucas), who strategize about how to secure Tom a judicial post using social maneuvering and political strategizing.
Chloe is a socialite who is armed with wit and charm, but also has a dark past involving her marriage and politics, and is also faced with an uncertain future. The play was inspired by an 1885 work by Henri Becque called La Parisienne, and originally premiered in 2013 at South Coast Repertory in Costa Mesa, California.
Contemporary Twist On Classic French Comedy
However, since then, the play has undergone significant rewrites to account for our vastly changed political climate. Rather than present a story that seemed relevant before the 2016 election, Willimon and MacKinnon seriously reworked the material to address our current political landscape through the lens of the protagonist, Chloe.
The play is set in Washington, D.C. on Capitol Hill, putting a contemporary slant on this 19th century French comedy, but the core values and issues remain the same: powerful friends, sneaky conduct, and the conflicts of interest between the private and public sectors. The play was originally scheduled to begin on November 7, 2017, in order to allow for additional load-in time for the production.
Willimon's Success
The play was first commissioned by The Flea Theater in New York City, but as Willimon's career skyrocketed, they realized it would find a more suitable home on Broadway. After the original production at South Coast Reptertory, the producing team came together for the Broadway show, led by Marc Routh, Richard Frankel, Tom Viertel, and Steven Baruch. The play is currently scheduled for a closing date of March 25, 2018.