Twelfth Night Goes Off-Broadway
Twelfth Night Heads To Off-Broadway In A New Production By The Essential Theatre Group For A Limited Time At The Tank Theatre
---
The Off-Broadway Version Of "Twelfth Night" Courtesy Of The Essential Theatre Group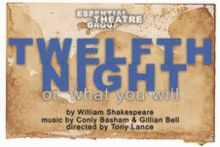 While audiences are enjoying the very Elizabethan-style version of Twelfth Night starring Mark Rylance on Broadway, the Off-Broadway scene is getting its own take on the beloved Shakespearean romantic comedy of mixed identities this month, courtesy of the Essential Theatre Group.
Unlike the Broadway production, which has an all-male cast (as productions did in William Shakespeare's own time), ETG's production has a mixed-gender cast -- no doubt a relief to those who already find the gender-bending Twelfth Night a little confusing at times.
Budget-Friendly Tickets
ETG's Twelfth Night, which is directed by Tony Lance, also features original music by Conly Basham and Gillian Bell (a sample can be viewed here). Twelfth Night plays December 13-21 at The Tank Theatre, located in Times Square at 151 West 46th Street on the 8th floor. Tickets are a budget-friendly $15 and can be purchased at twelfthnighttank.brownpapertickets.com.