Tupac Shakur Musical "Holler if Ya Hear Me" Begins Previews
"Holler If Ya Hear Me", Inspired By The Late Tupac Shakur, Begins Previews On Broadway. Opening Scheduled For June 19, 2014 At The Palace Theatre.
---
"Holler if Ya Hear Me" Begins Previews On Broadway
Tupac Shakur is one of the best-selling music artists of all time, having sold over 75 million records in his career. His albums include "2Pacalypse Now," "Until the End of Time," "All Eyez on Me," "Me Against the World," and "Pac's Life." The life of this brilliant rapper and actor was cut short in 1996, however, when he was shot multiple times in a drive-by shooting in Las Vegas at the age of only 25.
Inspired By The Late Tupac Shakur
Despite the brevity of his career, he has managed to maintain a huge following and long-standing appreciation, with Rolling Stone Magazine having recently proclaimed him the 86th Greatest Artist of All Time. The themes of Tupac's music often involve the hardship of the life in inner cities, as well as racism and other social issues; both of his parents were members of the Black Panther Party.
Tupac's legacy has been upheld through organizations, honors, and multiple documentaries, but for the first time, his music and story are coming to Broadway.
Opening scheduled For June 19, 2014 At The Palace Theatre On Broadway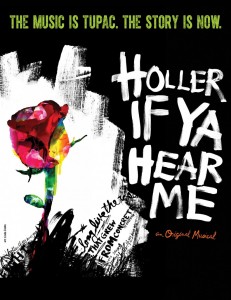 On June 2, 2014, Holler if Ya Hear Me, a new musical inspired by the music of Tupac Shakur, will begin previews at the Palace Theatre. With an opening night scheduled for June 19, 2014, the musical is presently set for an open-ended run.
The show is directed by Kenny Leon, whose magnificent career has sky-rocketed in recent years to define him as the preeminent interpreter of African American content for the Broadway stage.
Todd Kreidler Steps Up To Major Position In Creative Team
The book was written by Todd Kreidler, who has served as Dramaturg for two Broadway productions directed by Leon and written by August Wilson – Gem of the Ocean and Radio Golf – and who also associate-directed another Leon-Wilson collaboration: Fences starring Denzel Washington in 2010.
This is the first time, however, that Kreidler has stepped up to a major position on the creative team of one of Kenny Leon's productions. The choreography is by Wayne Cilento (The Who's Tommy, Wicked).
The Show Borrows "Holler If Ya Hear Me" From Tupac's Second Album
The title of this musical comes from the name of a song on Tupac's second studio album. The story is not exactly a biographical depiction of the late singer's life, however; it is a fictional tale of a young black man who is released from prison, only to face a continued slew of obstacles that lie in his path. It uses the phrases and ideas found in Tupac's music to tell this universal tale of friendship, family, love, and hope.
The musical received a 5-week workshop last summer in anticipation of its Broadway run this season. The show is produced by Tupac's mother, Afeni Shakur, along with Eric L. Gold, Chunsoo Shin, Jessica Green, and Marcy Kaplan-Gold. The large cast is made up mostly of ensemble, but it also includes actors such as Tonya Pinkins (Caroline or Change, Radio Golf) and the principal young man is played by actor and rapper Saul Williams, making his Broadway debut.
The Show Is Geared For A Wide Demographic, But Socially Conscious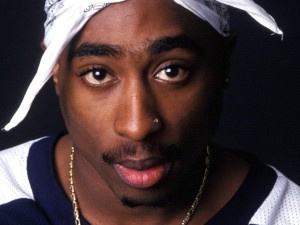 The intention of the show is socially conscious, which is an unusual first motive for Broadway shows, especially those opening in the summer season, generally known for lighter fare such as Beatles revues and long-running shows. However, Leon and his cast will not shy away from shining a light on important issues at the heart of the contradictions in American society.
Geared for a wide demographic of all ages and colors, the show will nevertheless aim to expose the hypocrisy of free speech in present day American culture. Thankfully, the prominent voice kept alive through Tupac's music will now find another outlet on the Broadway stage.