"Tuck Everlasting" Closes After 67 Broadway Performances
Tuck Everlasting Closes Prematurely After Mixed Reviews And Poor Box Office. Immortalized In Cast Album Featuring Fan Favorite Songs.
---
Musical About An Immortal Family Was Itself Mortal
On March 31, 2016, Tuck Everlasting, with a book by Claudia Shear and Tim Federle, music by Chris Miller, lyrics by Nathan Tysen, and based on the novel of the same name by Natalie Babbitt, began previews at the Broadhurst Theatre.
After its official opening night on April 26, 2016, it earned mixed reviews. Charles Isherwood from the New York Times was quite effusive, calling it warm-spirited and piercingly touching, praising its lack of flash or spectacle. However, Jeremy Gerard from Deadline hated it, calling it so "treacly" that it will make you leave the theatre wanting to kick a puppy.
"Tuck Everlasting" Receives Mixed Reviews
Other reviewers were more on the fence, with David Cote from Time Out New York finding the technical 91-year age gap between the protagonist lovers to be a bit icky, and Frank Scheck from The Hollywood Reporter calling it a sweet concoction that is nevertheless in over its head.
As for the Tony recognition, Tuck Everlasting did not fare so well. It has received on nomination, that for Best Costume Design for Gregg Barnes, which is hardly an award that will help propel struggling box office. Therefore, with little hope to boost its flailing grosses, the producers of Tuck Everlasting decided to shutter early, after just 39 regular performances and 28 previews.
Cast Album Released On June 3, 2016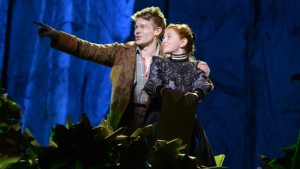 Despite closing so prematurely, Tuck Everlasting has released a bit of immortality into the world, in the form of a cast album. Starring Andrew Keenan-Bolger and Carolee Carmello, the musical boasts a score of lovely songs including "Live Like This," "Good Girl Winnie Foster," "Top of the World," "Hugo's First Case," "The Most Beautiful Day," "Join the Parade," "Seventeen," and "Everything's Golden."
The physical CD will be available in stores on July 1, 2016. The label is DMI Soundtracks, and the distributor is the Warner-Elektra-Atlantic Corporation.
Fan Favorite Songs
It was originally announced that the album would be released a week later, but it came out on June 3, 2016, less than a week after the final performance of the musical. The idea may have been to ride the wave of word of mouth and press that came after the show's closing, whether or not the tone was positive, in order to spread the message that the music, at least, could be available to purchase.
An Average 33.72% of Its Gross Potential
While many shows have difficulty finding their footing, Tuck Everlasting was cursed with a particular blend of misfortunes: poor reviews, lackluster awards recognition, and middling box office. Even in its final week of performances, the week ending May 29, 2016, the show brought in $410,516, which represents 36.78% of its gross potential.
This was an increase of only $85,155 from the week before, whereas the final week of performances often spurs a greater interest in attending a show. Nonetheless, that was the highest percentage reached of its gross potential from any week of the run, except the first partial week of 4 performances, which brought in $263,150, or 50.71% of its gross potential.
Possible U.S. Tour In Discussion
In any case, the average across the run was just 33.72% of its gross potential, which is nowhere near the grosses that would have been required to recoup a show's capitalization. Whereas the cast album may bring in a small amount of additional revenue, the U.S. tour, if there is one, is really the only potential way the investors may begin to think about making back some of their money.