The Trip to Bountiful on Broadway Closes And Loses Money
The Broadway Revival Of The Trip To Bountiful Closes On Broadway After A Respectable Run Debuting As Televised Play On NBC
---
"The Trip To Bountiful" Debuted As A Televised Play On NBC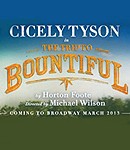 The Broadway revival of The Trip to Bountiful ends its run at the Stephen Sondheim Theatre today. The play first premiered on Broadway in 1953 in the very same spot, back when it was known as Henry Miller's Theatre. Written by the late Horton Foote, The Trip to Bountiful debuted as a televised play on NBC a few months before opening on Broadway.
It is also well-known from its 1985 film version starring Geraldine Page, who won an Oscar for her performance. This latest production starred Cicely Tyson as Carrie Watts, the elderly woman who slips away from her son and daughter-in-law's cramped Houston home and takes a bus to see her beloved hometown of Bountiful one last time.
Nominated For Four Tony Awards
When it opened, the production co-starred Cuba Gooding Jr., Vanessa Williams, and Condola Rashad. This production closed with a respectful $673,002 of ticket sales in its last week, with over 87% of the theatre seats sold, totaling 6474 patrons paying an average of $103.95 per ticket. The show ran for 178 performances that opened on April 23 2013 following previews that began March 30 2013 at the Stephen Sondheim Theatre at 124 West 43rd Street, New York City.
The show was nominated for four Tony Awards, including: Best Actress in a Play (Cicely Tyson), Best Featured Actress in a Play (Condola Rashad), Best Sound Design for a Play (John Gromada) Best Revival of a Play. Tyson won the Tony Award for her performance as Mother Carrie Watts.