The 73rd Annual Tony Awards Destined For Another Record Low TV Viewership
The Lackluster Tony Award Show Brings In Low Ratings Due To The Unchanging Nature Of The Show And The Excessive Awards The Tony Committee Gives Away.
---
This Awards Show is Supposed to be Broadway's Biggest Night, But Does Anyone Care?
The 73rd Annual Tony Awards take place on Sunday, June 9th, 2019. This yearly liberal love-fest will award 26 of Broadway's top actors, and other theatre professionals, for their contributions to the 2018-19 Broadway theatre season. For those who would want to watch it, live coverage of the event that is held at Radio City Music Hall in New York City, will start promptly at 8pm EST and will run for a grueling three hours until approximately 11pm.

You can watch the telecast live on the CBS Television Network, on any device with a CBS All-Access subscription or online through a cable TV subscription. As most people have given up watching live TV it is unclear how CBS intends for people to actually see the show. This year's show is again hosted by CBS's late night talk show host, James Corden who took the show to better ratings in 2016, with a little bit of help from Hamilton.
Low Viewership Continues To Decline
Despite a record number of Broadway ticket sales, the Tony Awards telecast continues to get record low numbers of viewership. The problem could be lack of innovations to the Tonys in decades and the format is now old and tired. The only recent change is adding more awards to the already over sized award line up and fans want something different. People just don't want to see more awards or lengthy acceptance speeches.
The specific awards that Broadway fans only care about are; Best Play, Best Musical, Best Original Score, Best Leading Actor/ Actress and the rest is pretty much filler. TV viewers are getting tired of seeing the same award show year after year, the event often follows the same pattern and the standard banter that people have come to expect like an old pair of trousers that you just cannot throw out, even though you never wear them.
So Who Does Watch The Tonys?
Last year's 72nd annual Tony Awards were watched by a meager 6.3 million people and not only that, only 23% of the viewers were under the age of 49, leaving the older generation to make up the other 77% of the viewership. If we measure Broadway's biggest night against other award shows, you will see that it just does not draw in nearly the same amount of global attention that the other award show counter parts do.

Comparatively, the 2019 Oscars at the Academy Awards, which were covered by the behemoth television network ABC and did not even have a host, still pulled in over 29.6 million viewers in the US alone. While last year's Golden Globe Awards were able to max out around 18 million live TV viewers. The modest viewership and ratings of the Tony Award show indicate it is well overdue for a major change.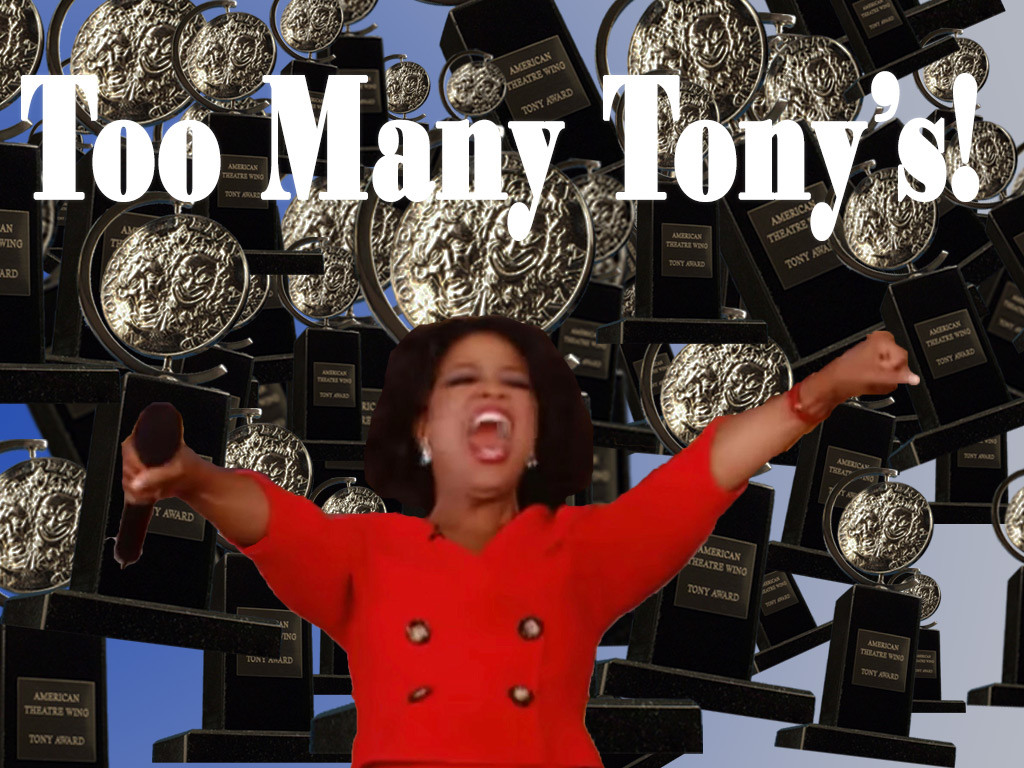 It Feels Like Everyone Gets a Tony Award
This year 26 Tony Awards and 5 specialty awards will be distributed. But, there are only 34 Broadway shows in contention, potentially allowing over 75% of this year's Broadway productions to get an award. This almost makes The Tony Award a participation trophy. The Tonys should not be like a youth soccer game where everybody wins a prize, It should only be awarded to the very best actors and performances, to keep it exclusive and valuable.
Why are There so Many Tony Awards?
The committee splits the majority of awards into two separate categories, plays and musicals. Then they also have separate awards for male and female actors. While this all makes sense, it does force the committee to have at least two, and sometimes four, awards for many of the categories. This problem is seen with the "Best Leading Actor/Actress in a Play/Musical" and "Best Featured Actor/Actress in a Play/Musical" awards.

With having so many awards and TV ratings hitting new lows, it might not be a bad idea to start merging some categories together. For instance, instead of having two separate awards for lighting, the committee could merge the two into one award for "Best Lighting Design in a Show". Also doing the same for costumes and scenic design. This would cut down on repetitive awards, and make the event more competitive.

Hosted By James Bore-den
This year's Tony Awards are on track to be another bore-fest, but things could probably get spiced up a bit if they let James Corden dress outrageously, sing Doo-wop with a strong Irish accent and spin his head around Beetlejuice style.