Tony Award Best Musical Winner "Fun Home" Closes on Broadway
Tony Award Winning Musical Fun Home Concluded Performances On September 10, 2016 And Will Soon Launch On A National Tour.
---
Lisa Kron And Jeanine Tesori Musical Based On Alison Bechdel's Graphic Novel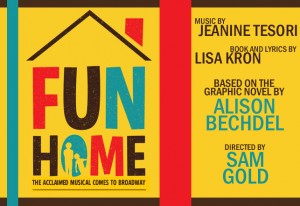 The 2015 Tony Award-winning Best Musical, Fun Home, has concluded performances. It first began previews on March 27, 2015, ahead of an opening night on April 19, 2015. In the 2015 Tony Award ceremony, it was nominated for twelve Tony Awards, winning five including Best Musical.
Its other Tony Awards were those for Best Book of a Musical for Lisa Kron, Best Original Score for Jeanine Tesori (music) and Lisa Kron (lyrics), Best Leading Performance by an Actor in a Musical for Michael Cerveris, and Best Direction of a Musical for Sam Gold.
"Fun Home" Based On Award-Winning Graphic Novel
The production came to Broadway's Circle in the Square Theatre following an Off-Broadway premiere at New York's Public Theater, which is also the original home to the 2016 Tony Award-winning Best Musical, Hamilton.
In fact, it was rumored that the reason the start of Hamilton's Broadway performances was delayed until the summer was so that it would not be eligible for the 2015 Tony Awards, allowing room for another Public Theater production, Fun Home, to win that year, as even then they knew that Hamilton would be a shoe-in for Best Musical in the year it chose to compete. Prior to the Public Theater, Fun Home originated as an award-winning graphic novel written by Alison Bechdel.
The Bechdel Test And The Pulitzer Prize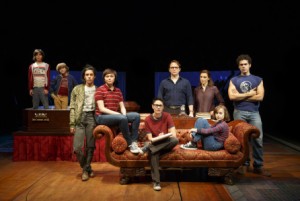 Fun Home has made history on several accounts. When the graphic novel was released, there was an attempt to ban it from public libraries in the state of Missouri. As the book was illustrated, there was a concern that it would be read by children, although there were sexual themes including lesbian encounters as well as depictions of emotional abuse.
Nevertheless, the book continued to find a wide audience. To this date, the term "The Bechdel Test" has been coined, and is regularly referenced regarding theatre, film, books, and television.
Best Musical Written Entirely By Women
The term refers to a work of art wherein two or more female characters, who have names, have a conversation with one another wherein they discuss something other than a man. This laughably simple requirement is surprisingly difficult for many plays and films to achieve. Therefore, Alison Bechdel has made her mark beyond winning a Tony Award; she has made major strides for women in all forms of art, and her legacy will remain.
Not to mention, the show made history by being the first show to win Best Musical that was written entirely by women. Furthermore, the musical Fun Home was a finalist for the 2014 Pulitzer Prize for Drama, in addition to the Lucille Lortel Award for Outstanding Musical, the New York Drama Critics' Circle Award winner for Best Musical, the Outer Critics Circle Award winner for Outstanding Off-Broadway Musical, and the Obie Award winner for Musical Theater.
A National Tour To Launch In October In Cleveland
On October 2, 2016, the national tour of Fun Home will begin in Cleveland, Ohio. Additional tour stops will include Chicago, Denver, Charlotte, Las Vegas, San Francisco, and Seattle. As for the tour cast, the role of Alison will be played by Kate Shindle (Cabaret, Legally Blonde), the role of Small Alison will be played by Alessandra Baldacchino, alternating with Carly Gold, and the role of Medium Alison will be played by Abby Corrigan.
Furthermore, the role of Bruce Bechdel will be played by Robert Petkoff, the role of Helen Bechdel will be played by Susan Moniz, the role of Joan will be played by Karen Eilbacher, the role of Roy will be played by Robert Hager, the role of John will be played by Lennon Nate Hammond, and the role of Christian will be played by Pierson Salavdor.