To Kill a Mockingbird: Will it Ever Reopen on Broadway?
Beloved American Classic To Kill a Mockingbird Was Supposed to Continue its Amazing Run on Broadway in June 2022, But Like a Scooby-Doo Mystery it has Not Reopened at the Belasco Theatre
---
To Kill A Mockingbird: A No-Show on Broadway? Is The Mockingbird Finally Dead?
A Poignant Sorkin Script and A Stellar Cast
Oscar winner Aaron Sorkin adapted To Kill A Mockingbird for the stage in 2018. While the show might have gotten snubbed at the Tony's in 2019, audiences flocked to the Shubert Theatre to see it.
From those great beginnings, the show has now become persona non grata and its Broadway future is in jeopardy.
TKAM became the Shubert Theatre's highest grossing play of all time and originally starred Jeff Daniels as the titular role of Atticus Finch. It is the second highest grossing play on Broadway of all time, only second to the juggernaut of Harry Potter and the Cursed Child. Atticus Finch was an iconic figure in American cinema and literature before becoming the center of a Broadway must see.
Jeff Daniels had a long career in film and television, Dumb and Dumber and The Newsroom, before playing the Alabama lawyer. Jeff Daniels even received a Tony nomination for originating Atticus. The show was able to keep the momentum even after replacing Jeff Daniels with Ed Harris and the same was expected with Greg Kinnear.
Leaving A Legacy in Education Outreach
To Kill A Mockingbird not only experienced great commercial success, but also did a tremendous amount of outreach. To Kill A Mockingbird worked with many school groups to bring this story of empathy and history to younger audiences all over.
To Kill A Mockingbird was continuing to thrive when it shut down just like all of Broadway due to the pandemic. It reopened in the fall of 2021 only to then re-shut down after its performance on January 16, 2022. Statements were released claiming that the show would be moving from the Shubert Theatre to the Belasco Theatre. This was a considerable downsize, but the show would go on.
Greg Kinnear was slated to be the next to tackle Atticus in June of 2022. Well, June of 2022 has now come and gone and there is no official news as to why To Kill A Mockingbird did not return to Broadway audiences. Greg Kinnear is also working on another film project entitled "The Present '' co-starring Ilsa Fischer that is supposed to come out some time next year. However, it is unclear when he is filming this or if he already has already wrapped.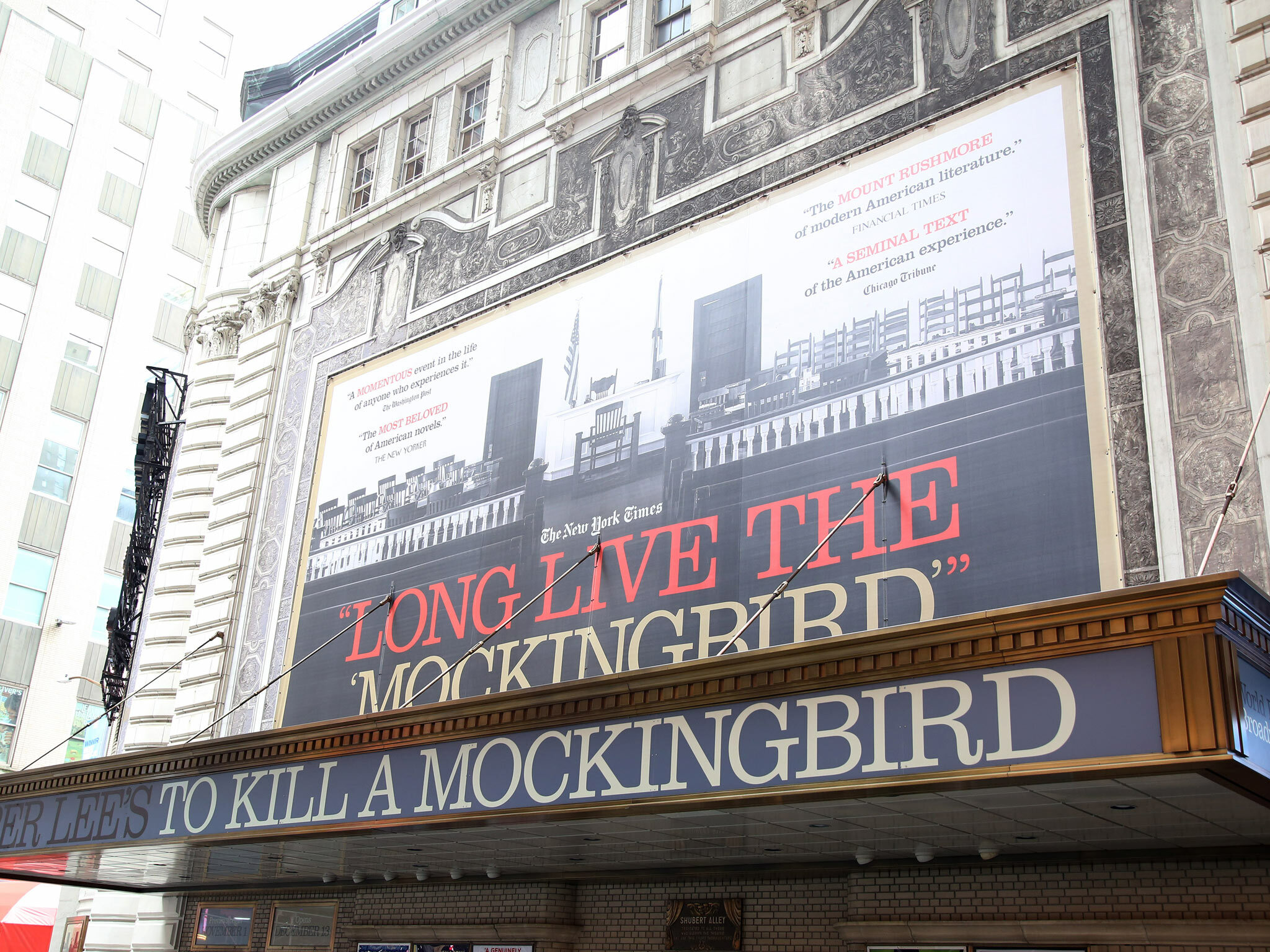 A Missing Mockingbird Post-Pandemic
It is no secret that Broadway sales have not bounced back fully from the ongoing pandemic. Many pre-pandemic shows have closed due to the post-pandemic curse and this might be going the same route. The current economic situation of inflation is also affecting people's ability to spend money on experiences like expensive Broadway show tickets.
However, To Kill A Mockingbird has not definitively stated whether or not it will be reopening. It is not difficult to find information regarding the national tour, but there is no conclusive information on the official To Kill A Mockingbird website regarding the Broadway production. The press rep also does not return calls.
Ghosted On Insta. Mockingbird Leaves Audiences on "Read"
Even the official To Kill a Mockingbird Broadway Instagram account is confusing. According to their bio, Greg Kinnear is the current star on Broadway but all posts pertain to the North American tour. Online there is a conjectured restart time of this fall. However, there are currently no tickets for sale, and the show just can't open without having a certain number of tickets already sold.
Waiting In Will-Call? Bird Fans May Grow Old Fast
This brings us to the question. Why is there such a mysterious aura surrounding the reopening of this production? Why is no-one talking about the lack of official announcements? Is To Kill A Mockingbird the new Broadway fight club? Is the first rule of To Kill A Mockingbird, is don't talk about To Kill A Mockingbird? Is Greg Kinnear the Broadway equivalent to Brad Pitt? And most importantly, where is Helena Bonham Carter in all of this?
Brad Pitt and Helena Bonham Carter
Obviously, the show's secretive strategy does not seem like the most effective way to bring about buzz for such an amazing piece of theatre. The public needs to know when/if this show is coming back to Broadway and will Brad Pitt actually make an appearance? If that is true, should I profess my love for him now and make plans to sleep at the stage door until he arrives or just keep waiting, just like everyone else?

To Kill A Mockingbird STORY FOLLOW UP:
Now that it has been announced that the Broadway production of To Kill a Mockingbird is adjourned indefinitely, a real-life court battle between its producer in exile and the advertising agency is heating up.
Ad agency SpotCo claims that it's owed $6.3 million for advertising services from nine of Scott Rudin theatrical LLCs. In a countersuit, 11 Rudin-led production companies accused SpotCo of failing to disburse funds paid by the Rudin LLCs for advertising, repeatedly overcharging and billing for advertising that wasn't authorized. To Kill a Mockingbird is caught in the crossfire and the bullets are flying everywhere.
All this does not bode well for the return of Mockingbird.
To Kill a Mockingbird was taken over by by producer Orin Wolf after Scott Rudin withdrew as the lead producer. The show closed in January 2022, when the Omicron variant resurfaced with a vengeance. The show did have an intention of returning on June 1, 2022.
The show was supposed to move from the roughly 1,450-seat Shubert Theatre to the 1,000-seat Belasco Theatre. Greg Kinnear briefly replaced original star Jeff Daniels in the role of Southern lawyer Atticus Finch before it closed. Greg Kinnear is now busy with Hollywood projects, but is still willing to fulfill his contractual obligations if the show did reopen.

Mockingbird could announce a fall 2022 reopening, but it now is seen as a distinct impossibility with the legal war raging and the contract window for the Belasco Theatre slowly closing.